Manchester United host Tottenham Hotspur this weekend for the club's first meeting in this years' English Premier League. This juicy match-up between two of the league's richest clubs always excites, and usually guarantees goals – the fixture hasn't finished goalless in nearly four years.
The Red Devils are coming off a 2nd place finish last season, although they were closer in final point tally (and general performances) to the immediate clubs beneath them than to the impressive City above them. Some signings were made in the summer, but manager José Mourinho wanted more, specifically a center-half to stabilize his defensive unit. His fears have already been realized this year – United fell to Brighton and Hove Albion 3-2 in their last fixture, and center back Bailly was directly involved in all three of the goals conceded. Lack of signings, the loss at the weekend, rumors of a rift with star center midfielder and World Cup winner Paul Pogba – none of it bodes well for Mourinho, with stories coming out about his "3rd season curse." Mourinho, however, is a specialist at controlling off-the-field damage, and even using it to produce results.
Meanwhile, Tottenham continue to perform well. Last year, lack of consistency cost them 2nd place in the league, but they finished in the top three for the third consecutive year. Question marks were raised this summer when they didn't make a single signing, but Spurs manager Mauricio Pochettino is convinced that they already have all the pieces to challenge for the title, pointing to the fact that they didn't lose any players either (specifically their goal-machine and England's number nine, Harry Kane). And, unlike United, Spurs have carried over their good form into this season, coming off of two comfortable victories in their first two matches.
On form alone, Spurs are the favorites. However, once the teams are on the pitch and the whistle is blown, all the speculation goes out the window.
Possession and Pace, or Patience and Power
Mourinho's teams are strongest when they sit deep and hit opponents on the counter, especially against bigger clubs. In the second half of last season, playing against Spurs, Chelsea, Manchester City, and Liverpool, when they kept the ball more, United lost, and when the opponent kept it, United won. Out of possession, the players form two defensive lines close to their own penalty area. When they win the ball from a tackle or an interception, they release their talented strikers, who are powerful, explosive and deadly finishers (think Drogba, Ibrahimovic, Milito, Ronaldo, and, now, Lukaku). By sitting in, the United defense can suck Spurs players out of their own half, leaving the opposition side wide open for their strikers to run into.  On the contrary, Pochettino's Spurs have developed into a side that plays possession football, and when they're on, it's a joy to watch. They win the ball back in different areas of the pitch, and quickly get the ball into Eriksen or Alli, who find holes in the defense to run into or pass through. United will look to hit Spurs on the break, while Tottenham will try to break United down with neat passes and creative movement in and around United's penalty area.
Systems of Play: How Will the Teams Set-Up
The Red Devils will most likely setup how they already have this season, with four at the back in a 4-3-3. Mourinho started both games in this formation. Will ex-Arsenal forward Alexis Sanchez return to the lineup, or will a combination of two of Martial, Rashford, Lingard or Mata occupy the flanks? Lukaku is sure to head the forward line, with his mate Pogba leading the midfield behind him. Lindelöf did enough last time out to keep his place in the starting eleven, but doubts must be cast over the performance of Bailly. It wouldn't surprise me to see Smalling return to the fold.
Leiceister (h)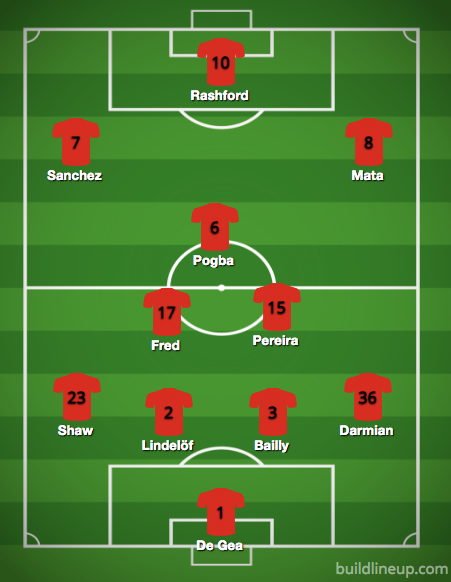 4-3-3
Brighton (a)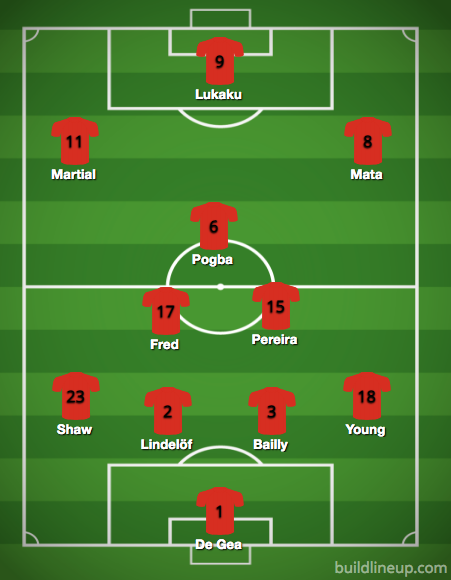 4-3-3
While United have set-up in the same formation in their first two fixtures this year, Spurs have used three different systems already. They set up in a 4-2-3-1 against Newcastle, and then switched in their match against Fulham to the three-man defense 3-5-2, welcoming Alderweireld back from injury. But, after Fulham drew level in the first ten minutes of the second half, Pochettino tweaked the system again by withdrawing Columbian center-back Sanchez and defensive-midfielder Dier in order to introduce midfielders Dembélé, and the attacking Lamela, creating a 4-4-2, with a diamond in midfield of Dembélé behind and Lamela in front of the ever-creative duo, Eriksen and Alli. However Spurs decide to set-up against United, Pochettino's side is disciplined enough to seamlessly swap systems if the need arises.
Newcastle (a)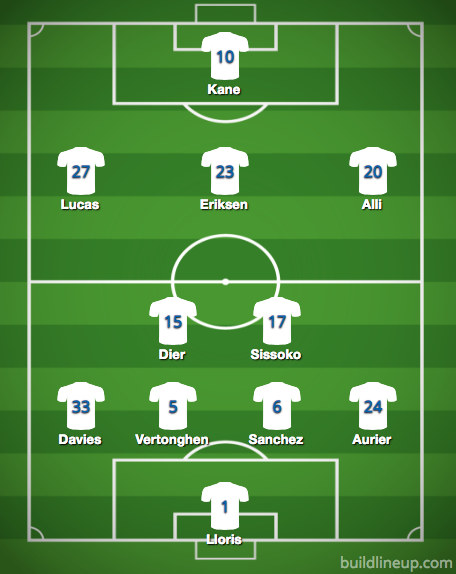 4-3-2-1
Fulham (h) – 1st half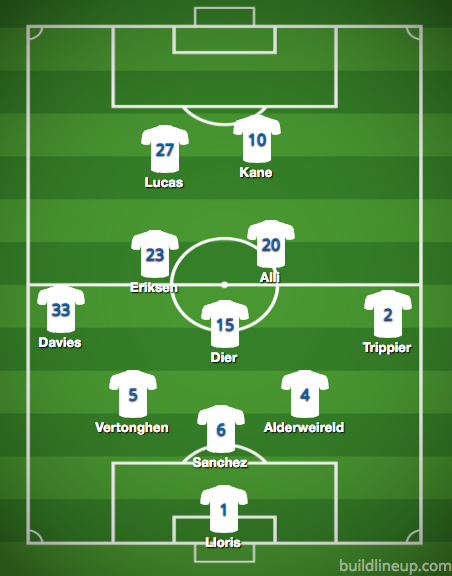 3-5-2
Fulham (h) – 60+ min.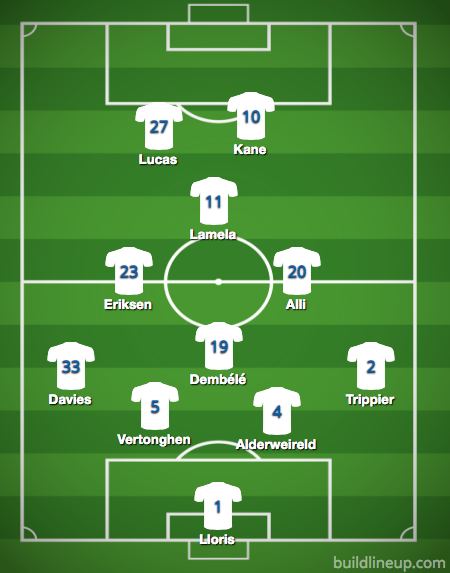 4-4-2
Key Matchups: Battles to Watch
There are some key matchups to keep your eyes on. Lukaku will find himself squared up against his Belgium teammates, Alderweireld and Vertonghen. He'll know their habits even better this season, after spending the summer training and playing with them deep into the World Cup. And who will partner Paul Pogba to cope with Alli and Eriksen in midfield? After making a few mistakes in their last game, Fred could be replaced in the starting lineup by Fellaini, Herrera, or McTominay, or there might even be a return of Matic from injury. Spurs star Harry Kane will feel invigorated after scoring his first ever August goal in the EPL last weekend, and will be licking his chops at the prospect of lining up against a United back four that was cut open by Brighton (he could pair up with the Brazilian Lucas Moura again, as Son is away with South Korea at the Asian games). Then again, the difference between the sides could come down to the goalkeeper. Both teams have very highly rated shot-stoppers in Spurs now World Cup champion Hugo Lloris, and United's David De Gea, club player-of-the-year in four of the last five seasons. They could be the difference between a deadlock and a one goal victory.
My best guess is that Spurs will maintain at least 55% possession, but this will suit United and allow Mourinho's men to get a goal or two on the break. Will Kane and company do enough to break through United's lines, or will Mourinho's defensive unit respond from last weekends disappointment with a rejuvenated effort at Old Trafford? Whatever happens, it'll be the game of the weekend. Don't miss it.
For the best seats at the cheapest prices,
find tickets at our match page link below.
https://ticket-compare.com/football/premier-league/manchester-united-v-tottenham-hotspur-2018-08-25/