It's not often that unproven youth products in the English Premier League bag 20+ goals in their first season (with over 10 appearances). It's even more rare, if not unheard of, when that player then scores 25, 29, and 30 goals in the next three seasons. I think that's called "bursting onto the scene," which is exactly what Harry Kane did in his first years playing regular football for Spurs.
Harry Who?
Born in Walthamstow, London, just a 15-minute drive from Tottenham's White Hart Lane, Kane wasn't a standout player in his youth. Rejected by both Arsenal and Tottenham, he was even called "a bit chubby" and "not very athletic" by then Gunners academy manager Liam Brady. Oh how things have changed.
Everyone deserves a second chance, right? When playing with Watford youth in a game against Spurs, he was noticed by the club that had said no to him once before. They reevaluated, and decided to offer him a spot in their academy. He was 11-years-old. By 16, he was offered a professional contract, but he still wasn't really noticed outside the club, as suggested by his early successive loan spells (from 2010 to 2013, he was sent out on loan out to four different clubs). Then, in the second half of the 2013/2014 season, a fateful appointment was made. Tim Sherwood took over for the sacked Andre Villas-Boas, and Kane got his first run of start's – he led the line in each of Spurs' last six Premier League matches, scoring in three straight and adding two assists. Not bad, and that was just the beginning.
Once Loanee, Now England Skipper
If Sherwoods appointment was fateful, then his consequential sacking and the hiring of Mauricio Pochettino was conclusive. It took a poor start to the season for the Argentinian to give Kane his big chance; Spurs had only picked up 14 points from their opening ten matches when Kane started his first game of the season. Once he was introduced, he scored 18 goals in the next 20 matches.
He would go on to start every single game of the following 2015/2016 season, scoring 25 goals and winning the golden boot. Due to injury he "only" started 29 games the next year, but he somehow managed four more goals than the previous year, again winning the golden boot. Last season, 2017/2018, he scored 30 goals in 35 starts, only missing out on the award due to the brilliance of Mo Salah (who bagged 32 goals). Kane notched his third golden boot at the 2018 World Cup, scoring the most goals in the tournament with six. But perhaps more impressively, he led England to the semi-finals, a feat they hadn't achieved in nearly 30 years.
Virtually every football fan has turned into a believer when it comes to Kane, whether they like it or not. His consistency since he began playing regular first team football is clear for all to see. Even Arsenal fans have to admit it – the guy is the truth. The only question asked about Kane is, "how does he do it?"
Physical, Mental, Technical, and Tactical Breakdown
"I've always been working hard on my speed…
I'm not slow but…the more speed you have, the better you are."
– Harry Kane
For a footballer, Kane is a big boy. He doesn't have blistering pace, but he's "not slow" either. Considering he weighs about 10 kg more than the "ideal weight" for a man of 1.88 meters (6' 1''), he moves well for the amount of weight he's carrying. He's definitely not "chubby" anymore; that extra weight is all muscle and power (for an idea of his stature, he weighs 2 kg more than Didier Drogba, despite being the same height). Kane is durable too. Since that first 20-goal season of his, he's averaged over 34 league appearances for four years straight, showing that he isn't injury prone despite his tendency to get stuck-in and not shy away from tackles (remember Kane's mask?). He's strong, and more than capable of holding up the ball. He prefers to retain possession by positioning his body between the ball and the defender, rather than trying to fool or outrun the opponent. In the first goal of the video below, watch how Kane uses his physique to shield the ball from the Chelsea player, before powering a low drive past the keeper.
"You come up against challenges in life, and its how you deal with them that defines you."
– Harry Kane
Teddy Sheringham and Harry Redknapp have said that Kane has a relentless desire to improve, among many other well-known coaches and former players who've gone on record praising him. Despite the fact that he isn't particularly tricky, he believes in his ability and consequently produces incredible goal returns. He's captained Spurs at 21- and 23-years-old, and at the 2018 World Cup, he led his nation as captain of the three lions. One of his most impressive mental aspects is self-belief; he scores audacious goals because he takes shots that others wouldn't even think about attempting. Check out this stunner from a tight angle against Arsenal.
England's number nine can't sprint by defenders like some speedsters can, but that's not his game, and he's deadly regardless. His near-flawless finishing technique is a feat to behold: with either foot and with pressure on him he can curl one, lace one, chip it, or pick his spot, and he also loves a header. His first touch is immaculate, and his vision is impressive. He can link-up play with a soft one touch lay-off, switch the field with a driven ball, or end a move with a pinpoint finish. Consistency sets great players apart from good ones, and for four years he has barely played a ball wrong considering how much he's played. Since 2014, his minutes to goal ratio is better than or equal to those of Robert Lewandowski, Luis Suarez, and Pierre-Emerick Aubameyang, and not far off from Sergio Aguero's, Cristiano Ronaldo's and Leo Messi's. That is an elite group.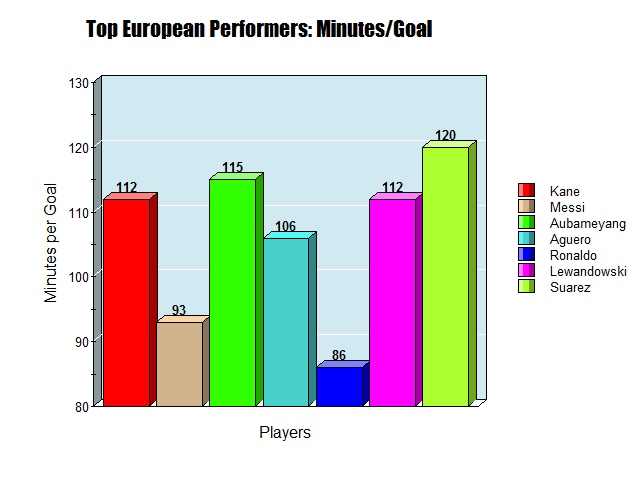 As a complete striker, and a strong one, he offers a lot to his team. Strategically speaking, he's versatile. His ability to play the solo role up front so well means he can fit into several different formations: 4-4-1-1, 4-2-3-1, 4-3-3, 3-4-3, and even 3-5-2 or 4-4-2, with the second forward free to drift, as we've seen with his Spurs teammates Son, and this year Lucas. An interesting effect he has on the opposition is what can result from his tendency to shoot the ball on frame from half-chances. Defenders tightly stick to him even when he's not in overly dangerous areas of the final third, but this creates larger spaces between defenders in their lines, allowing wider passing lanes for his teammates to exploit. A defender essentially has to choose between tightly marking Kane, or leaving him in space in order to cut off a passing lane. Pick-your-poison, especially Christian Eriksen and Dele Alli in behind him. Kane is also effective from set-pieces, direct and indirect, which adds another factor to his team's strategy that the opposition must worry about (and spend time training against).
To Be a Spur, or to Spur On…
So, Kane is light's out individually. That's clear from his quality. Yet something is missing from his game that he alone cannot will into existence. Every other player on the list of top performers has at least four trophies (most have many more). Kane hasn't won a single trophy in his career. Albeit a short career, that is a tragedy for a player as productive as he is. Today, any club would happily pay him what Spurs do now. But he clearly believes he is part of something exciting at Spurs, after signing a huge six-year contract just before the World Cup. Or Harry Kane's girlfriend (soon to be wife) doesn't want to leave London. After all, they are getting married soon, and already have one mini-Harry running around the Kane house-hold.
When Suarez scored 31 goals and Liverpool didn't win the title, he left to Barcelona. When Lewandowski, still playing on Borussia Dortmund, scored 20+ goals two seasons in a row without winning the Bundesliga, he moved to Bayern Munich. It's different for Kane, as Spurs is the club he was raised in since he was 11-years-old. And there is something to be said about a one-club-player; there just aren't many of them left in the game. But, for his sake, something's got to give. Either Spurs start picking up titles, or Kane's got to move to a bigger club. It's what he deserves, and, certainly, it's what he's capable of.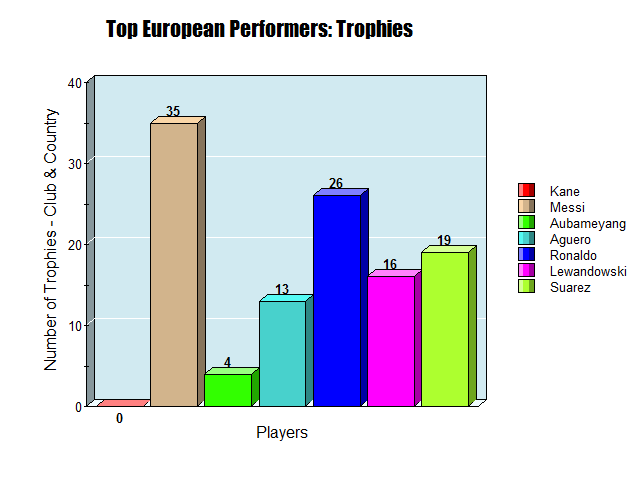 Don't miss out on Harry Kane's first goal at his new home! Find tickets to games at Tottenham Hotspur Stadium for unbeatable prices.
https://ticket-compare.com/teams/tottenham/