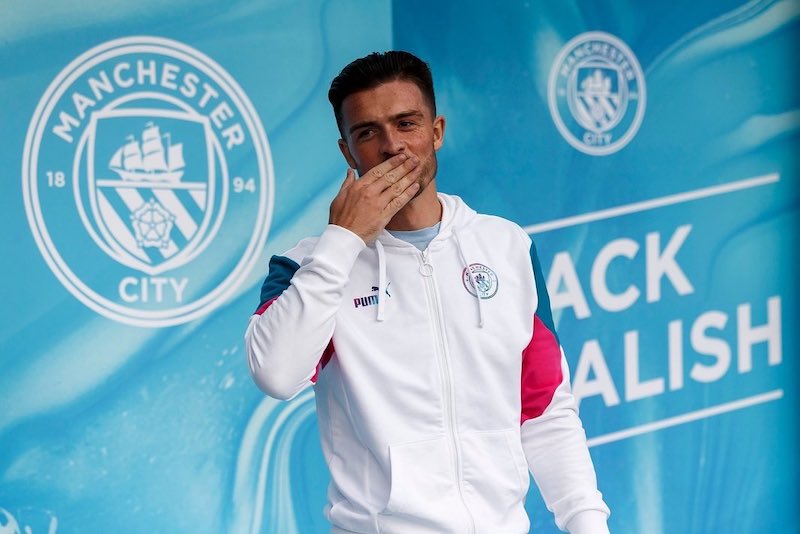 Jack Grealish is the man of the hour and after signing a £100 million deal with Manchester City. It came off the back of a couple of remarkable seasons for Aston Villa and a successful Euros campaign where Jack and his teammates took England to the final against Italy. He's been dubbed as a 'rare talent' who handles the ball superbly, has quick feet, and has excellent passing vision. All of this makes him very hard to play against and an asset to any team. So, where has the man with the golden calves come from? What's all the hype about? And is he really good enough to warrant a song being named after him? Have a listen and get warmed up for our brief Jack Grealish biography that will tell you everything you want to know about this Premier League superstar.
Childhood – Where is Jack Grealish From?
Jack Peter Grealish was born on the 10th of September 1995 to his parents Karen and Kevin Grealish in Birmingham. The 25-year-old grew up in Solihull and quickly found success in sports as a young boy. His whole family were Villa fans and he grew up idolising the Villa players. Jack's favourite players were Paul Merson who was an attacking midfielder and playmaker, and star striker Gabby Agbonlahor who spent 13 seasons at the club. Sound familiar…?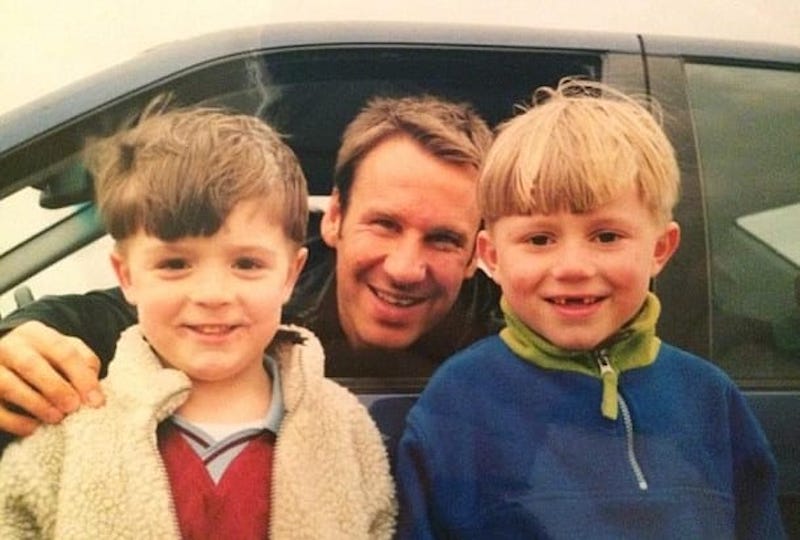 He was scouted at the age of six years old and was quickly enrolled by the Villa Youth Academy where he stayed until he was ready for the adult leagues. The scout who spotted the young Jack Grealish, Jim Thomas, told the Birmingham Mail in June 2021 "You couldn't fail to miss him". He continued to say that "As soon as I'm there he's got the ball in his own penalty area and dribbled right through the team. […] It was like looking at Maradona!". Jack was playing for Highgate United U'8s but his parents quickly confirmed his spot at the Villa Academy once the offer was on the table.
Jack was not the first in his family to taste footballing success. His great, great Grandad Billy Garrarty won the golden boot for the world's top goal scorer for the 1899-1900 season and remains in second place for the most goals scored in a single season for Villa. While Jack is yet to beat some of his great, great Grandads' records, he has already got more caps for England as Garraty only ever played one game in an England shirt. However, Jack is yet to grow a tash as good as the ol' boy.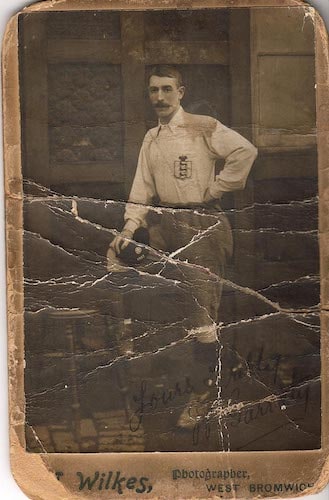 Playing History – What team does Jack Grealish play for?
If you've been following Jack Grealish at all over the past few years you know that's he's been Villa through and through until this summer. Grealish spent 20 years at his local club with part of a season spent at Notts County in the 2013/2014 season. The taste of competitive men's football at Notts County gave Jack the experience he needed to move up the ranks at Villa.  He made his Villa debut on May 7th of the same season and signed a new four-year contract with Villa in the September of 2014. Across those four years, Grealish made 109 appearances, aided his team with 15 assists and scored 9 goals. The young Jacky Grealish was making his presence known at Villa and continued to improve over the following seasons.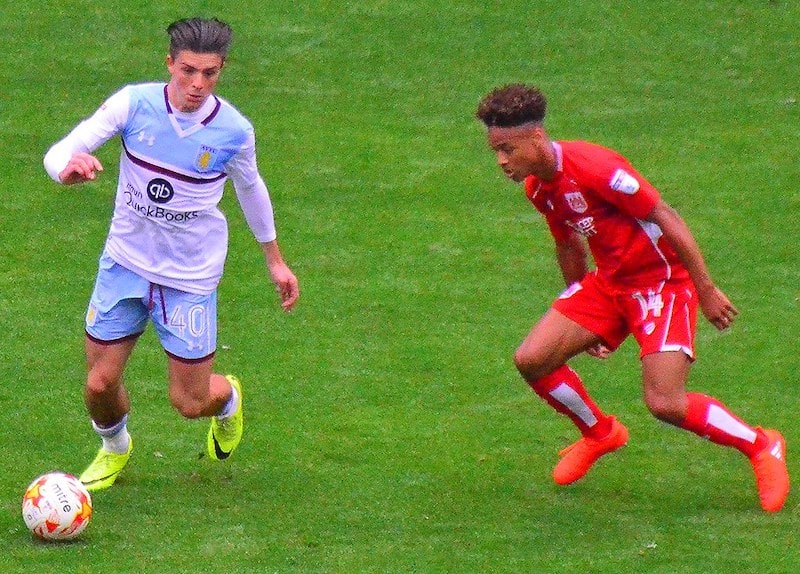 Grealish first put on an England shirt in 2016 and made his debut for the England U'21s against Portugal on May 19th 2016. He came on as a substitute in the 72nd minute and England secured a 1-0 victory. He got a call up to the first team on 31st August 2020 and made his senior debut on 8th September 2020 in a 0-0 draw against Denmark. Grealish was named as part of the Euro's 2020 squad and played a pivotal role in getting the team to the final. Although, England manager Gareth Southgate was criticised for not playing Grealish enough throughout the tournament. There appeared to be no hard feelings from Grealish himself though. He was one of the many England players this year devoid of an ego and was ready to do anything for the team.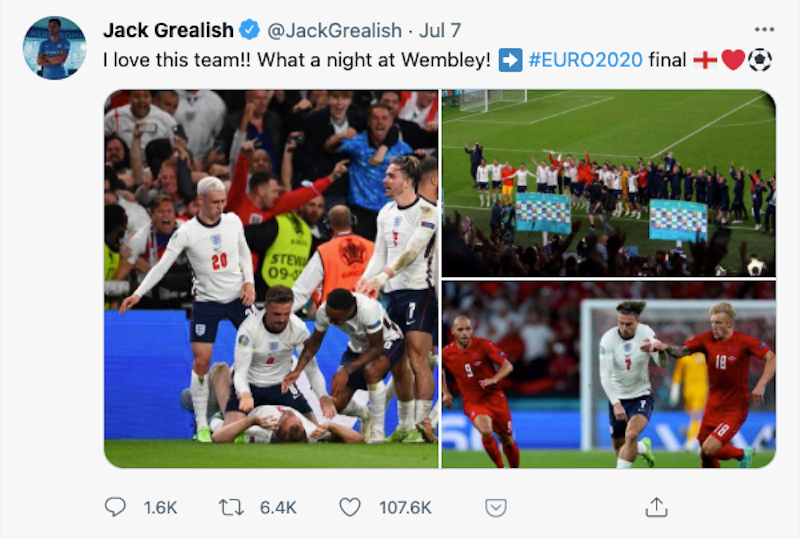 Heading into the 2021/22 season Jack Grealish will be wearing a City shirt. The £100 million move from Villa to Manchester City was a record-breaking deal. Grealish holds the record for the most expensive Premier League to Premier League club signing, ahead of the previous title holders Paul Pogba and Romelu Lukaku. Grealish has made comments that he is proud to have joined the Premier League champions and believes that Pep Guardiola can take his career and football to the next level. In his first press conference at City, Grealish stated "The few days I've been here, it's crazy to see the manager work the way he does. It's no surprise how successful he's been. Some of the tactics he has are out of this world." I don't know about you, but I'm excited to see what a Guardilola/Grealish partnership can do in the Premier League this year! Here's Grealish's first City press conference.
How much is Jack Grealish worth?
It wouldn't be a Jack Grealish Biography article without dipping our toes into the player's financial worth. Let's be honest it's juicy gossip. It's the second most Grealish related google search after 'Jack Grealish girlfriend' – but we won't go there. You'll have to head to one of the tabloids for that.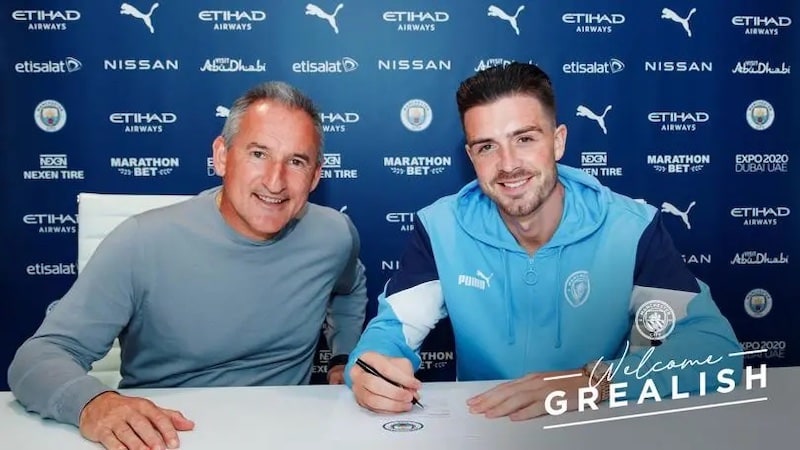 The new deal with City makes Grealish England's first £100 million footballer. His new six-year contract is worth £115 million making him the most expensive player in the history of English football. No pressure Jack… The deal will see Grealish in a City shirt until 2027 and will have him bringing home a whopping £380,000 a week including match bonuses. Just to put it in perspective with the highest-paid player of all time Lionel Messi who takes home £1.7 million A WEEK. Despite earning less than ¼ of what King Messi does, I think Grealish will be happy with his new salary, and at least he knows there's room for improvement. Stay hungry Jacky boy!
Jack Grealish Playing Stats
Let's dive into some Grealish playing stats to understand what the managers see in the young superstar. It's easy to see the impact he has on a game when you watch him live or on the telly but seeing the numbers behind this player will blow you away.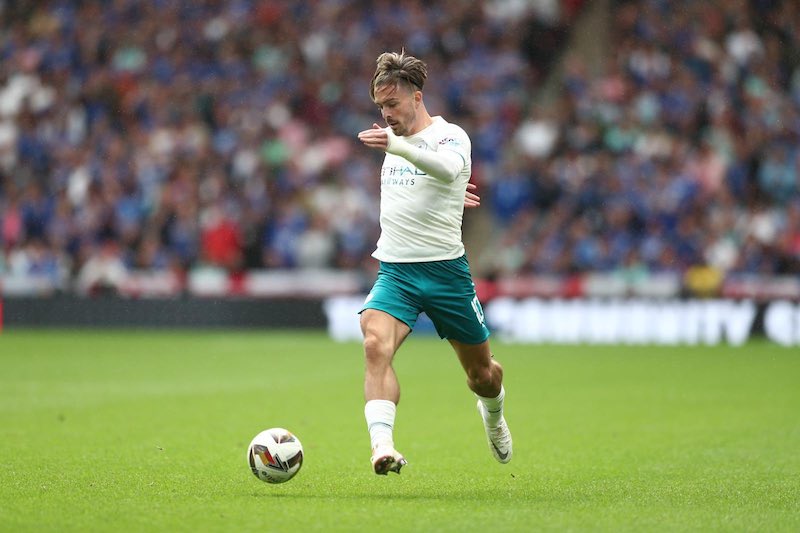 Jack Grealish Premier League Record
Appearances – 96
Goals – 15, 12 with his right foot, 3 with his left foot
Assists – 16
Shots – 152, 51 on target, 34% accuracy
Passes – 3036, 31.63 per match
Big chances created – 26
Crosses – 274
Accurate long balls – 130
Tackles – 76, 61% tackle success
Blocked shots – 53
Interceptions – 56
Duels won – 644
Duels lost – 437
Successful 50-50s – 185
Errors leading to goal – 1
Fouls won in 2020/21 season – 167 (Premier League record)
*Stats were correct on 10.08.2021
These stats are exactly what a manager would want to see from an attacking midfielder. It shows that Jack's a playmaker who can put away goals and can also put a shift in when his team need help with defence. He's a busy body that buzzes around the middle of the field making things happen. One stat that stands out is that Grealish was the most fouled player in the Premier League last season, winning Villa a total of 167 free kicks. We all know how important they can be in a game!
Final Thoughts On Jack Grealish Biography
Hopefully, you've got to know a little more about the wonderboy Jack Grealish in this article. He's a player on top of his game right now. He starts his career at City with the momentum from a couple of outstanding seasons at Villa and an exciting Euros campaign. There will be no stopping him now as he has one of, if not the best managers in the world coaching him and a team of high-calibre players around him.
I'll leave you with a comment from Villa manager Dean Smith and a picture of his best asset:
"For somebody to come through our academy to become the British-record transfer, I think, just shows what an exceptional talent he's been. […] He will always be highly thought of at the club, and I hope by supporters as well because of what he has given.".