In May of 2012, shortly after Chelsea had won the Champions League, Eden Hazard wrote on Twitter "I'm signing for the champions league winner." Then coming off a 20 goal season with Lille OSC of northern France (and having won the league the year before), Hazard probably could have walked into the starting XI of any side in the world, thus was his reputation. Just 21-years-old, his journey to Chelsea, and international fame began in a small Belgium town.
From Belgian Youth to Full National
He was raised near the French border in the west of Belgium, and both his parents played football (of course): his mother was a professional, and his dad a semi-pro. Eden Hazard has four brothers – one of whom is Thorgan, fellow professional footballer – and growing up he played for youth outfit Royal Stade Brainois, and later Tubize, where he was fatefully seen by a Lille scout. Soon, the teenager was off to France.
And, you know the rest. Within three years he was playing regular football for the full team, and within five years he had helped Lille win the French Ligue 1 and the Coupe de France. Firmly in the Belgium national team, his move to Chelsea in 2012 only brought more success. He added one each of the League Cup, FA cup, and Europa Cup to his trophy cabinet, along with two Premier League titles. His individual performances in 2014/2015 (22 goals and 12 assists in all competitions) earned him the Premier League Player of the Season award. A quarter-final finish at the 2014 World Cup was the highest Belgium had finished in the tournament in over 30 years, and they repeated the feat at the 2016 Euros, this time Hazard captaining the side. Last summer, Hazard still captain, Belgium recorded their highest ever finish, beating England to place 3rd.
Today, now that Hazard's age is 27-years-old and he's firmly in his prime, the big clubs have come calling again – Real Madrid his biggest suiter. So, what exactly does he bring to his team on the pitch, and why do the best teams want to sign him up?
Individual Breakdown
Physically, he isn't far off Messi. The height of Eden Hazard is around 1.7 meters (5, 6''), rendering his center of gravity lower than the average player, which makes it difficult for defenders to push his center of mass wide enough to knock him over. Simply put, he's got great balance – he stays on his feet, or he draws a foul. He's wicked agile, very quick, and his top sprint is fast enough to outrace just about any defender in England. Despite being smaller than most professionals, he is extremely durable, averaging over 35 league appearances for ten straight seasons. In fact he uses his small size to his advantage, often weaving through defenders on the dribble in a way taller players never could.
It's clear his coaches trust his mental strength – both Marc Wilmots and Roberto Martinez named him captain of Belgium. He's shown that he can respond from criticism and poor performances – after Chelsea finished in 10th place in 2015/2016 (Hazard scoring just 4 goals in the league), he showed a rejuvenated figure the following season, scoring 16 and bagging 5 assists on the way to his second Premier League medal. His consistency in training despite managerial changes shows us his determination – with Chelsea, he's averaged 9 assists and 16 goals in the league, despite playing for six different managers in six years. If Hazard's stats don't speak for themselves, here's his mentality, in his own words: "As a player, I am always demanding more from myself….That's what drives me to get better. Last season I scored 14 goals in the Premier League – that's not enough. I must score more this season. I got this ambition from my parents. If you want to be a top player, you can never be satisfied. You must always want more."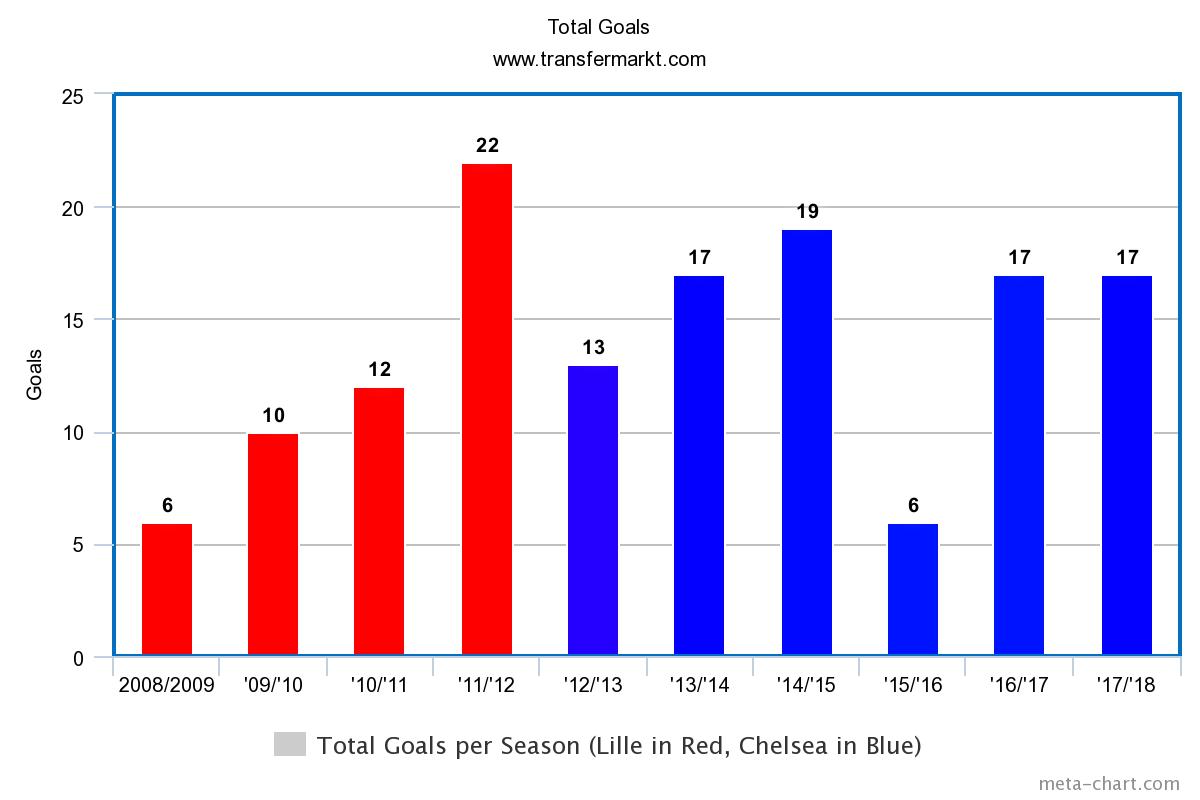 Technically, he is a wizard on the ball. His ability to get up to speed quickly and change direction with the same veracity allows him to beat players with ease. In order to keep up with him, defenders must get up to speed, but once they are moving in a specific direction his strong balance allows him to cut the ball back against their movement and momentum. This ability in the 1-v-1 makes him a good player, but combine this with his finishing ability and he becomes a game-winner. He can shoot with either foot, curling a shot or lacing one. He gets the most joy from picking the ball up on the left and cutting inside, weaving his way through defenders and opening up the goal to curl one far post with the inside of his right foot. He's like a right-sided Arjen Robben, the way he cuts in to curl a far post finish. Along with his 1v1 and finishing ability, he also gets top marks for his first touch, passing, and vision, making him the best player in an English Premier League season at least once.
In his goal against Stoke in 2013, it's clear he can do more than curl shots in with his right foot. Check out his left-footed belter below.
Having a player like Hazard in the lineup is always a tactical advantage. If his team is set up defensively, as it has been so often at Chelsea, he can act as a perfect point of transition. His ability to kill the ball with one touch and retain possession by beating oncoming defenders in the 1v1 allows the team behind him to move up into the attacking third, and by beating one defender, he attracts the next, which leads to a teammate left free. On the other hand, if the strategy is attacking, the play can be based on him if necessary. By beating a defender, he creates gaps in defensive lines, which allows him to find the penetrating through ball that can open up defences, or even the final pass that leads to a goal. But when his teams are more balanced, like his current national side, he fits perfectly in a freer role. When liberated, he's the last man defenders want popping up into space in the final third.
Under Antonio Conte, Chelsea played a solid defensive style of football. In his goal against West Ham in 2017, Hazard played his transitional role perfectly.
Now What?
As a 27-year-old winger, Hazard probably has three or four more good years in him. Soon, he could end up moving to an even more elite club than Chelsea, where he would have every chance of finally picking up that Champions League medal he's missing. I'm sure he's also got the 2020 Euro and 2022 World Cup in his sights. Whatever happens, and wherever he plays, it will always be a joy to watch Eden Hazard with a ball at his feet.
Want to watch Hazard play? Get tickets to watch Chelsea at Stamford Bridge for great prices.