Football is an emotional game. Following your side can sometimes feel like you're on a roller coaster (especially if you're an Arsenal fan!). There are ups and downs, highs and lows, and a whole lot in between. However, Premier League Twitter is the place where you can find the funny side of football. It's the place to go when you want a rest from the emotional turmoil of the beautiful game and just want to roll around on the floor laughing and giggling to top-quality football banter. 
However, Twitter has its fair share of football trolls and complainers. So, if you want to avoid doom-scrolling then you need to know where to look. We've listed 9 examples of Premier League Twitter gold so next time you need a laugh, you'll know which Twitter handles you need to find. 
Raheem Sterling – @sterling7
DO YOU EVEN LIFT ? 🏆🏆🏆 pic.twitter.com/bU61jda93R

— Raheem Sterling (@sterling7) May 23, 2021
English football hall-of-famer in the making, Raheem Sterling, is a great follow on Twitter. His feed is dominated by training and game updates which give you a glimpse of how much work this man puts in behind the scenes. Sterling is very vocal about social injustices within football and is a driving force in the campaign to stamp out racism within football.
Amongst the more serious content, Raheem also drops some entertaining tweets, like the one you see above. This was posted just after Man City won the Premier League trophy for the seventh time. Sterling cited the popular internet meme, 'Do you even lift, bro?' as the caption of the image of him holding the gigantic trophy.
Benjamin Mendy – @benmendy23
Someone please find the sniper in the stands !! Hahaha 😭😂 @kylewalker2 u ok boi ?! 😂💙💙💙 pic.twitter.com/0BNIUbrTNI

— Benjamin Mendy (@benmendy23) September 9, 2017
Benjamin Mendy is another must-follow on Twitter from the Man City squad. He doesn't take himself too seriously and often posts extremely funny content. There's something about a Frenchman tweeting 'Oulala' that just makes you smile.
We went digging to find Mendy's funniest tweet and after a long deliberation, we picked the tweet where he calls out Kyle Walker for a horrific dive. Props to the cameraman for capturing such a funny moment and top marks to Mendy for the hilarious caption. 
Football Funnys – @Footballfunnys – Shy Lingard
When you're too shy to talk to your crush 😂😂

Guess goalscorers to win $10,000 for every Premier League round. Participate for free at https://t.co/fz25tLKjjz pic.twitter.com/xBTCKYNQqK

— FootballFunnys (@FootballFunnnys) September 21, 2021
Football Funnys is a hilarious Twitter page that churns out laughable football memes every day. They stay up to date so there will always be fresh content after a weekend of Premier League football. 
The tweet above is from last weekend and captures an excellent moment of the Man U team celebrating Jesse Lingard's 29th Premier League goal. It looks exactly like a group of lads encouraging their shy friend to go chat to a girl at a bar! Well done, Football Funnys 👏 .
Lukaku vs Pablo Mari – @CFCjosh29
lukaku bullied pablo mari and even made him give him a quick wank pic.twitter.com/RMRm8QpGBj

— Josh (@CFCjosh29) August 22, 2021
Chelsea dominated Arsenal when the two teams faced off in August this season. Romelu Lukaku made a mockery of Arsenal's centre back Pablo Mari which caused him to get some stick on Twitter (and probably in the dressing room). 
This image captured a moment where Lukaku is bulldozing through Pablo Mari. In his desperate attempt to stop Lukaka from getting past him again, Pablo Mari grabs hold of whatever he can to slow the big Belgian down. I'll let the tweet do the talking but it had us rolling around on the floor in the Ticket-Compare office. 
Peter Crouch – @petercrouch – Premier League Twitter Gold
Palace spurs
Can't wait pic.twitter.com/6IS9RslqcN

— Peter Crouch (@petercrouch) September 11, 2021
There are not many people within the football industry who are on Twitter that can top the consistent humour that Crouchy delivers to his followers. His feed is full of highlights from some of the many TV appearances he makes and plenty of self-deprecating humour.
The above tweet shows Peter Crouch and co-presenter Jake Humphreys squashed into the seats where they will be commentating on the match. The two gents are on the tall side and a picture paints a thousand words. I'm sure they've never experienced such comfort…
Summer for me is about time with family . pic.twitter.com/dtft1CZoyl

— Peter Crouch (@petercrouch) June 19, 2017
And just in case you don't have time to scroll back to 2017, here's an absolute belter of a Peter Crouch tweet!
Emma Coolen – @emmacoolen24
💁‍♀️💁‍♀️💁‍♀️ pic.twitter.com/uMYwXSvUJJ

— Emma Coolen (@emmacoolen24) September 17, 2021
Emma Coolen is an ex-professional football turned content creator. She works for Feyenoord Rottedam as a content creator and previously was Fifa's Dutch reporter during Fifa's 2019 Womens World Cup. She works hard to promote womens football fighting for equal pay and equal attention on the football world stage.
Coolen is well worth a follow for all the quality memes and her valuable perspective on the world of football that is driving womens football forward. She will also keep you up to date with what's happening in the FA WSL. 
Jonny Sharples – @JonnyGabriel
Sure sex is great but have you ever written ENGLAND in one of the Final spaces on a tournament wall chart.

— Jonny Sharples (@JonnyGabriel) July 7, 2021
Jonny Sharples is a self-proclaimed 'online joker' and football fanatic. His feed is full of laugh out loud tweets that often prvodie a hallarious perspective on footballing current affairs. He provides daily content for his 75k twitter followers which will brighten up your day.
We had to highlight his tweet about England making it to the euros finals. For years, England fans have been disappointed with quaterfinal knockouts. We all know how great it was to see our lads make it to the final this year. So, Jonny's tweet about how it feels to write England in the finals section on a tournament wall chart sums it up perfectly!
Gary Neville – @GNev2
I can't 👍 https://t.co/URxPmotP4n

— Gary Neville (@GNev2) September 19, 2021
Footballing legend Gary Neville is extremely active on Twitter. He's now a pundit for Sky Sports which keeps him up to date with all the latest footballing action. So, if you follow Gary you're unlikely to miss any big footballing event. Similarly to Peter Crouch you can expect lots of self-deprecating jokes and a fair share of Jamie Carragher roasts.
He loves to retweet semi-abusive but quite funny fan tweets with witty reponses. His dry sense of humour really comes out which will provide anyone who follows him with a bunch of laughs. 
And at least he knows what we all think of him…
Completely ! 💯 https://t.co/4DKzYKnYyX

— Gary Neville (@GNev2) September 8, 2021
Jamie Carragher – @Carra23
.@GNev2 as that goal went in 😂😂 #ChampionsLeague #LIVACM pic.twitter.com/BsjTiqNa6b

— Jamie Carragher (@Carra23) September 15, 2021
We can't mention Gary Neville without talking about his Sky Sports pundit sparring partner, Jamie Carragher. They pair have heated debates on screen and take the piss out of each other on Twitter as well. 
Carraghers feed is mostly filled with highlights from his pundit appearances, Tweets ripping into Neville and other funny observations about the Premier League. He's also a columist at the telegraph so you can also expect the occasional high-brow football article to be shared.
Final thoughts on the best Premier League Twitter follows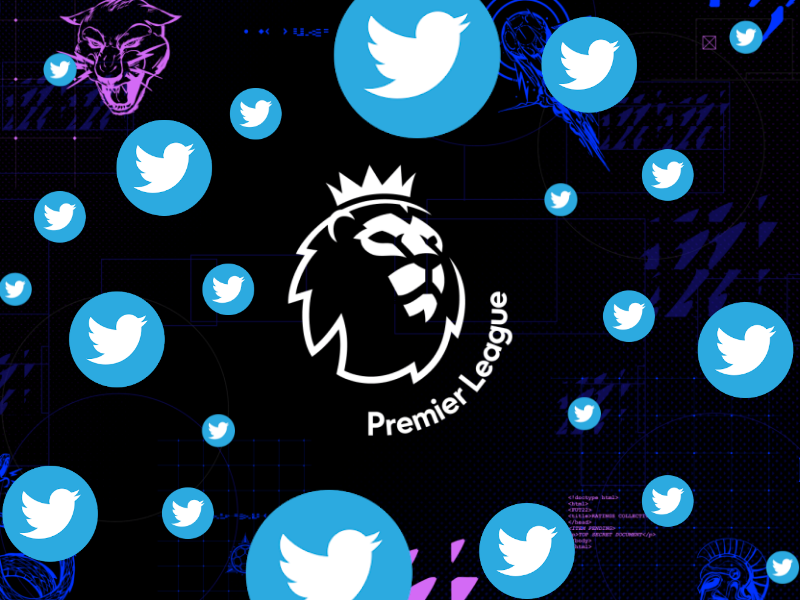 There is more hilarious Premier League Twitter content than you could ever read. Often the funniest tweets come from unknown fans in a moment of pure comedy inspiration. However, the aim of this article was to provide you with some of the funniest Twitter accounts that produce consistently funny tweets about the Premier Leage. After you've given everyone in this list a follow, you can guarantee that you'll always have something to laugh at on your Twitter feed.