Should you buy tickets from GETMEIN?
Getmein.com is one of the UK's largest secondary ticket reselling platforms, offering up a huge variety of tickets for sports events, festival and concerts. Their affiliation with ticket giants Ticketmaster has opened a lot of doors for Getmein, particularly with their visibility online ticket stock and their ability to market incredibly well. However, their sleek set up and strong web presence has allowed Getmein to charge a higher price when compared to the rest of the market.
One of Getmein.com's biggest draws is that they are based in the UK, which keeps all of their business efforts above board and kosher. Being one of the biggest ticket vendors at home and internationally has allowed them to tap into a huge variety of concerts, festivals and sporting events domestically and abroad. Tickets range from Premier League football matches to the ATP World Tour Finals, and their massive marketplace caters for every budget.
Getmein.com is a well-trusted, established and connected reseller that has close ties to Ticketmaster. As a result, you can feel safe in dealing with them, however you can also expect to pay a little more for that peace of mind.
Is Getmein.com Well Designed?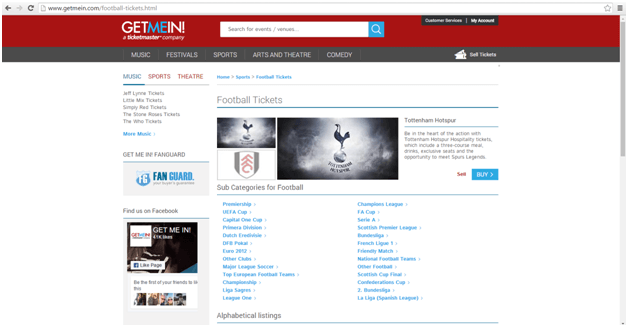 From an aesthetic point of view, Getmein.com looks a little busy and dated. There are a lot of categories, lists and drop-down menus for you to browse through, as well as a search bar if you know what you are looking for. Functionally, the website is designed to be incredibly straightforward to help you find what you need. If you are looking for a Premier League football ticket, for example, you can either check the popular sports lists or use the Sports category to scour through football tickets. Everything is neatly placed and logically organised, all making it a piece of cake to find your perfect ticket.
My Purpose tickets came!!! 😭😍 see you @justinbieber on the 12th October #PurposeTour and thank you @GETMEIN

— vanessa (@1994xjustin) August 29, 2016
@GETMEIN THANK U SO MUCH! FOR MY @ladygaga TICKETS!!! #RESELLER #JoanneWorldTour AMAZING, NOT EVEN MUCH MORE EXPENSIVE!!! LOVE YAA! *PAWSUP*

— PerfectGaga (@xyGaGaliciousxy) February 10, 2017
Fair play to @GETMEIN their customer service is brilliant! Thank you so much for sorting my ticket out

— Connor Pengelly (@BlinkyyConnor) November 12, 2016
When you find the match ticket that you are after, Getmein.com does a great job of providing you with key information about availability and the upcoming event. If you are looking at an Arsenal FC home game, for example, Getmein.com breaks down what tickets they have for you using a number of filters. Price of tickets, the quantity available and the section of the stadium are all easy to filter with, displaying what you can get in a handy, neat table.
Is Getmein.com Easy To Use?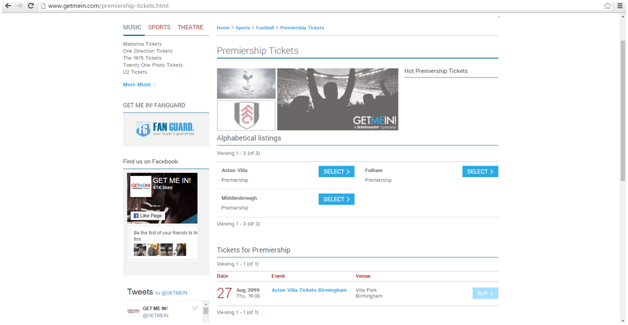 For the vast majority of ticket reselling websites, the customer experience is more of an afterthought than anything else. This can make general navigation and ease of use tricky, particularly if you are trying to categorise and filter the tickets that you are after. Thankfully, Getmein.com have spent a great deal of time making their website easy to use after a little interaction. It seems daunting at first, due to the dizzying variety of lists at your disposal, however with a little tinkering it is easy to find exactly what you want.
One of Getmein.com's strongest benefits is their affiliation with Ticketmaster. Having such a corporate powerhouse in their corner has granted Getmein.com with access to a larger marketplace, which in turn makes it a whole lot easier to find the ticket that you want. Their range spans all sorts of festivals, concerts and sporting events that will almost always have available tickets.
Getmein.com lacks a streamlined buying process for the customer, which can be bothersome. Their website requires registration before you can purchase a ticket from a seller, which slows up the process and, for many, is a privacy concern.
Does Getmein.com Have Good Customer Support?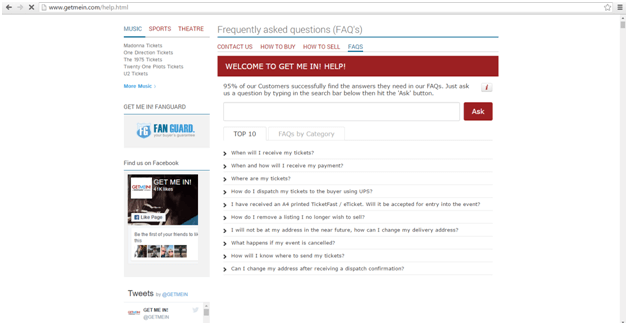 From a customer support perspective, Getmein.com covers the basics but they make it perfectly clear that they are not selling tickets to you. As with all ticket resellers, Getmein.com is only a platform for transactions between buyers and sellers. Due to this, holding them personally accountable for support can be difficult. However, Getmein.com have went the extra distance in a few areas in their customer service and support, such as an active Twitter and Facebook and a well constructed FAQ.
Thanks to being based in the UK, Getmein.com has the benefit of being an above-board, accountable reseller. That means that UK regulations apply to this company, which are much more stringent than elsewhere across the globe. This level of accountability is essential in ticket reselling, as you need to feel safe that your purchase will not fall through. Better yet, being based in the UK means that their operating hours are standard UK times. All in all, these factors make it easier and safer to work with Getmein.com.
Is Getmein.com Expensive?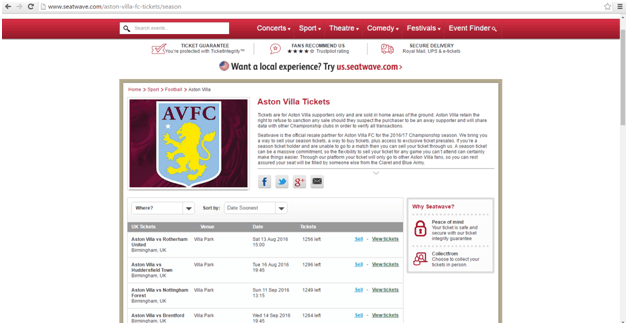 Companies that provide platforms for ticket resellers are constantly reiterating the point that they are not responsible for the prices of their tickets. By this business's very nature, prices are dependant on the popularity of the event, availability of the tickets and, ultimately, how much the seller decides to charge. Thankfully, the large market that Getmein.com have nurtured provides competitive rates across the board for all tickets, from Premier League tickets to Champions League Final tickets. Better yet, Getmein.com accepts Paypal as well as the standard cards such as Visa and Mastercard.
With all of that said, Getmein.com need to get a cut somewhere – nothing in life is free, after all. This cut comes in the form of a 10 per cent fee that is tacked on to every transaction made on their marketplace. From the sellers side, they will not incur any sort of charges or fees. Buyers are stuck with that extra 10 per cent, though, making ticket prices a little more pricey. The final sting is the pricey delivery fee that will also be charged to the buyer.
Is Getmein.com A Safe Reseller?
Security is always an issue when making any online transaction, and thankfully Getmein.com have taken all of the right steps to make their business safe. Getmein.com offers guarantees should you do not receive your ticket, however they will try their best to get you to your event. If a seller cannot provide the ticket that you have bought, then they are culpable for the excess charges as well as additional fees tacked on by Getmein.com themselves.
Getmein.com offers a buyers guarantee, known as Fan Guard to ensure your transaction is as secure as possible. In short, they will step in and provide you with a replacement ticket – of equal or better value – at no extra cost. In the unlikely scenario that they cannot provide this ticket, then you are eligible for a 100 percent money back guarantee.
Should I Use Getmein.com?