The UEFA European Championship's month-long tournament is always a spectacle, and this year is no different. People have been scouring high and low to get their hands on tickets to the best matches, which feature the 24 best international squads in Europe. The Championship will be held in France this year, already famed for its tourism, so it is expected to be particularly difficult to find tickets.
With that said, if you have not already purchased a ticket to any of the matches, your options for getting one are quite limited. You could be lucky enough to find someone you know that cannot attend, the chance a ticket tout as one of the games – definitely not recommended for numerous reasons – or go to an online ticket reseller. Unfortunately, the chances of someone selling their tickets at face-value are slim-to-none, so resellers are your most likely bet.
This guide is built around arming you with the necessary tools needed to secure tickets to some of the best matches in the upcoming UEFA 2016 European Championship. If you are new to ticket resales, it can all be quite daunting and difficult to know if you are overpaying. This survival guide will point you in the right direction, help you avoid getting burnt or overcharged and ensure you have all of your options explained to you before you make a decision.
Avoiding Fake Tickets And Scams
Sourcing tickets for the bigger UEFA matches is risky business, especially so close to the actual tournament. What makes it even harder is that due to the high popularity of this event, scammers and fake ticket sellers will be rampant. These scam sites, such as Ticketindex.net, will offer the best seats at incredibly low prices. However, the chances of you seeing your tickets are virtually nil. Moreover, your bank account security could be compromised, which is a very dangerous situation to be in.
The best way to avoid these scams is to go through the bigger, more reputable sites such as Livefootballtickets or ticketbis. It is important to not be swayed by promises of better seats, cheaper prices and a better experience from the less reputable sites. For security and safety it is always advised that you opt for the bigger resellers. Better yet, some of the larger resellers work directly with the clubs, such as Stubhub teaming up with Tottenham Hotspur FC. This all but guarantees a safe and secure transaction from your end. They are also a trusted seller, so you can purchase from them without losing out.
To help equip fans with the right tools to get the right tickets, UEFA has provided a rather nifty tool to sift out the scammers from the genuine article. Brandsays – available at https://www.brandsays.com/en/download/ – is a website browser extension that alerts you when you enter a shady, scam-ridden site. The extension has catalogued hundreds of reports from known scamming websites, and will alert you of that fact if you click onto one of the shady pages. Using this extension while browsing for tickets is a great way of defending against fakes and scams.
If you have your ticket, and are still not sure whether or not it is authentic – take a closer look at it. Legitimate tickets will have a few design features that are difficult to copy, so look for them. UEFA describes some of their security features as: 'laser engraving and laser perforation, barcode and the new photonic high-resolution image – a coloured hologram.'
Look for these features on your ticket, and compare it to the image below, which is an authentic ticket.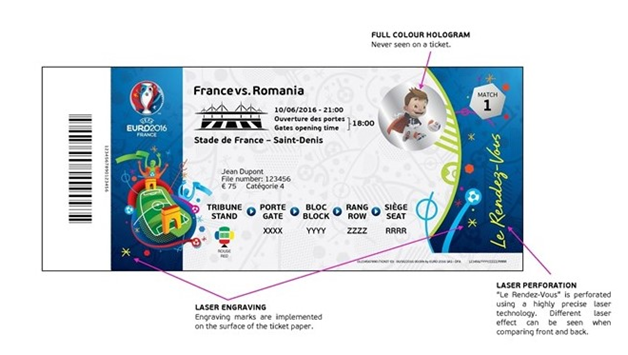 Avoid Ticket Touts
Ticket touts and scalpers have been a necessary evil in the ticketing world ever since tickets have existed. For many, paying exorbitant amounts to get a ticket outside the venue on game day used to be their only option. Using a scalper comes with a host of concerns, from legality to safety. It is illegal to purchase or sell a ticket through scalping, and if you are caught you will certainly be ejected from the venue. Even worse, the scalpers themselves tend to be crooked at best, dangerous at worst. Many ticket touts are affiliated with organized crime, and putting yourself in a potentially dangerous situation over a ticket is a rather poor move.
Thankfully, online ticket reselling has taken the sting out of scalpers. By bringing a third party into the transaction – especially the larger names such as Seatwave.com – you have the ability to get matches to the games that you want up to the day before the event safely. The procedures that legitimate resellers put in place are designed to guarantee your ticket, or your money back (sometimes 150 % guaranteed cashback).
The False Promise Of Sweepstakes
If you fancy yourself lucky, there are scores of sweepstakes online on social media that offer up tickets to some of Euro 2016's biggest games. Some of these sweepstakes are held by official companies, such as @CocaCola_GB on Twitter. There are also hundreds of unofficial sweepstakes across Twitter, Facebook and other social media.
The obvious issue with sweepstakes is the chance of winning. You are highly unlikely to be the lucky winner of one of these raffles, due to the tens of thousands of other participants. Worse still, while you wait for a winning entry to come your way, the actual price of the tickets are skyrocketing. If you actually want to go to a game, a sweepstake is definitely not the best way to get there.
What Is A Good Price?
The price that you will pay for a ticket to a Euro 2016 match will vary a great deal depending on the game and the seat. At face value, a ticket to the Euro 2016 final varies from £62 for a standard nosebleed seat to £650 if you want the best seats in the house. This is at face value though, and as previously mentioned there is no real way that you will obtain a resold ticket for its original price.
So, what is a fair price? Well, if we stick with the Euro final as an example, ticket resellers Viagogo.co.uk are currently selling at £400 for a standard seat. This may seem incredibly steep at first, but considering the tournament is about to start, it is expected. Other resellers, such as Kixfootballtickets.com, are selling the same tickets for about £1000. The tickets are the same, but the supply on Viagogo.com is more bountiful than at Kixfootballtickets.com. Your safest bet is to shop around some of the reputable sites, like the ones mentioned above, and price match.
Summary
With the UEFA 2016 Euro's just around the corner, if you want a ticket you will need to strike while the iron is hot. Making sure you get to your preferred game will involve a little legwork, though. You can avoid scalpers and touts using legitimate ticket resellers, but be prepared to shop around for the price. Alternatively, Ticket-Compare.com has gone to the trouble of sourcing safe, affordable ticket resellers for you. By only filtering and listing trusted resellers, Ticket-Compare.com creates a safe list of potential ticket vendors, priced lowest to highest for your convenience. Above all, if you make it to a game, enjoy yourself!