380 million people tune in each year to watch the top European football teams battle it out for the infamous champions league title. We've seen Late comebacks in Istanbul and underdog stories in Munich, but which of these galactic finals is the fan favourite?
10. Real Madrid 2-1 Bayer Leverkusen 2002 (2.3 Million Views)
At first glance, it might come as a surprise that this matchup ranks so highly on our list of 67 finals, but this game had one of the best champions league goals of all time, if not one of the best football goals of all time. A cross by Roberto Carlos to Zinedine Zidane who half volleys it into the top corner gifting Real Madrid the win. A moment of absolute magic that only Zidane could pull off.
https://www.youtube.com/watch?v=ca-O58vdPTQ
9. Real Madrid 3-1 Liverpool 2018 (2.4 Million Views)
The 2018 final saw The Spanish Galacticos meet the English Reds. An early injury to Mohamed Salah, an outrageous overhead kick from Gareth Bale and a disasterclass from the Liverpool goalkeeper Lloris Karius saw Liverpool lose the game 3-1. Real Madrid's experience and composure were enough to beat Liverpool on that day, but will it be enough in 2022?
https://www.youtube.com/watch?v=CG1B6rxlZ-8
8. Inter Milan 2-0 Bayern Munich 2010 (3.2 Million Views)
In style="color: blue;text-decoration: underline;" this galactico level matchup, the Bundesliga Champions face the Seria A Champions. The Special One José Mourinho's 4-2-3-1 faces up against Louis van Gaal's 4-2-3-1. Diego Milito scores one in each half to win the game and bring Big Ears to the San Siro to complete the treble for the first time in their history.
https://www.youtube.com/watch?v=OUTvglBTQ8Y
7. Manchester United 1-1 Chelsea (6-5p) 2008 (3.3 Million Views)
Th style="color: blue;text-decoration: underline;"e first all-English European final was to feature two of the greatest sides featuring players like Ronaldo, Lampard, Scholes and many more. The first 90 minutes ended one apiece with goals from Ronaldo and Lampard. The game goes all the way to penalties where John Terry famously slips and hits the post, meaning Manchester United finish their season with both the Premier League and The Champions League titles.
https://www.youtube.com/watch?v=YtzHAkcjHv4
6. Real Madrid 4-1 Juventus 2017 (3.6 Million Views)
An Italian team that lost their last 4 champions league finals face A Spanish team that won their last five finals, including the year before (2016). Even with Mandžukić's world-class overhead kick, it was not going to be Juventus' day as Ronaldo scores a brace making the score 4-1 to Real Madrid at full time.
Real Madrid would end up winning the Champions League the following year, making them the first team to win it 3 times in 3 consecutive years.
https://www.youtube.com/watch?v=Rtsp6KrRE8I&t=684s
5. Chelsea 1-1 Bayern Munich (4-3p) 2012 (4.7 Million Views)
This was Bayern's 9th European final and only the second for the tournament underdog Chelsea. To make matters worse for Chelsea, the final was in Bayern Munich's backyard, The Allianz Arena. The game goes to penalties after a jaw-dropping last-minute equalizer from Didier Drogba to close the game out at 1-1. It also had to be Drogba to score the final penalty to win Chelsea their first-ever champions league final.
https://www.youtube.com/watch?v=lBP7QQYN1IU
4. Liverpool 2-0 Tottenham Hotspur 2019  (4.9 Million Views)
The second all English final brings a European giant face to face with an up-and-coming newbie. It did not take long for Tottenham to concede a penalty, 25 seconds to be exact, which Salah scores to put Liverpool 1-0 up. Origi makes it 2-0 as Liverpool adds a 6th Champions League Trophy to their cabinet leaving Tottenham on a quest for their first.
https://www.youtube.com/watch?v=0VzNx27VAXw
3. Barcelona 3-1 Juventus 2015 (5.2 Million Views)
An exciting Juventus squad were to face off against one of the best front lines in world football (Mesi, Suárez, Neymar)  to try to end their champions league final losing streak. Unfortunately for Juventus, even after Morata's equalizer in the 55th minute, the Barcelona attack would be too much for them as the game would end 3-1 to the Spanish giants.
https://www.youtube.com/watch?v=1mVu7AzvCDo
2. Barcelona 2-1 Arsenal 2006 (6.4 Million Views)
In 2006, the invincible Arsenal faced off against a Barcelona team that missed one of their star players, Lionel Messi, due to injury. An early sending off for the Arsenal keeper Jens Lehmann puts arsenal in a tough position for the rest of the game. After an honourable fight from the North London team, Barcelona ends up on top denying Arsenal their first Champions League Trophy as the game ends 2-1 to Barcelona.
https://www.youtube.com/watch?v=VsdMmDwCY10
1. Liverpool 3-3 Milan (3-2p) 2005 (7.7 Million Views)
Istanbul was witness to the greatest night in Champions League history! A night that both sides will not forget anytime soon. Liverpool go down by 3 goals to 0 in the first half, but it was not over just yet. An early second half goal by Gerrard gives Liverpool the momentum to score two more goals within the span of 6 minutes making the score 3-3. The game goes to penalties and Liverpool completes the greatest comeback in Champions League history.
https://www.youtube.com/watch?v=3OQToElxke4
Real Madrid – Liverpool 2022
9 out of the 10 top viewed finals have included an English or a Spanish team and the 28th of May will feature both as these two European giants will clash for the third time. Liverpool look to avenge the 2019 final, but Real Madrid have not lost a European final for over 40 years. However, the last time they did lose was against The Merseyside Reds Liverpool in 1981!
We have a score to settle. pic.twitter.com/MWxfhIIW78

— Mohamed Salah (@MoSalah) May 4, 2022
Methodology
We sourced all the details for the Champions League finals from Wikipedia and the UEFA official website. We then searched YouTube for the official highlights for each of the games and tallied the number of views for each to be able to rank them according to their view count.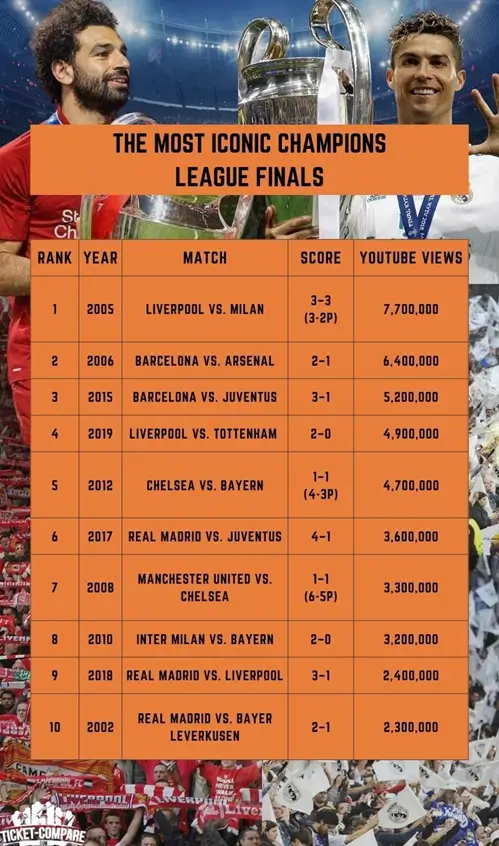 Check out our data source
here
or here:
Winners
Runners-up
Season
Nation
Team
Score
Nation
Team
Venue
Attend­ance
Views
2004–05
ENG
Liverpool
3–3
(3-2p)
ITA
Milan
Atatürk Olympic Stadium, Istanbul, Turkey
69000
7700000
2005–06
ESP
Barcelona
2–1
ENG
Arsenal
Stade de France, Saint-Denis, France
79610
6400000
2014–15
ESP
Barcelona
3–1
ITA
Juventus
Olympiastadion, Berlin, Germany
70442
5200000
2018–19
ENG
Liverpool
2–0
ENG
Tottenham Hotspur
Metropolitano Stadium, Madrid, Spain
63272
4900000
2011–12
ENG
Chelsea
1–1
(4-3p)
GER
Bayern Munich
Allianz Arena, Munich, Germany
62500
4700000
2016–17
ESP
Real Madrid
4–1
ITA
Juventus
Millennium Stadium, Cardiff, Wales
65842
3600000
2007–08
ENG
Manchester United
1–1
(6-5p)
ENG
Chelsea
Luzhniki Stadium, Moscow, Russia
67310
3300000
2009–10
ITA
Inter Milan
2–0
GER
Bayern Munich
Santiago Bernabéu, Madrid, Spain
73490
3200000
2017–18
ESP
Real Madrid
3–1
ENG
Liverpool
NSC Olimpiyskiy Stadium, Kyiv, Ukraine
61561
2400000
2001–02
ESP
Real Madrid
2–1
GER
Bayer Leverkusen
Hampden Park, Glasgow, Scotland
50499
2300000
2020–21
ENG
Chelsea
1–0
ENG
Manchester City
Estádio do Dragão, Porto, Portugal[n]
14110
2200000
2003–04
POR
Porto
3–0
FRA
Monaco
Arena AufSchalke, Gelsenkirchen, Germany
53053
2100000
2010–11
ESP
Barcelona
3–1
ENG
Manchester United
Wembley Stadium, London, England
87695
2000000
2012–13
GER
Bayern Munich
2–1
GER
Borussia Dortmund
Wembley Stadium, London, England
86298
1900000
2013–14
ESP
Real Madrid
4–1
ESP
Atlético Madrid
Estádio da Luz, Lisbon, Portugal
60976
1900000
2006–07
ITA
Milan
2–1
ENG
Liverpool
Olympic Stadium, Athens, Greece
63000
1600000
1999–2000
ESP
Real Madrid
3–0
ESP
Valencia
Stade de France, Saint-Denis, France
80000
1500000
2019–20
GER
Bayern Munich
1–0
FRA
Paris Saint-Germain
Estádio da Luz, Lisbon, Portugal[l]
0
1400000
1998–99
ENG
Manchester United
2–1
GER
Bayern Munich
Camp Nou, Barcelona, Spain
90245
1100000
2008–09
ESP
Barcelona
2–0
ENG
Manchester United
Stadio Olimpico, Rome, Italy
62467
1100000
1991–92
ESP
Barcelona
1–0
ITA
Sampdoria
Wembley Stadium, London, England
70827
860000
2015–16
ESP
Real Madrid
1–1
(5-3p)
ESP
Atlético Madrid
San Siro, Milan, Italy
71942
836000
1967–68
ENG
Manchester United
4–1
POR
Benfica
Wembley Stadium, London, England
92225
727000
1993–94
ITA
Milan
4–0
ESP
Barcelona
Olympic Stadium, Athens, Greece
70000
722000
1996–97
GER
Borussia Dortmund
3–1
ITA
Juventus
Olympiastadion, Munich, Germany
59000
715000
1966–67
SCO
Celtic
2–1
ITA
Inter Milan
Estádio Nacional, Lisbon, Portugal
45000
364000
1983–84
ENG
Liverpool
1–1
(4-2p)
ITA
Roma
Stadio Olimpico, Rome, Italy
69693
361000
1990–91
YUG
Red Star Belgrade
0–0
(5-3p)
FRA
Marseille
Stadio San Nicola, Bari, Italy
56000
344000
1979–80
ENG
Nottingham Forest
1–0
GER
Hamburger SV
Santiago Bernabéu, Madrid, Spain
51000
315000
1980–81
ENG
Liverpool
1–0
ESP
Real Madrid
Parc des Princes, Paris, France
48360
305000
1984–85
ITA
Juventus
1–0
ENG
Liverpool
Heysel Stadium, Brussels, Belgium
58000
281000
1985–86
ROU
Steaua București
0–0
(2-0p)
ESP
Barcelona
Ramón Sánchez Pizjuán, Seville, Spain
70000
257000
1992–93
FRA
Marseille
1–0
ITA
Milan
Olympiastadion, Munich, Germany
64400
248000
1955–56
ESP
Real Madrid
4–3
FRA
Reims
Parc des Princes, Paris, France
38239
196000
1961–62
POR
Benfica
5–3
ESP
Real Madrid
Olympisch Stadion, Amsterdam, Netherlands
61257
191000
2002–03
ITA
Milan
0–0
(3-2p)
ITA
Juventus
Old Trafford, Manchester, England
62315
182000
1959–60
ESP
Real Madrid
7–3
GER
Eintracht Frankfurt
Hampden Park, Glasgow, Scotland
127621
140000
1972–73
NED
Ajax
1–0
ITA
Juventus
Red Star Stadium, Belgrade, SFR Yugoslavia
89484
139000
1978–79
ENG
Nottingham Forest
1–0
SWE
Malmö FF
Olympiastadion, Munich, West Germany
57500
134000
1956–57
ESP
Real Madrid
2–0
ITA
Fiorentina
Santiago Bernabéu, Madrid, Spain
124000
131000
1971–72
NED
Ajax
2–0
ITA
Inter Milan
De Kuip, Rotterdam, Netherlands
61354
127000
1981–82
ENG
Aston Villa
1–0
GER
Bayern Munich
De Kuip, Rotterdam, Netherlands
46000
127000
1957–58
ESP
Real Madrid
3–2
ITA
Milan
Heysel Stadium, Brussels, Belgium
67000
117000
1976–77
ENG
Liverpool
3–1
GER
Borussia Mönchengladbach
Stadio Olimpico, Rome, Italy
57000
116000
1960–61
POR
Benfica
3–2
ESP
Barcelona
Wankdorf Stadium, Bern, Switzerland
26732
111000
1989–90
ITA
Milan
1–0
POR
Benfica
Praterstadion, Vienna, Austria
57558
105000
1986–87
POR
Porto
2–1
GER
Bayern Munich
Praterstadion, Vienna, Austria
57500
103000
1977–78
ENG
Liverpool
1–0
BEL
Club Brugge
Wembley Stadium, London, England
92500
102000
1970–71
NED
Ajax
2–0
GRE
Panathinaikos
Wembley Stadium, London, England
83179
92000
2000–01
GER
Bayern Munich
1–1
(5-4p)
ESP
Valencia
San Siro, Milan, Italy
71500
89000
1963–64
ITA
Inter Milan
3–1
ESP
Real Madrid
Praterstadion, Vienna, Austria
71333
84000
1975–76
GER
Bayern Munich
1–0
FRA
Saint-Étienne
Hampden Park, Glasgow, Scotland
54864
82000
1958–59
ESP
Real Madrid
2–0
FRA
Reims
Neckarstadion, Stuttgart, West Germany
72000
79000
1965–66
ESP
Real Madrid
2–1
YUG
Partizan
Heysel Stadium, Brussels, Belgium
46745
78000
1988–89
ITA
Milan
4–0
ROU
Steaua București
Camp Nou, Barcelona, Spain
97000
62000
1962–63
ITA
Milan
2–1
POR
Benfica
Wembley Stadium, London, England
45715
61000
1969–70
NED
Feyenoord
2–1
SCO
Celtic
San Siro, Milan, Italy
53187
37000
1997–98
ESP
Real Madrid
1–0
ITA
Juventus
Amsterdam Arena, Amsterdam, Netherlands
48500
33000
1973–74
GER
Bayern Munich
4–0 (replay)
ESP
Atlético Madrid
Heysel Stadium, Brussels, Belgium
23325
32000
1987–88
NED
PSV Eindhoven
0–0
(6-5p)
POR
Benfica
Neckarstadion, Stuttgart, West Germany
68000
31000
1982–83
GER
Hamburger SV
1–0
ITA
Juventus
Olympic Stadium, Athens, Greece
73500
28000
1974–75
GER
Bayern Munich
2–0
ENG
Leeds United
Parc des Princes, Paris, France
48374
25000
1994–95
NED
Ajax
1–0
ITA
Milan
Ernst-Happel-Stadion, Vienna, Austria
49730
24000
1995–96
ITA
Juventus
1–1
(4-2p)
NED
Ajax
Stadio Olimpico, Rome, Italy
70000
16400
1968–69
ITA
Milan
4–1
NED
Ajax
Santiago Bernabéu, Madrid, Spain
31782
13000
1973–74
GER
Bayern Munich
1–1
ESP
Atlético Madrid
Heysel Stadium, Brussels, Belgium
48722
13000
1964–65
ITA
Inter Milan
1–0
POR
Benfica
San Siro, Milan, Italy
89000
10000