Live Football Tickets Full Review
Livefootballtickets.com is a secondary source for tickets to football games, and has found a great deal of success in their brand. Although when possible it is always recommended that you buy straight from the club that you would like to see, secondary ticket selling sites have become very reliable over the years. These vendors are definitely becoming a more viable option when purchasing tickets, especially when compared to the stereotypical scalper that will fleece you on game day. Livefootballtickets.com caters for the international market as well as within the UK, and is one of the best sites in regards of design and ease of use. If you're looking to dip your toe in the secondary ticket market, Livefootballtickets.com is a fantastic option to take.
Layout and Design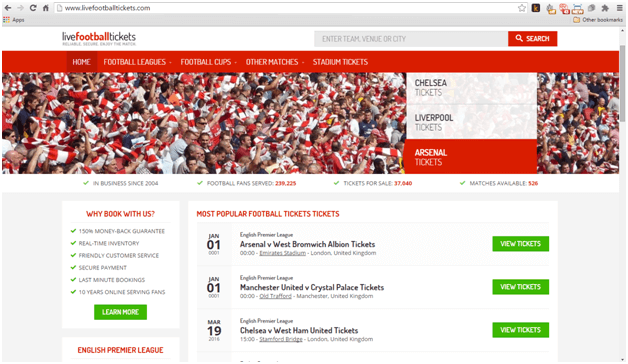 From a functional design perspective, Livefootballtickets.com uses a clean platform to make things easy to use. A feed of the most popular tickets is updated regularly to make it easier to get to. It also features a rather nifty slideshow with functional buttons to select some of the more popular Premiership club game tickets, such as Manchester United. The design also does a great job of categorizing the huge variety of divisions, leagues and cup game tickets for you to choose from. All of these little features help guide you to exactly where you need to go. All of the focus is on the matches that you want – rather than other sites that deviate with facts about the football clubs in question.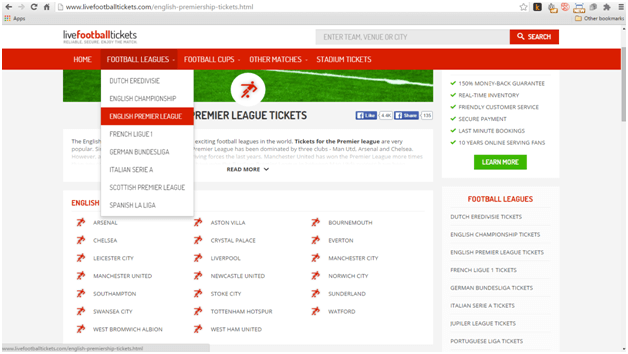 The most important part of this process, though, is the buying of tickets. It is here that Livefootballtickets.com excels. You can either browse their list of games or using the search bar to find what you need. Once you do, you have a plethora of options. It is all laid out in a simplistic way for you to pick out the perfect seat. More to the point, its categories make it an absolute treat to use. Customizing your tickets are a breeze too, thanks to the clean layout of the website.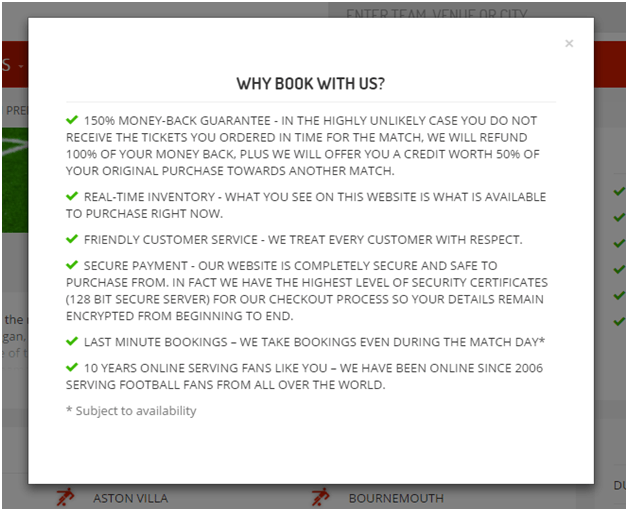 The ease of use on Livefootballtickets.com
Many secondary football ticket sources require a registration and account before you can get your hands on tickets. Thankfully, Livefootballtickets.com has opted against this feature. The ease of purchasing a ticket is much better thanks to the direct payment methods. However, with no direct implementation of Paypal, it feels as though it is missing something pretty important.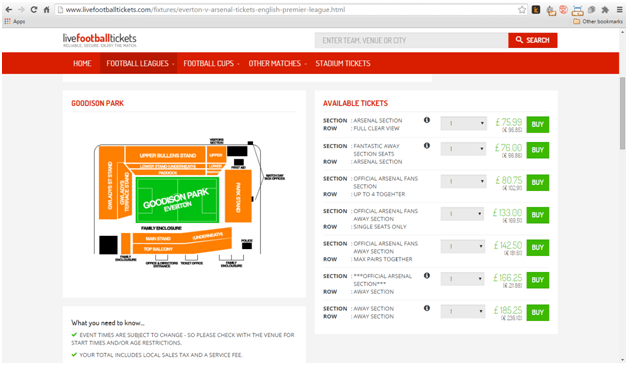 The ease of buying the tickets is decent – the design is great and the customization is highly functional. You can select where in the stands you would like to be seated, how much it costs and it has a nifty 150 % guarantee. This guarantee essentially covers the possibility of you not receiving your ticket on time, or at all.
Livefootballtickets.com also has a great selection of delivery methods depending on the urgency of receipt. Be warned, though, that great selection comes with some really expensive shipping fees. So if you can, book in advance so you're not paying out extra for a more speedy delivery method. It appears that this company strives itself on ensuring their customers get their tickets, which is of great importance when choosing where to buy them.
Livefootballtickets.com Support
When it comes to looking for help, most of these ticket companies lack a great deal of support. If you're using Livefootballtickets.com in the United Kingdom, you'll be surprised to know that you can just pick up a phone and talk to someone if you need help. If you're dealing with Livefootballtickets.com from overseas, however, you're only option seems to be email support. One of the biggest flaws when it comes to support here is the lack of any sort of Live Chat on their website. Hopefully with time, they will include this most useful feature.
@LiveFootballTix all sorted and the seats are great! 😊 thank you

— Pep's Mum (@pepsmum1) October 19, 2016
@LiveFootballTix RECEIVED! @danielr_stone is a happy man. Thanks.

— Maria Cardona (@mmcardona) November 4, 2016
@LiveFootballTix I got my tix to Real Man U from you & they were great. Superb service. Would recommend. James in customer service was ace!

— chetan ladwa (@cladwa) February 14, 2013
Ticket Prices and Costs from Live Football Tickets
The sheer number of available tickets from Livefootballtickets.com is one of its biggest selling points. You are pretty much guaranteed to get the tickets that you're looking for, with the seating that you would like. You have the option to select the section and row of the stadium with a handy graphic showing your seat. It's a simple case of using the drop-down menu for multiple tickets, and sellers can guarantee that you will be able to seat 4 tickets together. If it's more than 4 tickets, they may be grouped in pairs or triplets, but no one will ever sit alone.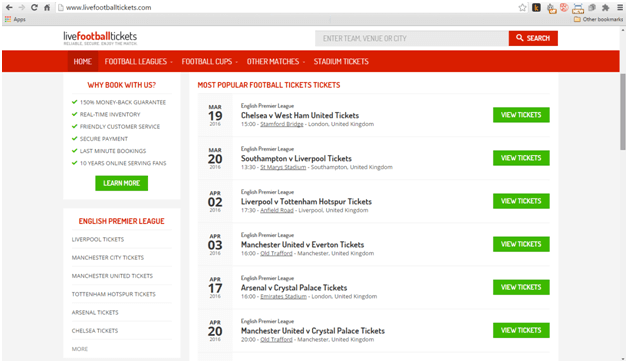 These are tools that can make or break your experience on match day, so it's reassuring to see that Livefootballtickets.com have thought about the customer here. Unfortunately, they have not created a platform for peer-to-peer ticket sales. Although it makes sense – the public market would take away from sales from their site directly – it is a feature that is sorely missed.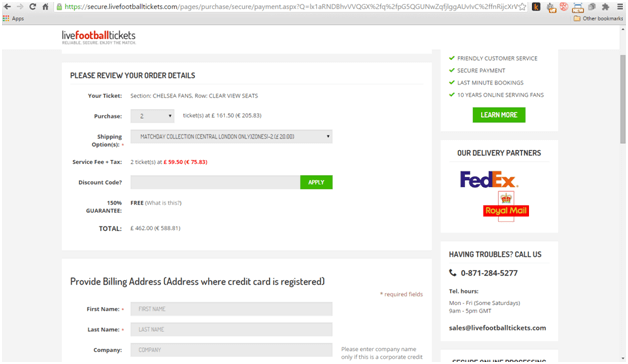 You do pay for the great quality of service that Livefootballtickets.com provides, though. There is the obvious service fee for their role in getting you the tickets that you need, however they also tack on a booking fee. It's an unfortunate addition to the price of a ticket, and it does make a bearing on the final price of your ticket.
Security
There are a few steps that Livefootballtickets.com takes to ensure customer security. Firstly, they use two different types of secure online process. By integrating both McAfee Secure and GEOTrust SSL into their payment processing, security is all but guaranteed from their end. They accept most payment methods, including the usual Visa and Mastercard routes. One of the major downsides, as previously mentioned, is their lack of Paypal functionality. This is a direct result of their beefed up security, so consider it more of a sacrifice than a flaw.
To ensure that you securely purchase your ticket, Livefootballtickets.com also provides a real-time inventory for their tickets. By keeping it in real-time, there is next to no chance of double-bookings. Which in turn means you're all but guaranteed your ticket. This, coupled with their wide range of secure delivery methods using trusted vendors such as FedEx, makes Livefootballtickets.com one of the most reputable sites regarding ticket security.