Who is Ticketmaster?
Ticketmaster have been the definitive brand in ticket sales for decades, and have brokered deals with artists, football clubs and theatres across the globe to sell their tickets. When Live Nation Entertainment took control of the company in 2010, Ticketmaster realigned its targets toward the online world of ticket sales and reselling. Using their massive – albeit patchy – reputation, Ticketmaster has continued to dominate the landscape of the industry online. They have even branched off and created sister companies that they use as secondary market ticket sites, like GETMEIN! and Seatwave.
With the ticket resale industry looking healthier than it ever has, Ticketmaster has a lot of fresh competition to deal with. This gives customers more choices when it comes to buying tickets, so we can look at Ticketmaster with a more critical eye. As a whole, Ticketmaster provides a great service – but could it be better? Let's find out!
Thanks @TicketmasterUK for the signed @cubagoodingjr ticket! pic.twitter.com/ra1wZ2KQFL

— Zander Lavall (@Zander_Lavall) February 16, 2018
How easy it Ticketmaster to use?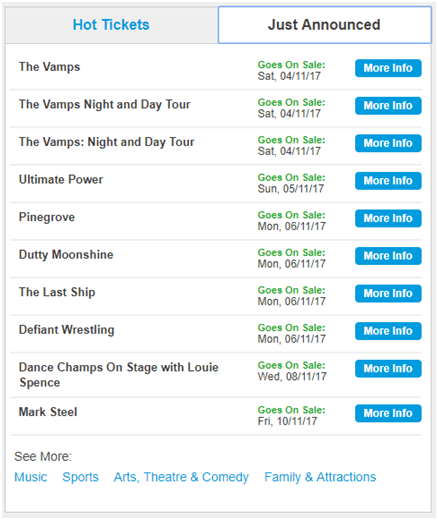 Ticketmaster have crammed an awful lot into their website, which is both good and bad. At first glance, you're assaulted by a wave of lists, tables and image slideshows, which is a little bit off-putting. If you take the time to dig into Ticketmaster's extensive home page, you can find a lot of useful information, like the hottest tickets and new releases. Ticketmaster have even provided a category for offers, if you're looking to find a hot deal. If you know what you're after though, like Ed Sheeran tickets, then you can ignore most of their front page. You can either find what you're after by using a handy search bar, or click through their categories, such as Music or Sports.
Can I get the tickets that I want from Ticketmaster?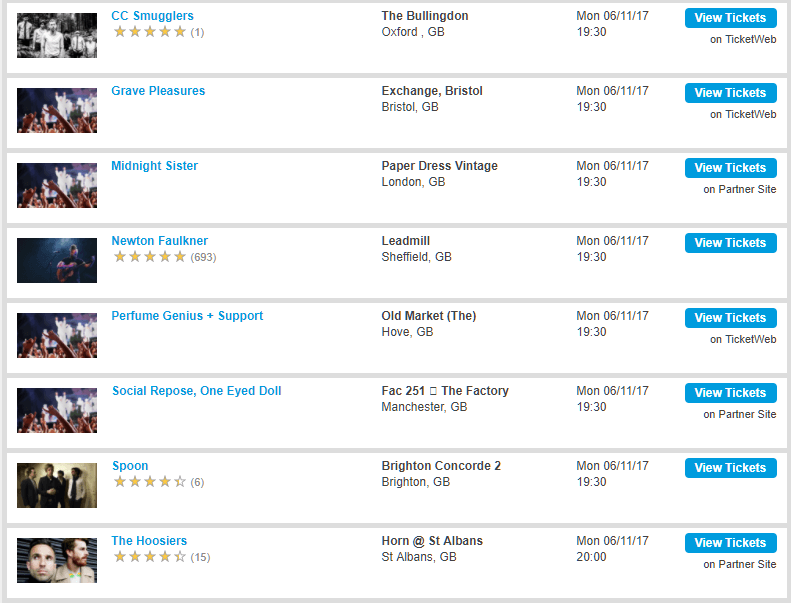 If you're trying to measure the quality of a ticket sales company, one of the most telling things you can look at is their ticket availability. A reputable, well-stocked ticket vendor will have a fantastic selection of tickets to all of the popular live events. You would expect Ticketmaster to focus their brand on ensuring they had a well-stocked marketplace, but it seems that they are missing a step at the moment. Ticketmaster are doing a really poor job of stocking a lot of the most popular live music events, as well as a host of other festival and live events. This is a really disappointing outcome for one of the ticket sales giants, because it is making their brand much less appealing to customers.
Unfortunately, Ticketmaster's poor ticket availability appears to be their own doing. By offloading a lot of their users to sister sites like GETMEIN! and Seatwave, they are forcing their customers to use their own secondary ticket marketplaces. Ticketmaster have always had great prices, but don't expect that from their other sites.
Is Ticketmaster reliable?
Ticketmaster provide a safe and secure environment for you to purchase tickets online. As a result, their service is very reliable, if a little bit tedious. You are required to register with Ticketmaster and make an account before you can buy any tickets, which is a bit annoying. Overall, registration does make your experience safer, so it is just a small complaint. Prices are generally great when you go through Ticketmaster, but as mentioned above ticket availability is lacking.
When it comes to website reliability, Ticketmaster makes sure everything works well – even when there are surges at ticket release dates. So when Reading Festival tickets go live, Ticketmaster's servers won't crash. This is a common problem for smaller sites, and it can mean losing out on a ticket. So that's a big plus for Ticketmaster. Unfortunately, when it comes to purchasing the tickets, you can't use Paypal. All of the major credit and debit cards are accepted, as well as Ticketmaster gift cards.
Do Ticketmaster offer customer support?
Thanks to Nathan at @TicketmasterUK in sorting out a Gift Card issue.

Now onto trying to buy @U2 tickets!

— Thomas O'Donnell (@tododonnell) February 7, 2018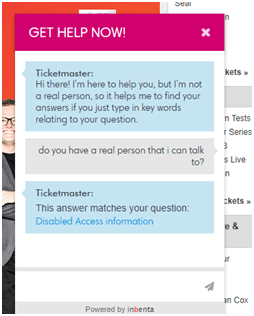 Users have reported a mixed bag when it comes to Ticketmaster's customer service experience. For some, Ticketmaster strive to do everything they can to get you to your live event if you have misplaced or lost a ticket. On the other hand, when it comes to issuing refunds or rescheduling events that have been booked incorrectly, users are frequently greeted with a brick wall instead of a customer service representative.
Another complaint is that Ticketmaster have recently employed automated live chat help. That means that, instead of a real person, you are greeted with a bot that redirects you to an FAQ page. This is really useless, and forces you to pick up the phone and give them a call or drop an email to their customer service team. For the biggest ticket sales company in town, they are really dropping the ball when it comes to customer support.
@TicketmasterUK Hi! The process of sending you a message through your website is one of the most frustrating experiences I've had online. Why can't you simply provide an email address? I have two accounts and want to delete one, can someone help? Thanks, Chris.

— Chris Bryson (@brydo666) February 3, 2018
How fairly priced are football tickets on Ticketmaster ?
Ticketmaster.. I'm trying to buy a $25 ticket to Streetlight Manifesto and you're charging TWENTY DOLLARS in fees... Seriously?? from r/Music
The ticket sales industry is built on the profits made from selling tickets at a higher cost than they are getting them. The only real question is how much of a cut each individual company is taking from the amount that the customer pays. For most online ticket vendors, this is rolled into a booking fee, which varies from 10 to 20 % usually. Ticketmaster are no different, but they call it a service charge. As well as this, Ticketmaster often includes an order processing fee which includes postage and a facility fee. With all of that said, they do a great job of keeping prices for tickets low, even with the additional fees and charges. Ticketmaster's large size probably helps with this a lot, as they can broker deals with the venues, which in turns lets them offer tickets at a lower price.
Should I use Ticketmaster?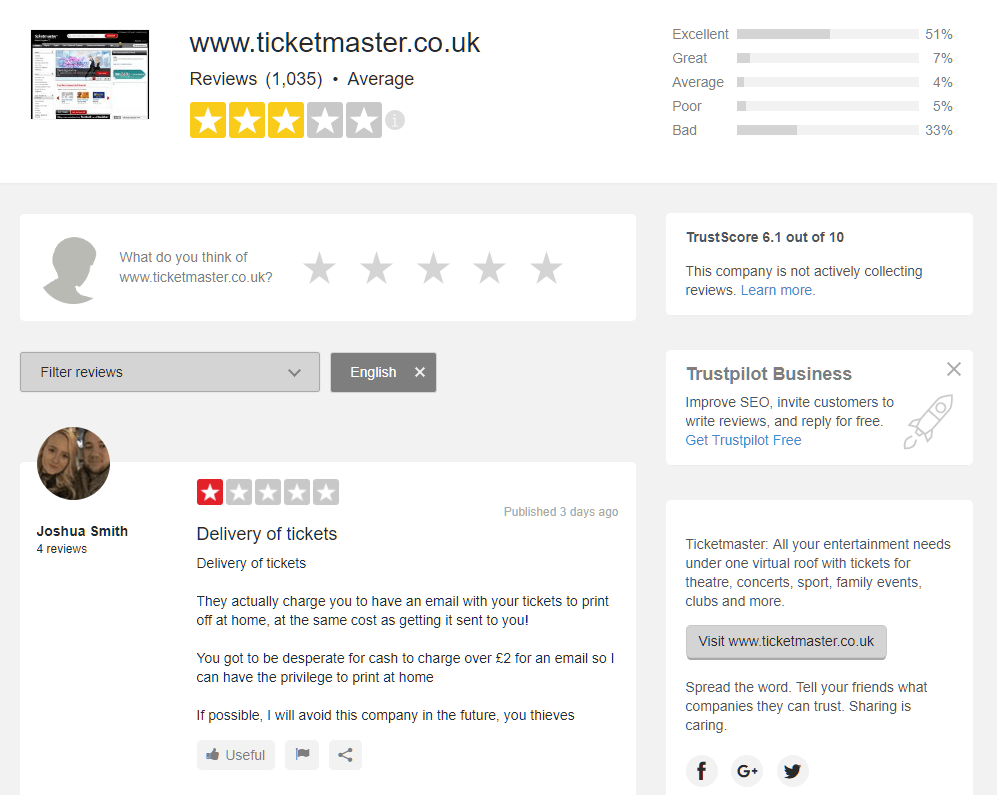 Ticketmaster is a bit of a weird one, really. They have always been a brand that has a very mixed reputation, but in recent years it appears as though they have been spreading themselves a little too thin. Their customer service feels like it's been neglected, and their website is very busy considering how well designed a company this large should be. They also need to update their payments to include Paypal, which is almost a necessity these days.