Should you buy tickets from ticketbis?
Ticketbis are one of the veterans of online ticket reselling, having been in the business since 2009. They have recently been acquired by Ebay group, meaning that they will be migrated over to the Stubhub platform at some point this year. This change in branding should not stop the overall quality of their service, which is outstanding. With a focus on reselling tickets for sports, music and theater events, they have managed to successfully nurture a thriving marketplace with fantastic tickets for a wide range of events. This fantastic, peer-to-peer market is incredibly healthy for main event football tickets particularly, such as the World Cup 2018 and Champions League Final.
Generally speaking, prices are fair on the Ticketbis marketplace, bearing in mind they will tack on a booking fee.These fees facilitate their business, which exudes excellent customer service, support and features a great website, so it is an understandable fee.
How well Designed is Their Website?
Ticketbis have put a great deal of effort into making the user experience as simple and straightforward as possible. Surprisingly, they have managed to balance this with an aesthetically pleasing design that does not distract from what you are on their website to do. All of this helps make it easier for us to use their website to find tickets and, more importantly, buy them.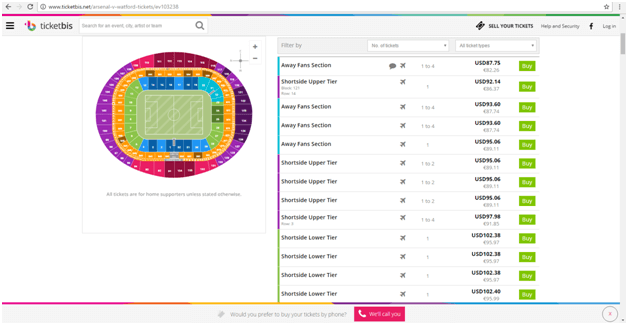 The Ticketbis home page features a large search bar for you to find the exact ticket or event you want. If you fancy browsing their site, though, you can use their drop down menu with an incredibly straightforward breakdown of categories: sports, music and theater. Once you've found the event of your choosing, finding the right ticket for you is incredibly simple. A tiered list of prices and locations, as well as an understandable stadium graphic with a seating key, concisely outlines ticket type and availability. All of these little details make it a dream to find the right ticket to the next big match you want to attend.
How easily can I Find the Tickets That I Want?
Getting the tickets that you want is an incredibly straightforward affair at Ticketbis. Their balance of a huge marketplace and a simple transaction process continues to draw in huge crowds. Better yet, they do not require any registration for you to make a purchase. As a result, the buying process is incredibly intuitive and streamlined, which is a welcome relief from the multitude of resellers that require registration.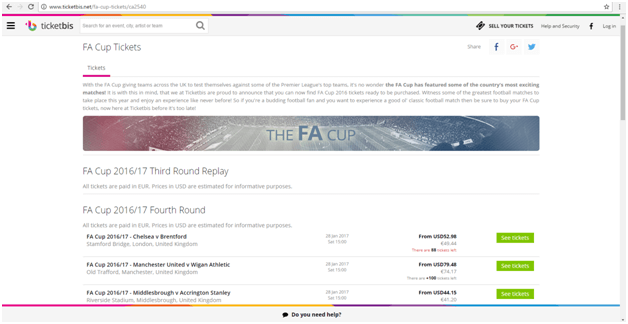 Many ticket resellers have a bad habit of only providing tickets with less popular seats, but this does not seem to be the case for Ticketbis. Time and again, they seem to have built a fair marketplace that regularly provides some incredibly diverse tickets at near face value prices. Right now, for example, FA Cup final and EFL Cup Final tickets are available in a variety of stand locations as well as VIP and executive box seating.
How Reliable is Their Ticket Resale Service?
Thank you @Ticketbis for making this happen pic.twitter.com/An9YVa9oni

— Jasmin (@wavesandmoons) September 21, 2016
@TicketbisUK our tickets arrived in good time so 3 very happy people went to Wembley today - thank you all at Ticketbis!!!

— woolly jumper (@sadhippo) August 7, 2016
Ticketbis have a fantastic track record when it comes to their platforms reliability. For 8 years, they have continually provided a rock solid service that rarely crashes, sells out of tickets early or forces you to register your details with them. For these reasons, Ticketbis is one of the most stable and straightforward places to buy or sell tickets online in a resale environment. Even throughout their merger with Stubhub, Ticketbis successfully maintained their brand's integrity as a reliable service for their audience.
When it comes to receipt of your match day tickets, Ticketbis do everything they can to ensure you will get what you paid for. In fact, their guarantee stipulates that you will be guaranteed original tickets on time. In the event that something goes wrong, such as a cancelled event, then you will be reimbursed with a full refund. In the event of a last minute purchase, Ticketbis will go the extra mile and hand deliver to a location close to the stadium. All of this is done to ensure you are going to get what you expect from their service.
Do they Provide Customer Support?
The ability to get help if something goes wrong is vital in online ticket resales. Unfortunately, there are many vendors that have poor customer support, with no online help and just a knowledge base to work from. Thankfully, Ticketbis have recently beefed up their customer support enormously. Their online help features an incredibly professional online chat advisor that can assist you directly from their site. This, coupled with an extensive FAQ, is more than enough to help solve most problems you might face as a customer.

If you are looking to speak with a real person with your issue, you can contact them via the usual social media platforms, such as Twitter and Linkedin, or call them directly thanks to a myriad of offices dotted across the globe. Their service even goes the extra mile and offers a callback service.
How Fairly Priced are Tickets?
By its nature, ticket reselling usually requires prices to be higher than the face value of the ticket. However, if you are looking for a sold out ticket or a specific seat, then you will have to act fast to buy directly. With that in mind, Ticketbis prices rely on their marketplace of people that are selling their unwanted tickets for a profit. Thanks to their thriving marketplace though, Ticketbis prices are the most competitive around, which is great news for someone looking to get a deal.
Ticketbis, like most other resellers, charge a booking fee for their role in the transaction. According to the company, this rate is variable – from 17 to 20 %. However, this rate has seen a lot of fluctuation recently, so it might change in the future.
Ticketbis accept all of the major cards as payment, including Visa, American Express and Mastercard. They have also implemented Paypal as a viable method of payment, which can make it a lot easier to pay for your tickets.
Can I Trust That I Will Receive my Tickets?
The arena of online ticket vendors has received a bad reputation over the years for scamming and overpricing. This stigma is still around, however the level of security, professionalism and overall quality of service has improved dramatically in recent times. Ticketbis are one of the most reputable vendors around, which is reflected in how they protect both buyers and sellers.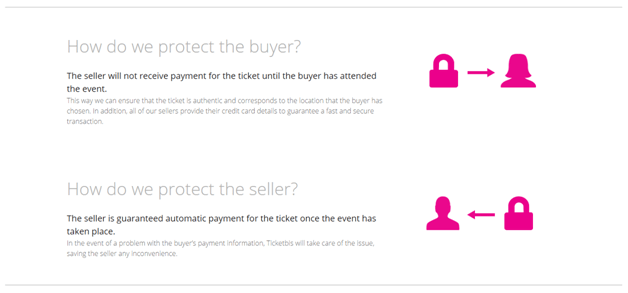 To protect buyers – sellers do not receive any payment until after the event has been attended, which guarantees authenticity of the ticket and that the transaction occurs without any problems. For sellers, their payment is guaranteed to be deposited automatically once the event has taken place. So Ticketbis essentially ensures that both parties can trust that the transaction will go smoothly.
Should I Use Ticketbis?
The world of ticket vendors online is changing in big ways, and it's all for the better. Ticketbis are a prime example of this revolution of online ticket resales, with a thriving marketplace that is guaranteed to be a safe environment for buyers and sellers. As a result, prices and availability on Ticketbis are fantastic – even for some of the bigger and more popular events such as the World Cup 2018.
Ticketbis has been designed with the user in mind, so if you are completely new to ticket reselling, you should have few issues picking it up. If you do, though, their customer support is truly exceptional and more than capable of providing some help.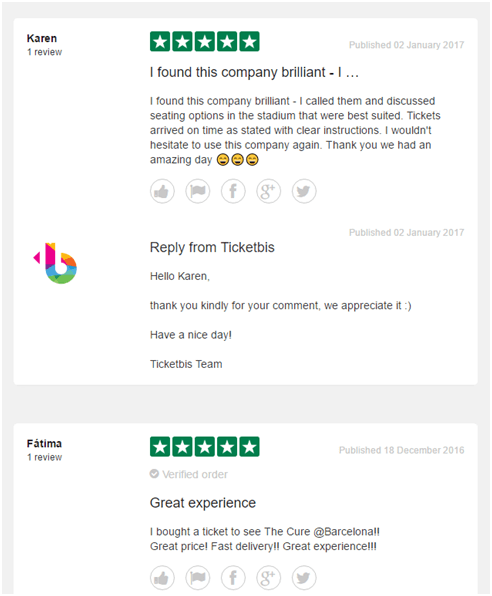 ticketbis buying walk-through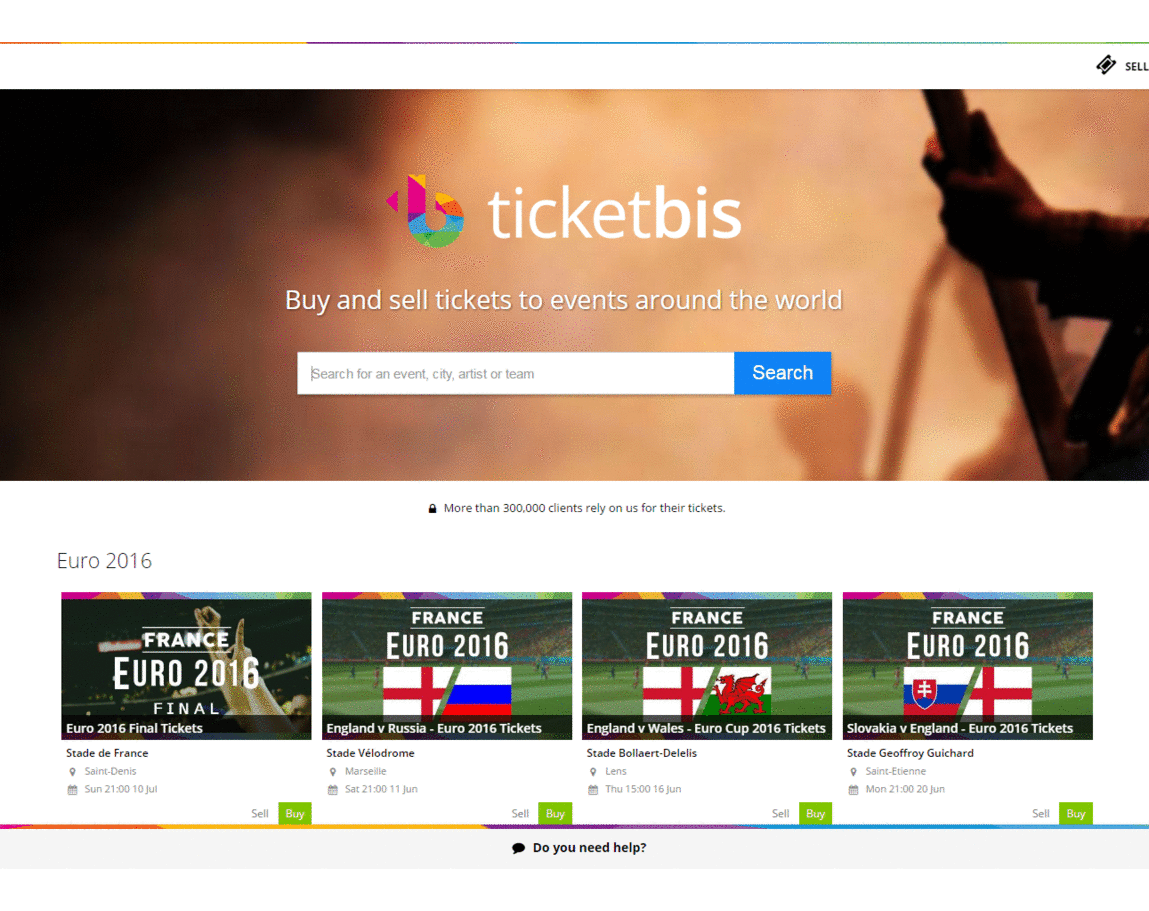 ticketbis – Football tickets
ticketbis – Concert tickets
ticketbis – Champions League tickets
ticketbis – Premier League tickets
ticketbis – Manchester United tickets
ticketbis – Liverpool tickets
ticketbis – Arsenal tickets
ticketbis – Chelsea tickets