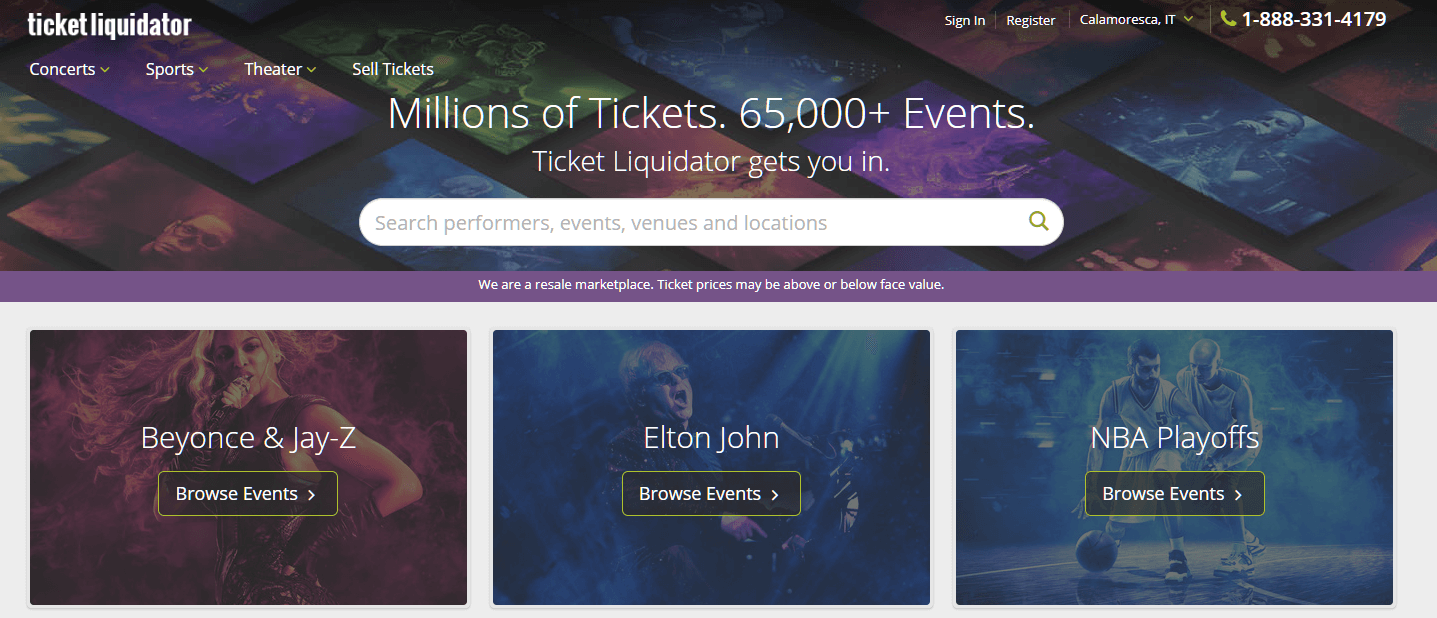 Ticketliquidator.com is a U.S-based ticket reseller that stocks tickets a wide variety of events – including sports, concerts and theatre performances. Although primarily focused on the U.S market, they have branched out and grown internationally. Founded in 2003, Ticketliquidator.com has been a part of the ticket resales industry since its infancy, and in that time they have managed to consistently provide a solid platform to buy and sell tickets across the globe.
Ticketliquidator.com uses a model very similar to eBay, with ticket listings being posted by users looking to sell. The business includes a service fee for their part in the transaction, and everyone is happy. This model is only successful with trustworthy sellers, and to their credit Ticketliquidator.com appear to have a vetting process that ensures a safe marketplace.
With so much competition in the ticket resales market, it is important to look at all of the competition when buying a ticket, so that you can guarantee yourself the best possible deal from a trusted brand. We're always trying to help people find those deals, so we're going to review Ticketliquidator.com to see how well they stack up against other brands that are out there.
How easy is Ticketliquidator.com to use?
Providing an easy to use service is a huge part of what makes a ticket reseller a good one. If their website is challenging to navigate, or buying your tickets is a pain in the backside, then it is safe to say that they could be doing better as a business. On the flipside, if a company crafts an easy to use website, it is a strong indicator that they are thinking more about the customer than their profits, which almost always results in a better service for the user.

Ticketliquidator.com have an incredibly well polished website, with a number of really useful features and tools that highlight the huge amount of effort that has went into creating their site. They have done a great job of creating sensible categories that makes it easy to find tickets for a particular event. This effort follows through to their location changer, that works internationally and shows relevant tickets to events that are near you. Even the payment process is a dream, with a clean design, Paypal functionality and no need to register. All in all, this is a fantastic website that has had a lot of work put into it, and ultimately provides a much better user experience for it.
Can I get the tickets that I want from Ticketliquidator.com?
A ticket reseller is only as good as the tickets that they stock. Without a healthy supply of tickets to popular events, there would be no product for people to buy, and the company would quickly collapse. If you can't get the tickets that you want from a certain ticket vendor, then you won't buy from them. For resellers, that means they have to create an inviting place for people to buy and sell tickets.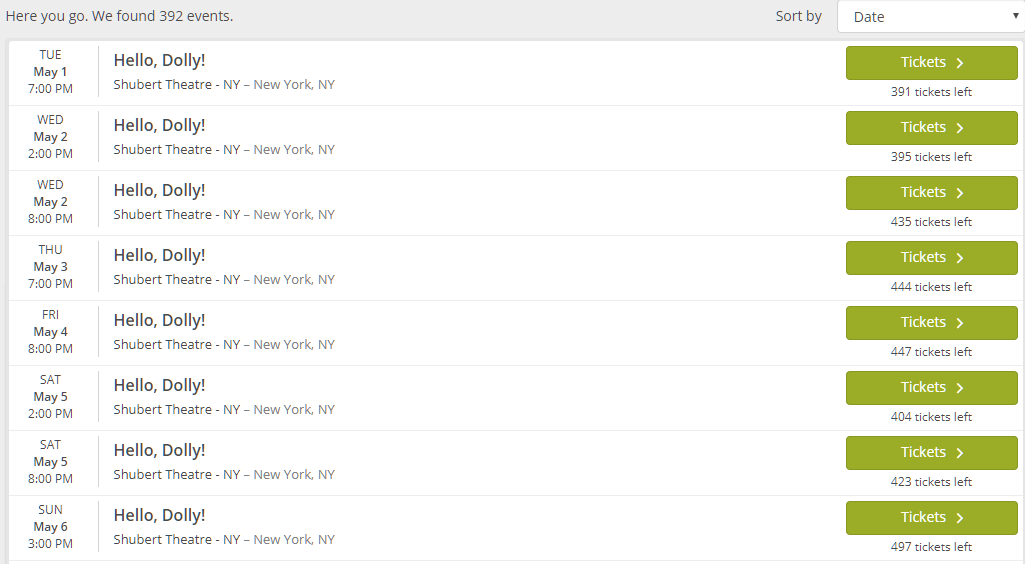 Ticketliquidator.com appears to have created a fantastic platform that has lots of people buying and selling tickets, which is great news because you can also expect lower prices and a wider variety of tickets available. You will almost certainly be able to find tickets to all of the USA's most popular live shows, musical acts and sports events – and you're likely to get a great price too. If there are any grumbles to make, it is that their international side is severely lacking in tickets. So if you're looking for popular European sporting events, for example, you might want to go elsewhere.
@TLTickets putting $900 service fee for two tickets to National Championship to cover their operating costs. Sounds like their equivalent of a bogus resort fee; you guys know what I'm talking about @RitzCarlton pic.twitter.com/rda7CbvQrL

— Richard Kerr (@AwrdTravel101) January 8, 2018
Ordered tickets 7 months ago from @TLTickets i ended up calling the night before the game when no tickets or calls came. They said oops sorry we have no tickets they were sold to someone else. Therefore me and my 9yr old missed his first football game.

— Shea Taylor (@swesttaylor) December 13, 2017
Is Ticketliquidator.com a reliable website?
A dependable website is a must for any good online business – if a site regularly crashes or runs out of stock, then they will quickly fall out of favour with their customers. So a good reseller really needs to make sure they have a reliable service, or else their audience will quickly disappear elsewhere. Ticketliquidator.com appears to have taken every available measure to create a reliable online platform for their buyers and sellers, from dedicated servers to an incredibly well-built website.
With such a healthy place for business, it is no real surprise that there are lots of people regularly buying and selling their tickets at Ticketliquidator.com. Thanks to this, you are almost always guaranteed to find tickets to the most popular live events – from Hamilton on Broadway to an NBA play-off game.
Do Ticketliquidator.com provide customer support?
Good customer support is crucial when looking at the overall quality of service that a reseller provides. Without decent support, customers can be left out in the cold if there are any problems throughout the transaction. Ticketliquidator.com provides a very barebones channel for support; you can either call them or drop them an email. Something to bare in mind is their operating hours, as they are based out of the USA and work on an American timezone. Unfortunately, if you're an international customer you might have a difficult time getting in touch with them, should something go wrong.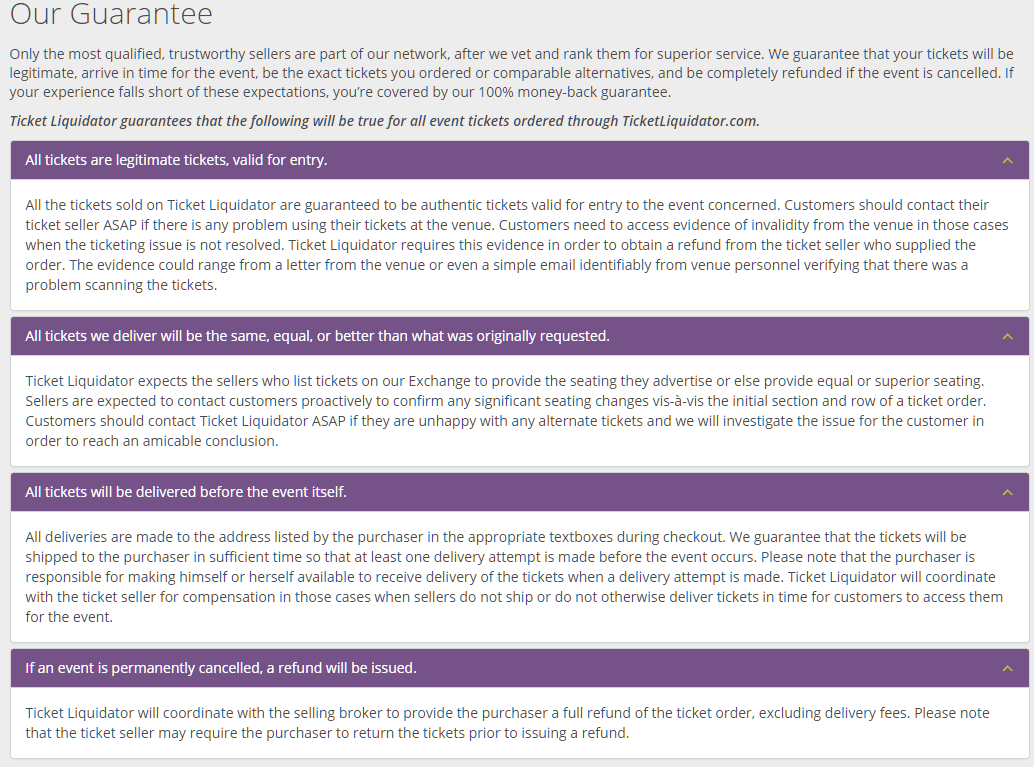 There are many ticket resellers that offer a buyers guarantee of sorts, and Ticketliquidator.com is no different. Below is an image outlining some of the protections that you have when dealing with Ticketliquidator.com. Generally speaking, customers are quite well protected.
How fairly priced are tickets on Ticketliquidator.com?
Trying to get the best price on a ticket through a reseller can be a bit of a headache (unless you're using Ticket-Compare, of course!) because the prices are guided by popularity. So if it's a hot ticket to Bruno Mars, then it could be a lot more than the face value of the ticket. Unfortunately, Ticketliquidator.com has little sway in the pricing of their tickets for this reason – it is the buyers and sellers that ultimately determine the worth of a ticket.
To get a good feel of how Ticketliquidator.com compares to some of their competitors, we tried to purchase a ticket to Pitbull in Las Vegas. We used Ticketmaster as our control, and made sure the tickets were identical. Shockingly, Ticketliquidator.com was $40 more than Ticketmaster. This was down to two factors – the inflated value of the ticket on Ticketliquidator.com's platform, and their incredibly steep service fees of nearly 40%.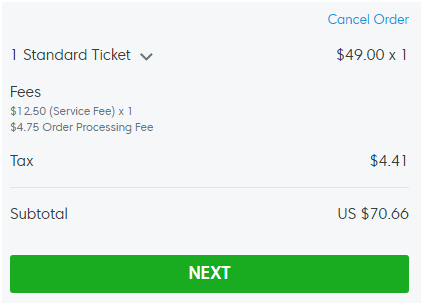 Should I use Ticketliquidator.com?