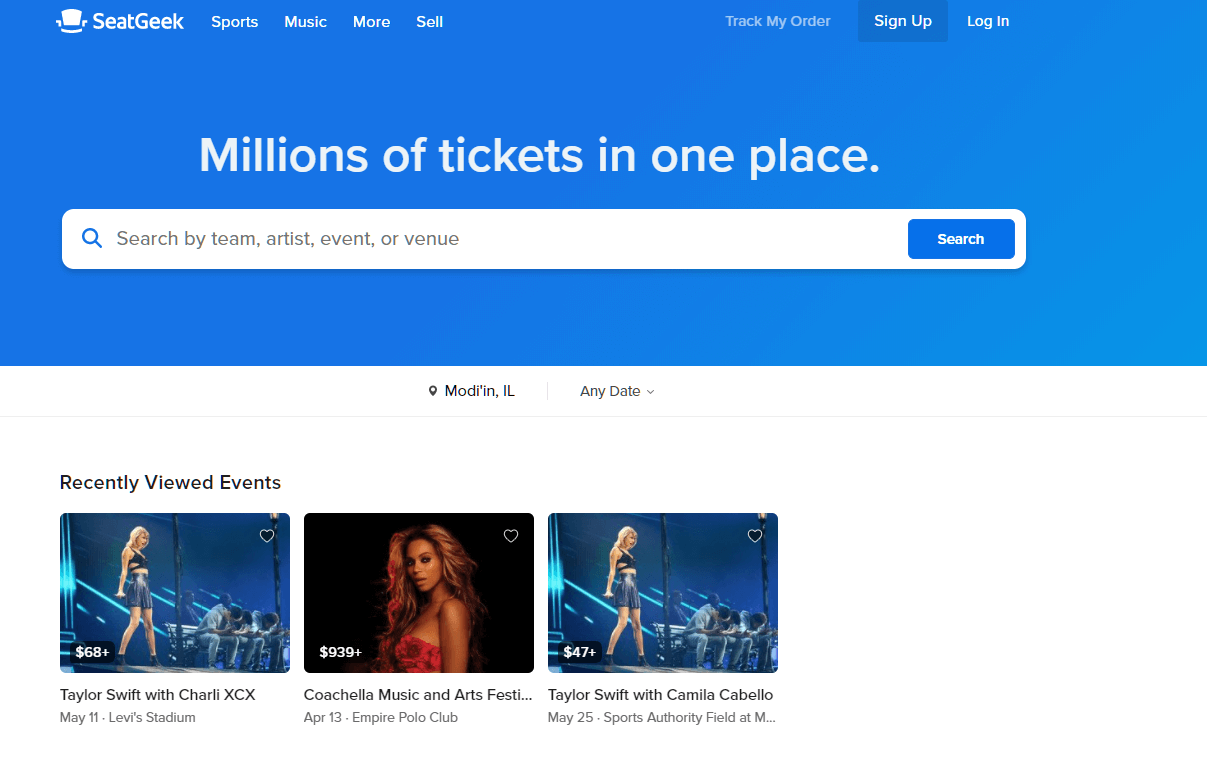 SeatGeek have been around since 2009, and have spent a lot of time crafting their particular brand of ticket reselling; transparency. SeatGeek houses a huge ticket marketplace for a lot of U.S-based events like the NBA, NFL and live musical acts like Kendrick Lamar and Taylor Swift. To separate themselves from other resellers, though, SeatGeek have tried to be as open about their business as possible – and for good reason. One of the biggest pet peeves for many folks that use ticket resellers is hidden fees, which hikes up the total price of tickets at the checkout stage. Whether it is an additional charge for 'delivery' (which is increasingly becoming just an e-ticket) or a hefty booking fee, certain resellers do everything they can to hide how much they're taking off the top.
First time at @TheGarden....taking in the view from the sky bridge. Thanks @SeatGeek 🙏 pic.twitter.com/dEjQL5uvkB

— Manosai Eerabathini (@manosaie) April 7, 2018
SeatGeek have tried to promote a much more transparent business than their competition, which is a refreshing thing to see. They rate the tickets that are on sale using a Deal Score algorithm, so that you know whether or not you're getting a bargain. They post articles explaining fees, how they work and why they need to charge them. In the world of ticket reselling, SeatGeek appear to be the good guys. To find out whether or not this is true, this review is going to take a look at their service, to see whether or not they live up to their own high standards.
How easy is SeatGeek to use?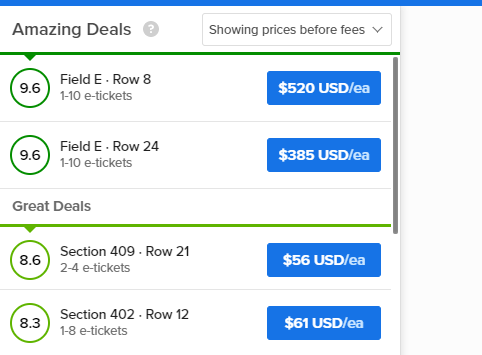 With tickets for more than half a million artists and teams across the globe, SeatGeek have a lot of traffic going to their website on a daily basis. As a result, they have a very light website in terms of content and features, which actually works quite nicely. Their homepage, for example, is neatly laid out to show a handful of popular upcoming events, a massive search bar and some categories at the top of the page. Everything about the website feels streamlined, which follows through across their entire website.
Sitting on the floor at Wrestle-freaking-mania! What a rib... shoutout @seatgeek for the hookup pic.twitter.com/gXuGLxVTGZ

— Nick Maraldo (@nickmaraldo) April 8, 2018
If you know what you're looking for, SeatGeek make it simple to find the right ticket for you. After using their search bar, you are met with an interactive map of the arena and a list of tickets that vary in price. The tickets are separated not by price or seating, though, but by how good a deal the ticket is. This is a very novel way of showing off their full selection of tickets, while also demonstrating how much bang for your buck you'll be getting through SeatGeek. It also makes things incredibly easy for users, who just have to look at the great deal score each ticket has to find the best one.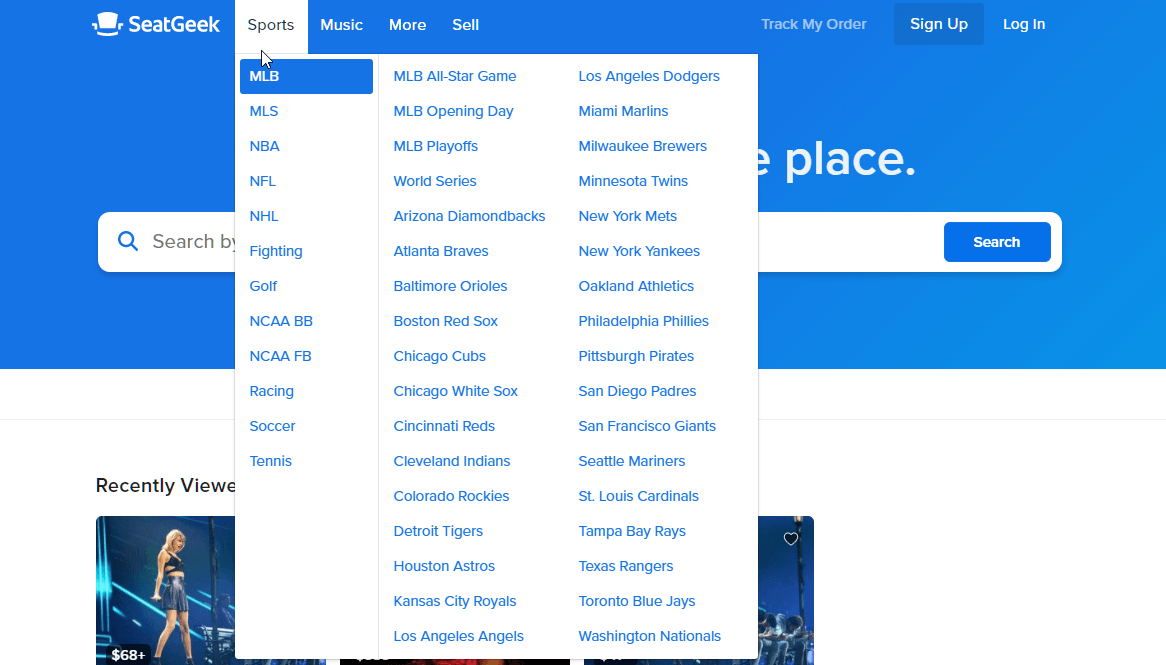 SeatGeek definitely caters to an American audience, which shows in their selection of tickets. They are incredibly well-stocked in the U.S staples, such as American football games, NBA matches and NASCAR. They're also a great option for live musical acts and theatre performances, but again they are tailored to the USA, with little international events available. With that said, the more popular international events, like the Champions League, are stocked – albeit not very well stocked.
Although SeatGeek don't have a massive international ticket selection, they make up for it with their American selection. Whether it is the groundbreaking play Hamilton, or an NBA playoff match, SeatGeek have a fantastic spread of well-priced and high value tickets for most, if not all, of the popular live performances found across the USA. So if you're across the pond, SeatGeek are a great option.
Our. Seats. Are. Insane.

Thank you so much @SeatGeek, we owe ya a life debt. pic.twitter.com/KE97rUdSUW

— Robbie Fox (@RobbieBarstool) April 8, 2018
Is SeatGeek reliable?
Being able to depend on a ticket reseller is crucial if you're intending to use their service. Whether it's a bunk website or intermittent customer service, an unreliable business is a huge red flag when selecting the right ticket reseller. SeatGeek have put a lot of time, money and effort into their website, so it's expected that they will have a reliable website. They should be able to handle a surge in traffic if there is a popular event that has just started selling tickets, for example. Overall, you can rely on SeatGeek to provide you with a platform to buy your tickets hassle free.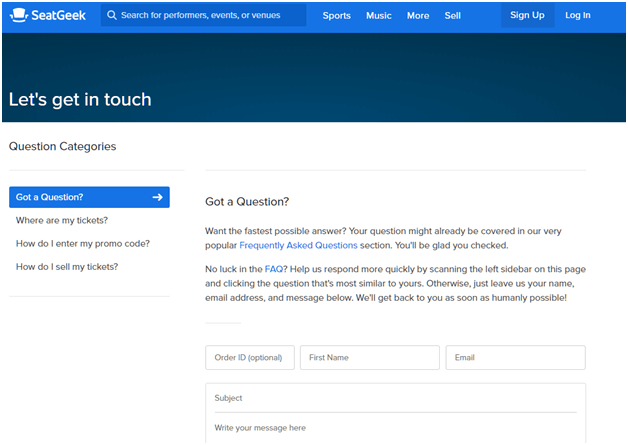 When it comes to reliably contacting SeatGeek, you might have a bit more trouble. Being based out of the USA makes contacting them a bit of an effort, because you're contending with time zones. Moreover, finding a contact number or email is a challenge, because their contact form is hidden deep within their FAQ section. They could definitely improve on this aspect of their service, which leaves users feeling a bit isolated if they have to get in touch with SeatGeek.
Does SeatGeek offer good customer support?
As mentioned above, getting in touch with SeatGeek is easier said than done. However, if you do need to receive some customer support through them, you can drop them a message in their contact section. There are no timeframes for them getting back to you, unfortunately, which is pretty useless. So if something were to go wrong, such as an undelivered ticket, you could be left waiting for an undisclosed amount of time before hearing back from SeatGeek. By that point, your event might already have happened and you'll have missed it. In their slightest defence, SeatGeek have a very extensive FAQ section, but that's still not good enough.
How fairly priced are tickets on SeatGeek?
SeatGeek have been, historically speaking, the most affordable ticket reseller to come out of the states, with competitors like Stubhub charging a considerable amount more for the same tickets. One of the biggest reasons for this is that SeatGeek are not the exclusive reseller on their website; they regularly advertise other resellers, which makes for a more competitive market. So you can normally expect to save a little bit when using SeatGeek. What's more, with the SeatGeek buyer guarantee you can purchase tickets safely in the knowledge that they will arrive on time and as stated, or you get your money back.
When the time comes to pay for your tickets, SeatGeek stick to their transparent ethos and show all of the fees included in the total price. Their payment processor features the latest SSL encryption, so all of your financial details will remain safe. They have missed a step, though, as they do not accept Paypal as a payment option.
Should I use SeatGeek?