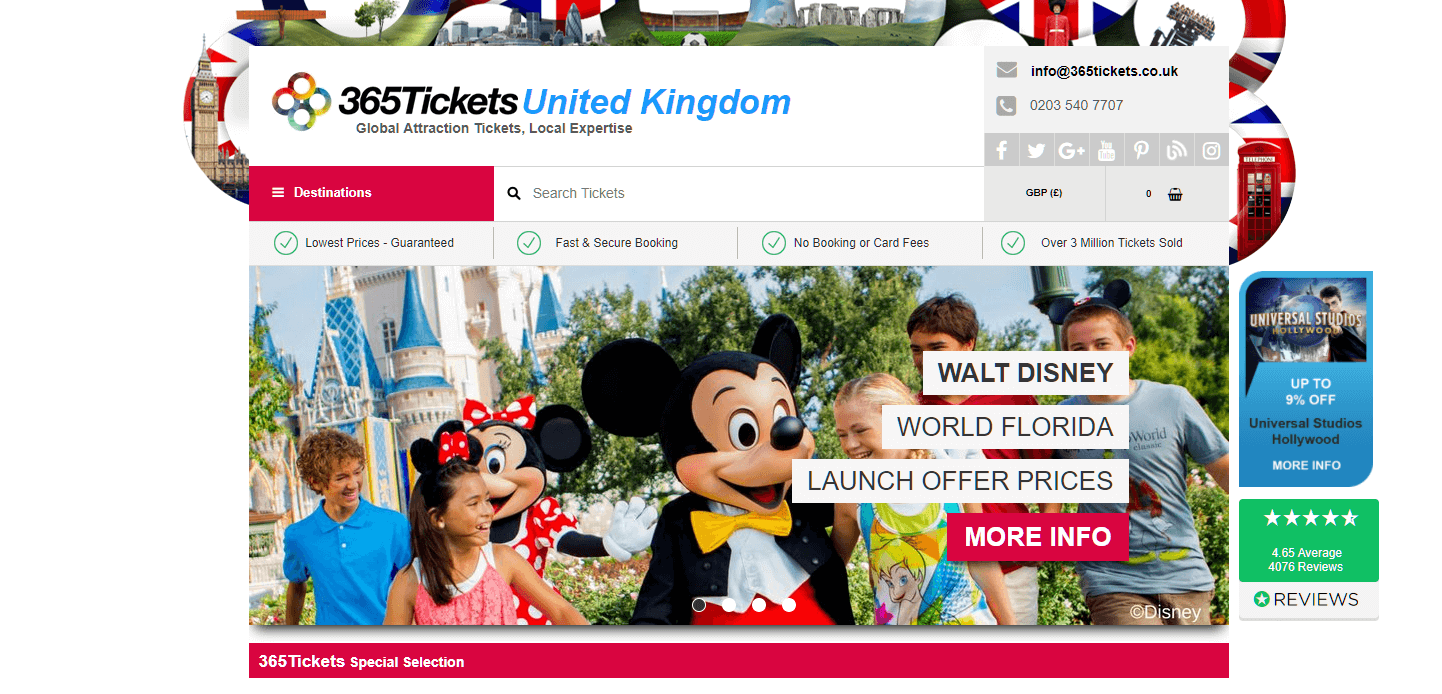 365Tickets is an online ticket vendor that focuses their business on tickets to attractions from across the globe. Ranging from VIP passes to Disney World to canal boat tours of Venice or even a safari trip to Kenya, 365Tickets has an extensive stock of tickets to the world's most popular attractions. They have been in operation for more than 20 years, and in that time have managed to sell more than 3 million tickets worldwide. Their service is very well-reviewed online, and they appear to offer a great deal of guarantees and securities to their users. Overall, everything about 365Tickets seems to be nothing short of incredible from a buyers perspective.
There is a lot of competition in the world of ticket sales, and not all of it is reputable. So it is important to take a close look at the brand you are looking to buy your tickets from, otherwise you run the risk of getting burnt with a bad price, poor buying experience or something worse, like a fake ticket. So this review is going to delve into the business of 365Tickets and see how their brand stacks up against the rest of the industry.
How easy is 365Tickets to use?
The bigger a company is, the more effort they are likely to put into their website. Modern websites tend to work as a main sales portal for many businesses – 365Tickets included – so it has to be easy to use. 365Tickets provides an international service that spans multiple continents, so it is no surprise that they have pulled out all of the stops to make their website as user friendly as possible.

Everything that you need to get you started can be found on the home page; including their popular tickets, special selections (featured tickets), loads of categories and a handy search bar to find exactly what you're after. Hovering over the currency tab will create a simple dropdown menu that allows you to change currencies instantly, which is really handy and nicely incorporated. They've even managed to include their buyer guarantees and online ratings in a relatively easy to read manner within the homepage.
Can I get the tickets that I want from 365Tickets?
365Tickets deals exclusively with tickets to attractions – which includes things like tickets to theme parks, zoos, guided tours and heritage sites across the globe. So, if you're after a football ticket this is definitely not the site for you. When it comes to tickets to international attractions, though, 365Tickets are very well stocked. In fact, you'd be hard-pressed to find a popular attraction that they didn't have tickets for.

With over two decades of industry connections and experience, they claim never to use any middlemen when it comes to obtaining their tickets. They do use authorised regional agents to track down tickets from all over the world to put up for sale, but unlike ticket resellers, 365Tickets do not use third parties to sell tickets. This has the potential to be a huge benefit for buyers, because there are no extra fees attached for the reseller to make a profit.
Is 365Tickets a reliable website?
Having a dependable online presence is a huge part of what makes a ticket vendor good these days. If you can't get the most popular tickets when you want them, it's unlikely that you'll do business with them. So to that end, a good ticket vendor needs to have a reliable website that won't crash or sell out of stock too quickly. 365Tickets have a lot of content and features on their website, including currency converters and international portals. More importantly, though, they are well-stocked with lots of tickets to countless attractions from around the world.
It is such a large operation that it needs to run smoothly to work, so it is safe to assume that their website will be reliable, even during surges of high user traffic, simply because of all of the work put into it. With more than ten different international websites operating at once, 365Tickets need to put in a lot of effort to keep things going, which is only a risk if they stop putting in that effort.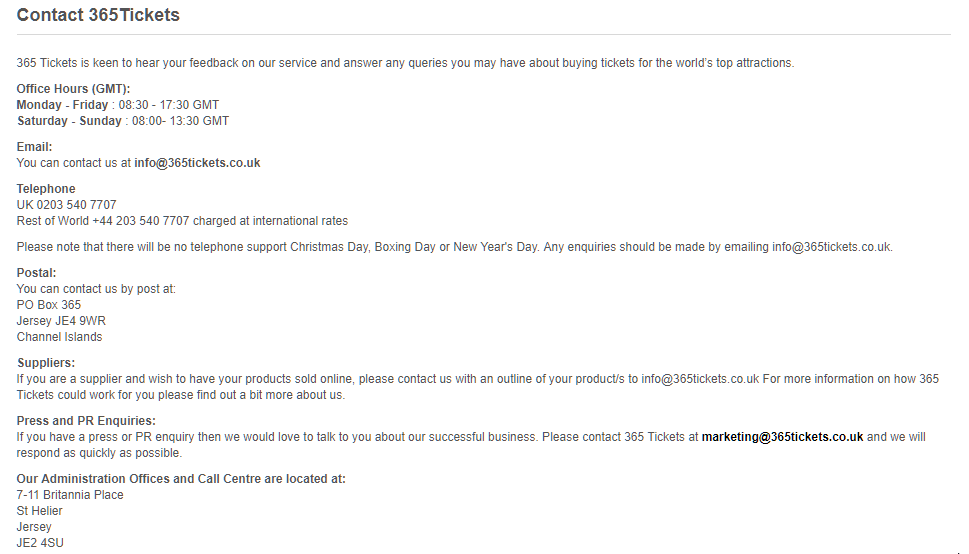 Having lots of ways to get in touch with a business is usually a great sign that they have excellent customer support, and 365Tickets are very easy to contact. With offices based in Jersey, they have standard GMT operating hours and can be called directly throughout the week. They are also available through email or through a handy live chat function on their website. This is all great news, because good customer service can be hard to come by in the world of ticket sales. If there is one complaint, though, it is the additional fees that they tack on to protect your ticket against loss or theft.
How fairly priced are tickets on 365Tickets?
For a growing number of ticket vendors these days, ticket prices aren't determined by themselves, but the market value of the ticket. This can cause some eye-watering price inflation if tickets are particularly popular, but also creates a thriving platform with lots of different tickets posted for sale.
365Tickets have a different business model where they don't use any middle-men, giving them much more control over ticket pricing. This is only achievable thanks to their long-established connections in the international attractions industry. For buyers, all of this means that they can get their hands on some of the most popular shows and attractions at some amazing prices that might actually be less than face value.
Should I use 365Tickets?