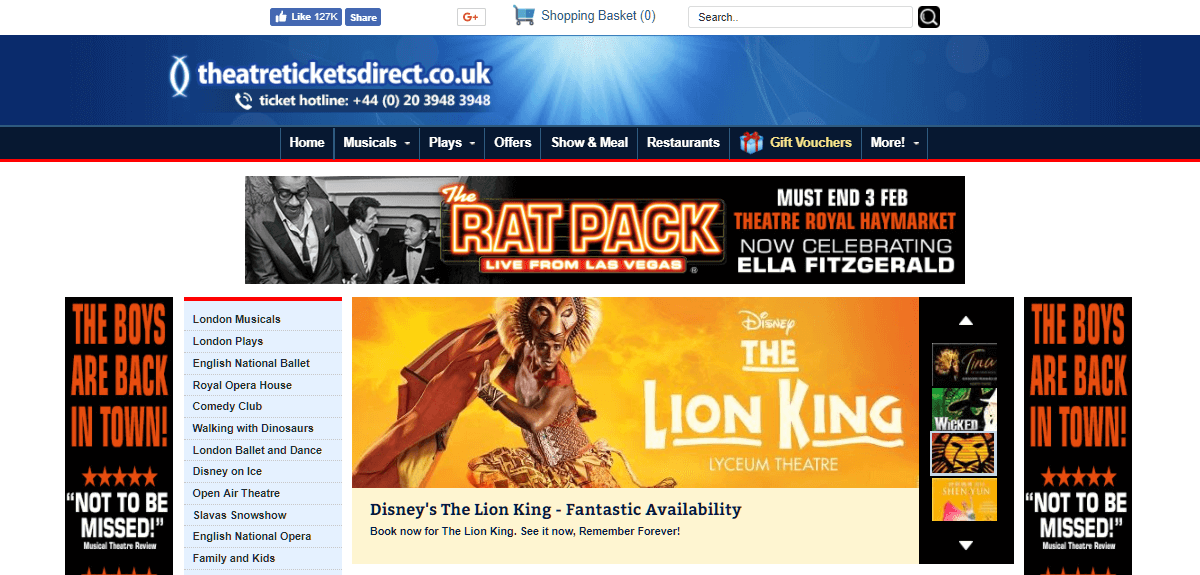 Theatreticketsdirect.co.uk have been in the ticket selling industry for nearly 13 years, and have found great success in providing tickets to the most popular musicals, plays and live shows across the UK. Based out of London, this brand seems to live and breath theatre; they regularly provide some of the best tickets around, they regularly update their news page with upcoming shows and any changes to the features, and all of their staff appear to have a deep passion for live theatre. As a company, this has really helped them understand their customers and, ultimately, provide an excellent service from start to finish.
With such a focused market, Theatreticketsdirect.co.uk caters to a smaller audience than the likes of Ticketmaster, but they still need to compete with them. This review is going to take a look at Theatreticketsdirect.co.uk and see how they stack up against the big names in the industry. Hopefully, this will help guide your decision on whether or not to try out Theatreticketsdirect.co.uk without having to do all of the legwork!
@ttdirect Wanted to express my thanks for your understanding and for being so accommodating as I needed my tickets for Motown to be changed to a different date due to a cancellation in my mum's operation. I just told her and it's made her day so thank you.

— curlysue (@JessieWessieDoo) January 8, 2018
How easy is Theatreticketsdirect.co.uk to use?
At first glance, Theatreticketsdirect.co.uk looks to be a fairly old, clunky website. There are lots of categories, drop-down menus and images that are, to be honest, quite distracting. If you gloss over that, though, the website is really quite simple to use. They have even included a built-in Google translator if English isn't your native language. Not many people will be using their massive categories to find the tickets they want, but there is a handy search bar at the top of the page. If you're looking to catch a bargain to a live theatre show, there are some nice special offers to browse through on their home page, including tickets with no booking fees!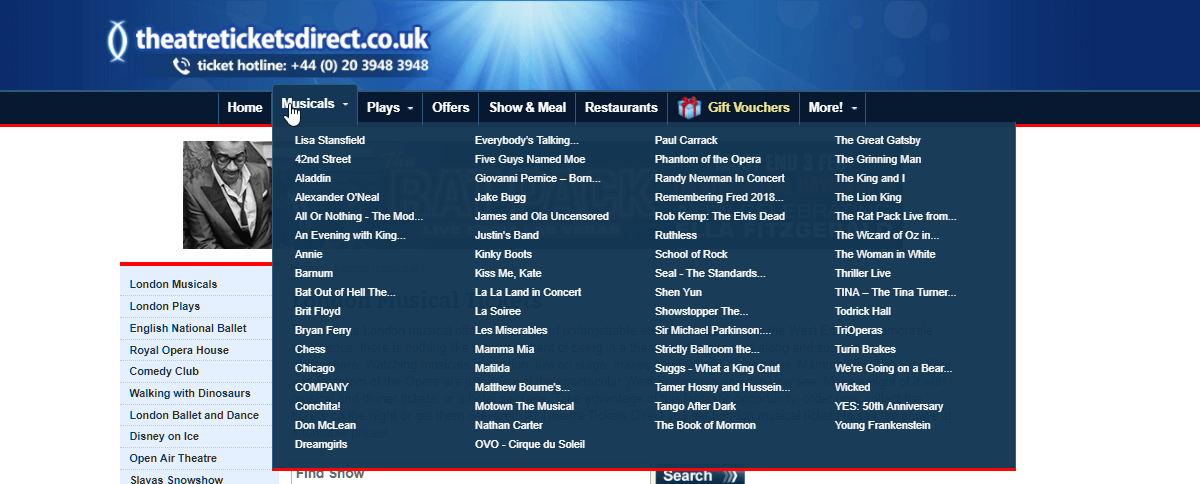 As far as using Theatreticketsdirect.co.uk to find and buy theatre tickets, they do a pretty solid job. Once you find the show you're after, you can select the seating with ease thanks to their interactive stadium image. Then it's just a matter of a few clicks and you've bought your tickets. Better yet, they have recently added Paypal as a payment method, which can make purchases a lot easier. Although the website could use a facelift, it works perfectly fine and is actually really easy to find what you're looking for.
Can I get the tickets that I want from Theatreticketsdirect.co.uk?
Ticket availability is a huge part of a successful ticket sales company, and Theatreticketsdirect.co.uk have spent years cultivating a trusted network to ensure they can stock the best tickets in town. With over a decade in the industry, they have done an incredible job connecting with the big venus across the UK, as well as ticket suppliers. This has allowed them to consistently remain well-stocked with tickets for the biggest live theatre events, such as Les Miserables, the Lion King and Wicked. In fact, you would be pretty hard pressed to find a popular theatre event that they didn't have tickets for.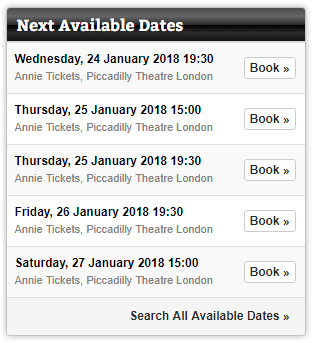 If you're looking to make your night out to the theatre a little bit more memorable, Theatreticketsdirect.co.uk have even incorporated the classic Theatre show and a dinner package. So whether it's a romantic night out or a Christmas night out, you can wine and dine before or after your show. Something to consider avoiding, though, is their Gift Voucher system. Although the vouchers cover the cost of a ticket, it does not include the booking fee. So if you're buying the Gift Vouchers for someone as a gift – as is normally the case – the recipient will have to fork over some of their own money to see the show. Not an ideal present, really.
Is Theatreticketsdirect.co.uk a reliable site?
Theatreticketsdirect.co.uk have managed to consistently provide some of the most popular theatre tickets through their ticket hotline and website. Over the past decade and then some, they have networked and worked closely with producers of the biggest West End shows to secure hot tickets as they become available. Buying the theatre tickets that you want through Theatreticketsdirect.co.uk is really simple, which works to its credit. A no-frills website and telephone hotline means they can handle a large volume of ticket sales without crashing. This means that they are a really reliable service, so you won't be left in the dark when the tickets that you want are released.

From a security standpoint, Theatreticketsdirect.co.uk has included the standard secure payment systems that most modern websites use. In this case, they have opted to use Trustwave to keep your details safe and secure. They also accept all of the major credit cards and, as mentioned before, Paypal.
Do Theatreticketsdirect.co.uk provide customer support?
In the event that something goes wrong with your ticket purchase, it is nice to know that the company that your dealing with has a reasonable customer support setup. To that end, Theatreticketsdirect.co.uk do a fantastic job of helping their customers in times of need. Being based and registered out of London means that this company is already held to quite a high standard, but this standard is even higher because of their close ties to West End producers and the Society of Ticket Agents and Retailers (STAR). As a result, you can expect a really helpful customer support team. With that said, because their website is so dated it lacks any live chat functionality, which is a shame.
How fairly priced are tickets on Theatreticketsdirect.co.uk?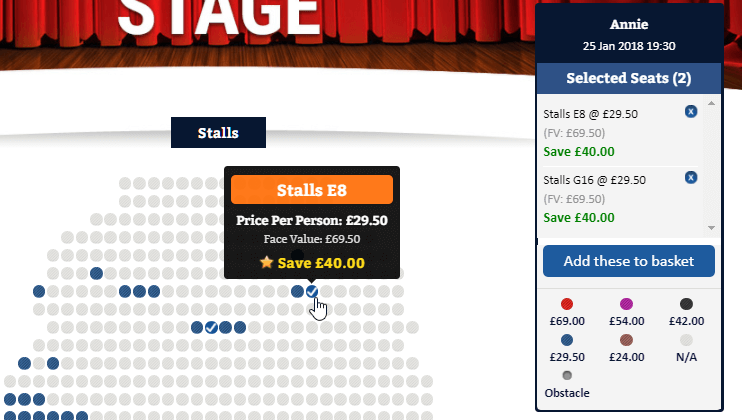 As is the case with all ticket sales that are outside of the box office, prices will be a little bit higher than face value. To their credit, Theatreticketsdirect.co.uk are very transparent about their booking fees and how the total value of the ticket compares to the face value. So with that in mind, their prices seem to be quite reasonable. Unfortunately, the prices of individual tickets depends on availability and popularity, so getting the perfect ticket for you might end up costing more than you'd hope.
Should I use Theatreticketsdirect.co.uk?