Should you buy tickets from Sports Events 365
SportsEvents365 is a European ticket broker that sells thousands of tickets to different entertainment events across the world . They have been around since 2006 and have found great success in tailoring their business to the European market . By doing this, SportsEvents365 have become one of the most reputable and reliable ticket brokers in the industry . This means a lot, especially with the waves of scalping brokers that will take a customer 's money and run. Trust is an asset that is priceless in ticket brokerage, and SportsEvents365 take pride in the fact that they are trustworthy. If you are looking for an event in Europe and cannot get a ticket from the primary source, SportsEvents365 is an excellent choice due to its overall safety. However, you may pay a bit more for your tickets from SportsEvents365 for that safety. Lately we have received input from our users that they were turned down after purchasing tickets due to 'lack of availability' on SportsEvents365 platform, so you might want to check out other options before buying.
Thanks again to @SportsEvents365 2nd time used and 2nd time experiences first class service and top tickets. #SFCLFC pic.twitter.com/iHnU9qpfbZ

— Polar Bear (@BA_PolarBear) November 24, 2017
Layout and Design
Based on our observations, the design of SportsEvents365 is not the prettiest, but it is practical. Football tickets are the main attraction for SportsEvents365, and the layout reflects this. The prominent 'Top Teams' table features Europe's biggest clubs, with a handy hotlink taking you to their own page. Each page contains a rather lengthy bio of the football club, as well as a run down of tickets that are available for that club's matches . For example, Barcelona FC' s page contains a list of available La Liga matches, Copa del Rey matches and the International Champions Cup .
After using the website, we found that the layout has been built to make things easy throughout your visit . Sports Events 365 focuses on usability and doing a decent job of not cluttering up the screen . Ticket types are broken down into neat categories such as as' Top Cities' or' Top Football' to help you not only find the tickets that you want, but to explore other options . The built – in search is very straightforward and will find exactly what you need in no time .
Our findings show that buying your tickets is a painless process too, thanks to a standard payment screen . Selecting the right ticket for your chosen event is easy thanks to a diagram of the stadium, with a breakdown of varying ticket prices . Although not particularly advanced, the design of the entire website works very well with what it does.
Usability of SportsEvents365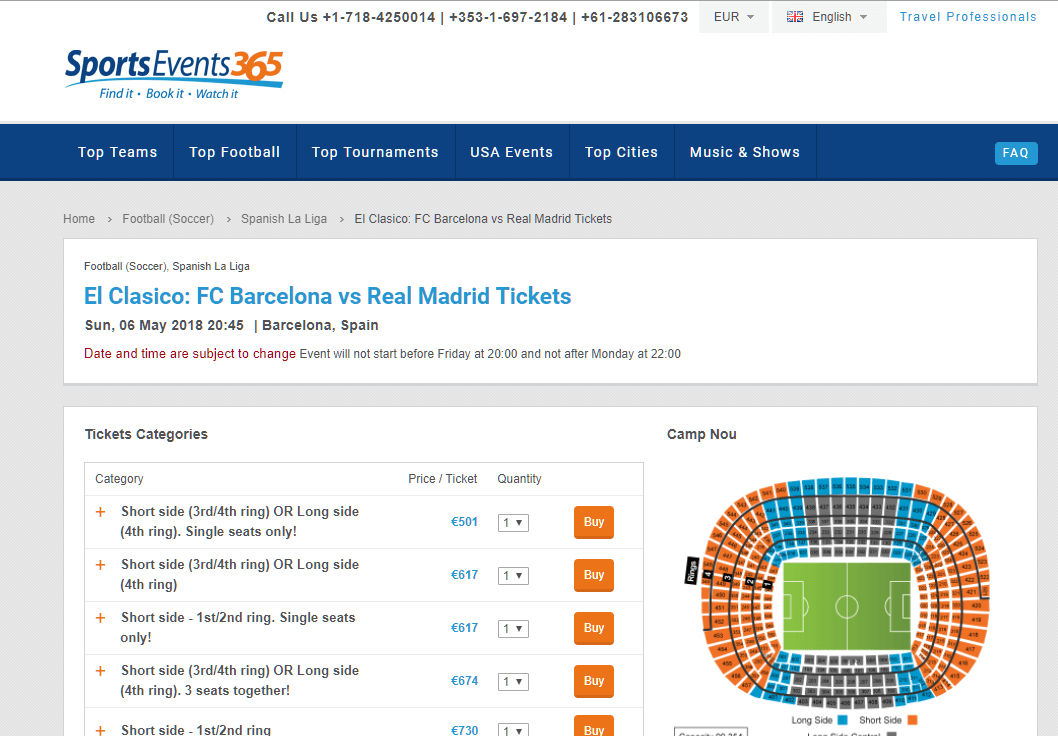 SportsEvents365 has stuck to a basic website, which may not have all the bells and whistles of some of the newer websites. However, after putting it to the test, we found that it has the inherent advantage of being almost universally easy to use. There are no confusing registration pages for you to waste time on. There are no slideshows of famous football players slowing down your computer to a snail's pace. Instead, SportsEvents365 creates a path for the customer that is so easy to navigate, no one gets lost. SportsEvents365 goes the extra mile when it comes to actually getting you to the game. They have partnered up with Travel Professionals to help facilitate travel arrangements should you need to be going abroad for your event. By tailoring a package directly for their market, SportsEvents365 have tried to make it a one-stop-shop. Again, overall prices seem to be a little steeper than the standard deals available if you shop around, so it is more a matter of convenience.
Customer Support of Sports Events 365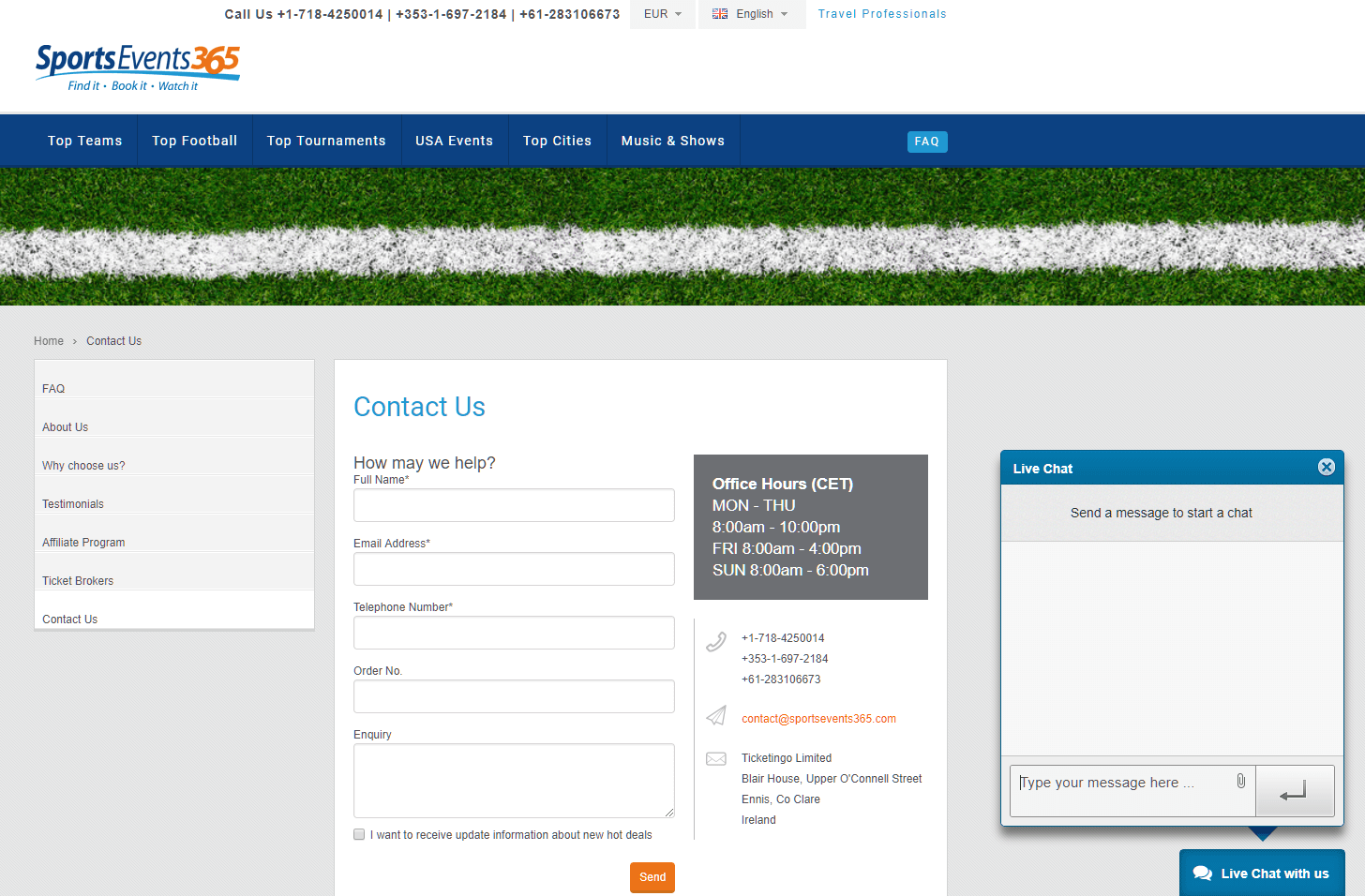 After trying out the site, we found that the support provided by SportsEvents365 is excellent. As a business that strives for honesty and reliability, their customer service and support is built around the customer. Live chat support is available on the website, should you wish to speak to an advisor directly. If you need phone support, they have a hotline available seven days a week. They even have an active Facebook for you to chat with them. Everything they do from a support standpoint is incredibly well thought of and executed. In the unlikely event that you cannot get your tickets, SportsEvents365 have a 100 % guarantee that you will get your tickets. In short, this means they will recoup you whatever you paid for your tickets, should they be unable to get you tickets. This incentive is not only for the customer, but to show their honesty and reliability is very much there.
Ticket Prices at SportsEvents365.com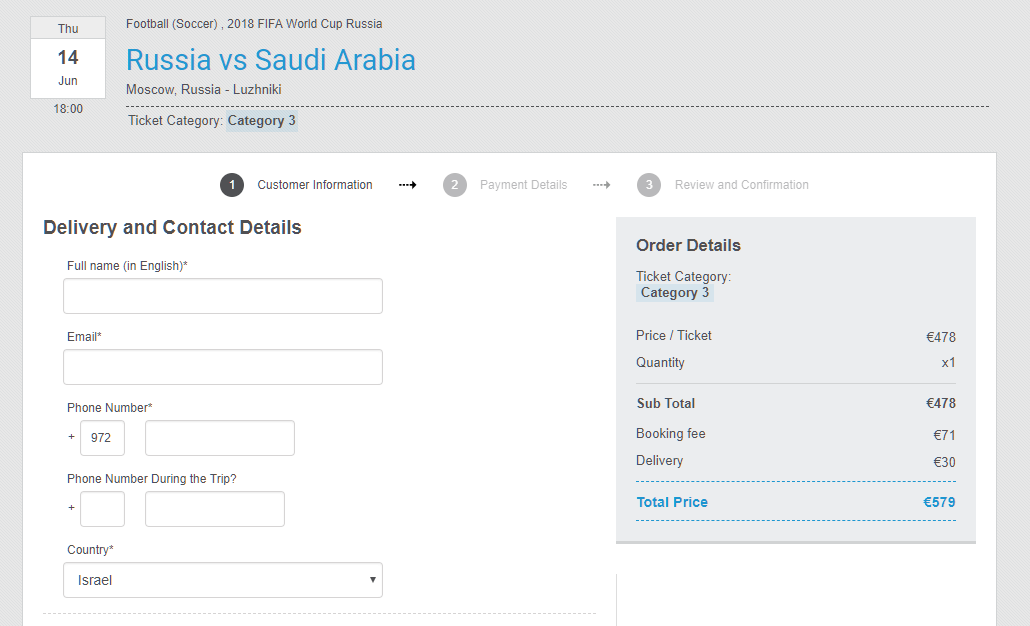 Although SportsEvents365 have managed to excel at creating a tailored package that is both safe and easy to manage, it comes at a cost. Prices for the tickets on their own can sometimes be competitive, but they are not the cheapest on the market. Delivery fees are not included in the price and standard booking fees are tacked on as well, but this is the same as most of the other vendors. It seems as though remaining competitive while still creating an easy and safe environment may be asking too much. Another bugbear is a lack of Paypal for the payments themselves. They do accept standard card payments, but have not managed to bring their process into modern times and lack Paypal functionality. The payment process itself is somewhat straightforward and built for the layman. We determined through our tests that, overall, it is lacking in a few key areas such as price points and functionality, but it works well enough.
Security
Thanks to Sportevents 365 I was able to visit Napoli- Fiorentina. Everything went so smooth, unbelievable! Grazie Sportevents 365

Posted by Michael Smit on Tuesday, 23 May 2017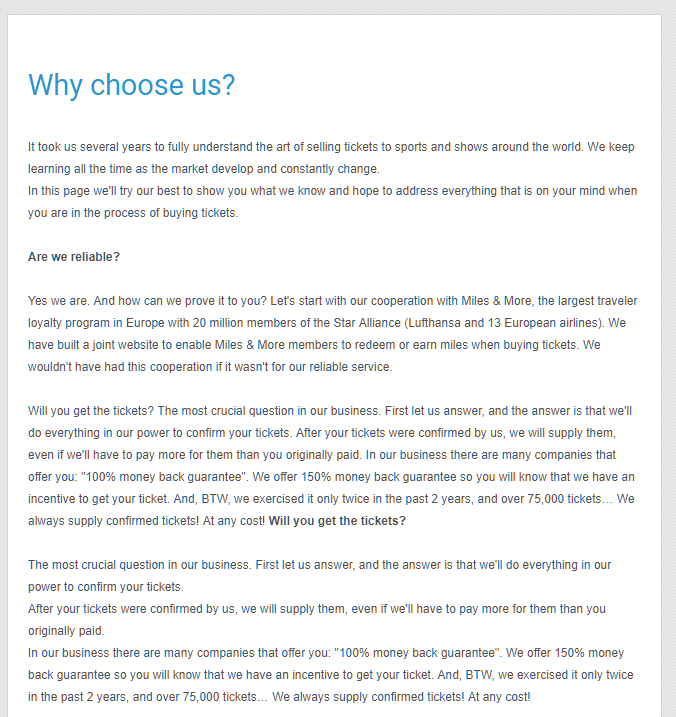 Creating a safe platform is a massive task in this type of work, and SportsEvents365 once again make sure it is secure for everyone. One of their primary goals as a company is to show honesty and reliability in their work, and security is a big part of that. To do that, SportsEvents365 have created a payment method that complies with the Payment Card Industry guidelines. Our research indicates that by dealing with them directly and not a reseller or a ticket exchange, you are guaranteed the 100 % refund should anything go wrong.