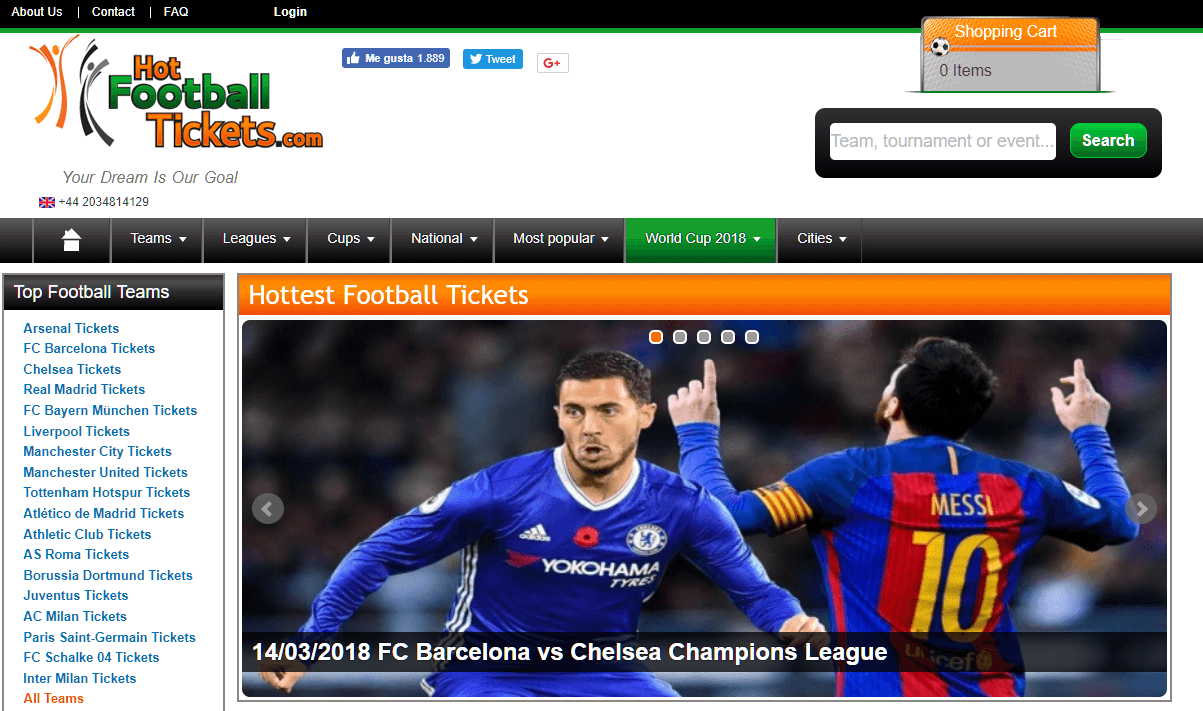 The world of ticket reselling has really exploded in the past few years, quickly making it the go-to way to secure tickets for the hottest live events across the world. With such a saturated market and brands vying for your business, it can be difficult making a decision on where to get your tickets. This problem is even more challenging with the rise of shady, scammy and fraudulent sites that will take your money and not provide you with your ticket. With over a decade of experience in football ticket resales, Hotfootballtickets.com definitely sounds legitimate. Upon closer inspection, though, they might not be the best reseller to go with.
Hotfootballtickets.com are operated by CELEBRIA EVENTOS S.L, a Spanish company that has been operating in the ticket reselling industry for more than a decade. They offer football tickets to Europe's biggest games and competitions, including the Premier League and 2018 World Cup. With a great selection of matches available, as well as excellent prices, they definitely appear to be worth a punt. To get a more developed picture of Hotfootballtickets, though, we will have to look into their website and business practices a little bit more, though. So, read on!
Tickets given to us proclaimed they are pair-seated and we sit behind each other!! #hotfootballticket #abzocke #scandal #cheated #betrayed

— Theresa Elisabeth (@ElisabeTheres) March 15, 2016
How easy is Hotfootballtickets.com to use?

When you first click through to the Hotfootballtickets website, it's a bit like entering a time capsule. Their website feels incredibly dated and amateur, with off-putting colour schemes, stretched out images and quite a messy layout. Another complaint is a complete lack of any Paypal functionality, which is troubling in this day and age. In short, their website has been in need of a facelift for a good few years at this point. Most of the functionality on their website still works, more or less. So if you're trying to find a specific ticket, you can either use their categories or their standard search bar at the top of the page. To their credit, they have added some useful categories, like Cities if you're looking to catch a football game while on holiday, for example.
Can I get the tickets that I want from Hotfootballtickets.com?
Although Hotfootballtickets has been in the football ticket reselling industry for some time now, their business practices are still incredibly vague. Their ticket marketplace, for example, appears to be private and without any mention of where they source their inventory. With that said, they appear to be well-stocked with tickets to popular Premier League, La Liga and Bundesliga games, as well as World Cup 2018 tickets. So, from the face of it, things seem to be quite healthy for Hotfootballtickets.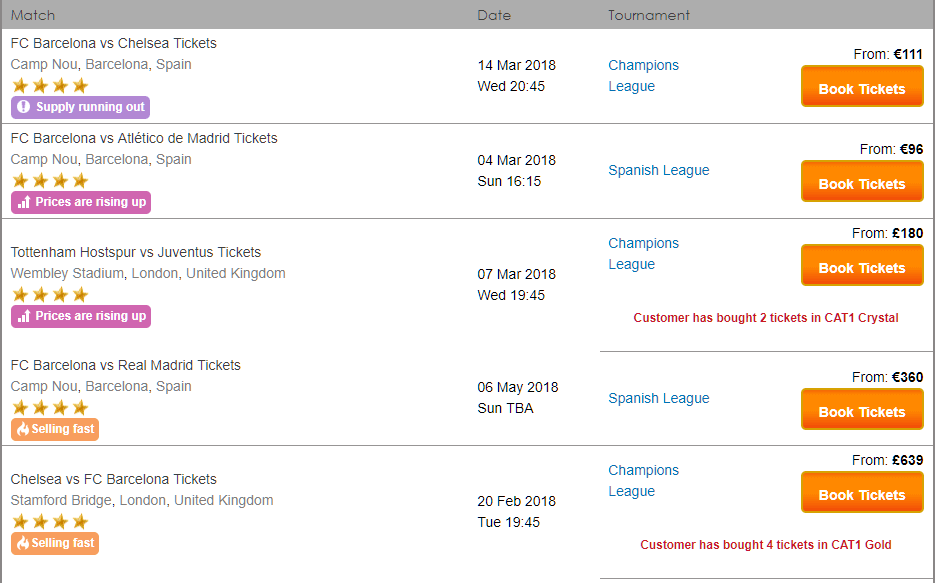 Unfortunately, it is hard to ignore the elephant in the room when it comes to Hotfootballtickets.com and their ticket availability; many customers simply don't receive the tickets that they pay for. Multiple users have reported on this less-than-reputable behaviour for a number of years now, and it is a huge blow to the credibility of Hotfootballtickets.
Is Hotfootballtickets.com reliable?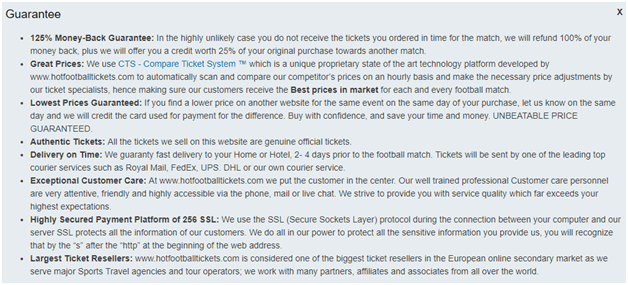 Hotfootballtickets.com claim to provide a few guarantees when using their services, but I personally wouldn't hold them to it. Included is a 125 % money (store credit, actually) back guarantee if something goes wrong, excellent customer care and the lowest prices guaranteed. They even have their own price comparison tool, which scans competitor prices on an hourly basis and changes their own prices to ensure they are less. However, it doesn't appear to work. Overall, their guarantees are probably no more than an empty promise, and best to be ignored.
Do Hotfootballtickets.com provide customer support?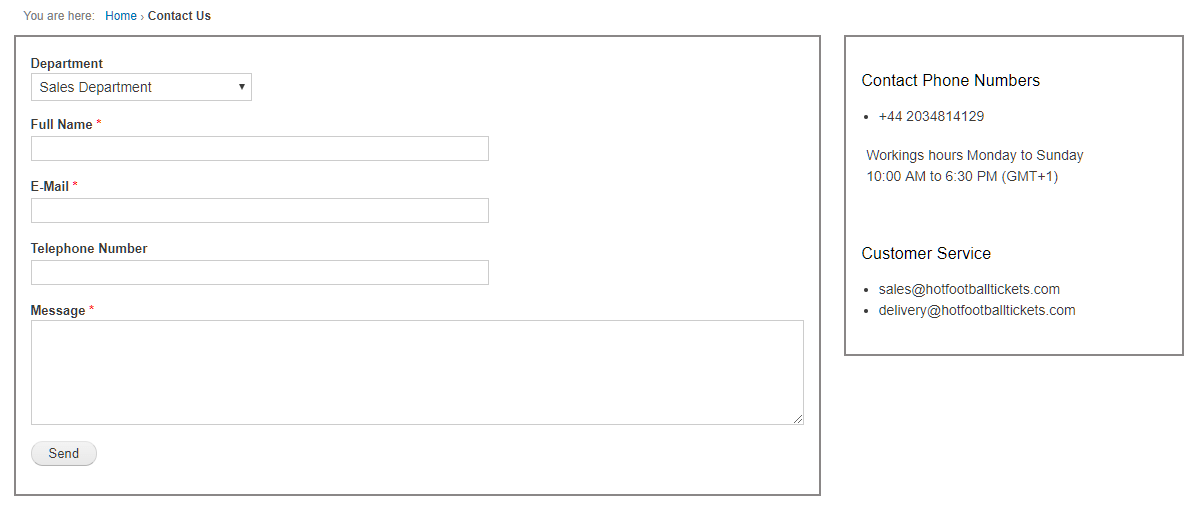 Good customer support consists of availability, trust and a wealth of expertise – because if something goes wrong when you buy a Liverpool vs Arsenal ticket, you need to rely on them for help. Hotfootballtickets are based in Spain, so their customer support team work from 10am until 6pm GMT Monday through Sunday. They can also be contacted via email directly, but there are no timescales for when you should expect a response. What's worse is their shocking track record with unhappy customers that are very vocal about their poor experiences online. It's clear that the customer support at Hotfootballtickets is far from an expert, and in most cases leaves customers more frustrated than ever.
How fairly priced are the tickets on Hotfootballtickets.com?
Pricing tickets within the reselling industry, particularly for popular matches like Premier League games, is a very volatile experience. The prices are dictated by demand, and the more popular an event is, the pricier the ticket will be. This is a trend across the board with ticket resales, so the best price is a huge selling point for companies. Hotfootballtickets have gone out of their way to exclaim that they have the best prices around – they have even incorporated price comparisons on their website and included unbeatable prices in their guarantee. So, on paper at least, Hotfootballtickets have some great prices for even the most popular football matches.
However, buyer beware! The great prices found on Hotfootballtickets are useless if you don't get your ticket. This problem has been highlighted to us, as well as anyone looking at online reviews of this company, thanks to the voices and comments of disgruntled customers. Many customers never received tickets, and a great deal of those people were never offered a refund either. This is a huge red flag for anyone considering using this ticket reseller because there is quite a large chance that you will lose out on your money and have nothing to show for it.
Should I use Hotfootballtickets.com?
Hotfootballtickets may have been around for a while, but that is not a good reason to use their service. With a shockingly bad track record for customer service, as well as a shoddy website, there are simply too many reputable brands out there to even consider Hotfootballtickets as a viable option. They might flaunt the best prices around, but don't be fooled by the low figures. Too many customers have been scammed by this company to consider using them to buy your football tickets. While you're at it, avoid their sister company Gosportstickets.com, too.