Who is Ticket4Football?
Ticket4Football is a well-known ticket marketplace that has quickly attracted a large following thanks to their excellent service. They have created a fantastic online platform for fans to buy and sell their tickets for football events internationally. With that said, in recent times they have focused on British and Spanish domestic football as well as the big European competitions. Ticket4Football have proved to be a fantastic choice for people looking to buy or sell tickets at a fair market price, even if the event is a popular, sell-out affair.
Ticket4football is one of the few that offer Celtic / Rangers tickets for sale for their popular Old Firm derby.
How easy is Ticket4Football to use?
Using Ticket4Football is a painless experience, thanks to a well-designed site and a host of handy features. There are lots of categories available for you to find the league, team or competition that you would like to buy tickets for. You can also browse the most popular upcoming events right on their homepage for ultimate ease. The entire design of Ticket4Football is really intuitive, so you should have no problems finding the tickets that you want. Once you do, it is easy to get lots of additional information about seating, the view and more thanks to handy tooltips found across their site.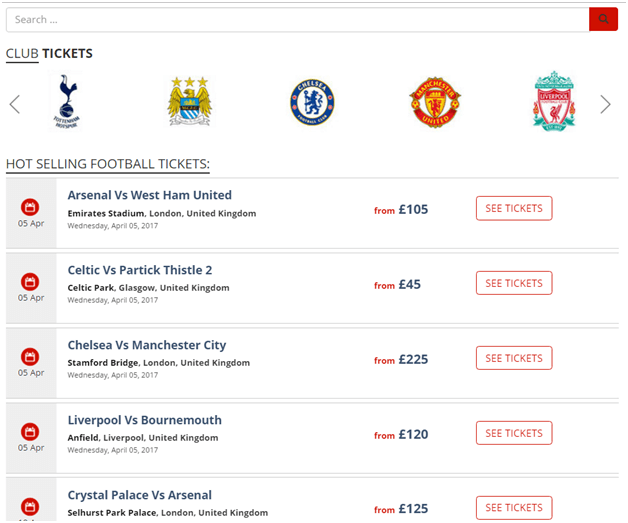 One rather confusing aspect of Ticket4Football is their 'Exclusives' tickets page. It makes next to no sense, and in all honesty leaving it alone might make you a little less manic. It does seem to have a few useful links on the page, such as their RSS feed for news and upcoming events. Proceed with caution, though, as a lot of the page is redundant and a little bit off.
Can I get the tickets that I want?
The most important thing to look at when reviewing a ticket vendor is their marketplace. If it is a busy marketplace, you can expect to see a huge variety of tickets for all of the big games across the UK, Spain and the rest of Europe. However, if the reselling platform has little traffic, then there won't be many tickets kicking around. Thankfully, it seems that Ticket4Football have created a thriving marketplace that offers some of the hottest football tickets in Europe at a fair price. With the use of brokers as well as fans looking to sell their unwanted tickets, Ticket4Football seems to be very well stocked with football tickets across Europe.

With all of that said, Ticket4Football does have a focus on a handful of European domestic leagues – the Scottish, English and Spanish Premier Leagues. So, if you are hoping to get tickets for a domestic game elsewhere (Germany, Italy or France to name a few) then you are out of luck.
Is Ticket4Football reliable?
One of the unique parts of Ticket4Football is their focus on last-minute tickets to football matches. They have built a secure, safe and reliable ticket exchange for their members to buy and sell tickets. Although it is a slight annoyance, their platform does require registration before you can buy or sell. In the long run, though, this membership creates a much more reliable marketplace because there is an actual community involved. Prices are very reasonable and ticket availability is great because of this too.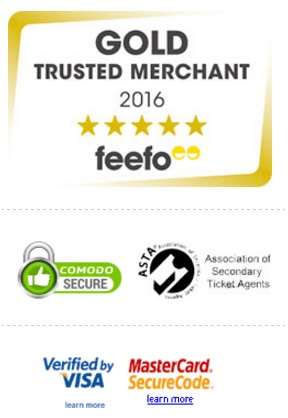 When it comes to payment and receipt of your tickets, Ticket4Football uses a very safe, 128b SSL code encryption to guarantee your safety. At the moment, they only accept credit cards, so they are lagging slightly with current payment methods. Getting your tickets is still a physical process at Ticket4Football, but they do guarantee delivery 7-10 days before the event is scheduled. In the unlikely event of a cancelled event, you will be offered a credit note thanks to their 100 % guarantee.
Do Ticket4Football offer customer support?
Being able to contact your ticket reseller is vital in case anything goes wrong during your transaction. Ticket4Football have attempted to build an online forum for any general queries, tips or advice which is fairly useful. They apparently offer live support, but it seems to be down quite often. However, for a direct line to customer support you will need to send an email to their dedicated team or call them directly. Although this is not a perfect set up, Ticket4Football do strive to help if you experience any problems.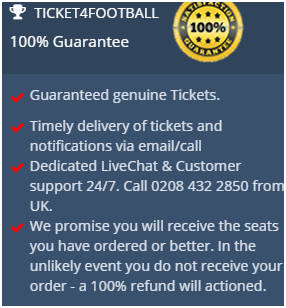 You are required to register an account with Ticket4Football before using their service. At first, this may seem like a useless extra step, but it actually improves their customer service and support. They have a highly secure system to keep all of your information extra safe, so if anything does go wrong they are going to be right on the case.
How fairly priced are football tickets on Ticket4Football?
As with all ticket vendors, Ticket4Football are making a profit out of their platform. This comes in the form of their booking fee, which is tacked on to your final ticket price. At the moment, Ticket4Football have a set 15 % fee, which is similar to other vendors. Similarly, prices will be higher than face value on tickets because sellers also want to make some profit. Thankfully, due to the thriving marketplace found at Ticket4Football, prices for tickets are often very fair.
There are some other fees associated with Ticket4Football that could be avoided elsewhere. The delivery of your tickets is only available physically, so there will be a variable delivery fee depending on how and where your tickets are going. This could be avoided if the company used e-tickets, but their marketplace does not seem to allow for that.
Should I use Ticket4Football?