Who is Wowtickets?
Wowtickets are a relatively new platform that has grown a solid reputation in the short period that they have been around. With a strong focus on European football and excellent customer service, they aim to provide a consistent variety of popular football tickets for some of Europe's biggest games. Although based in Cyprus, Wowtickets platform caters to the British market incredibly well. It might be early days for this company, but so far they have impressed a lot of people in the football ticket resale industry.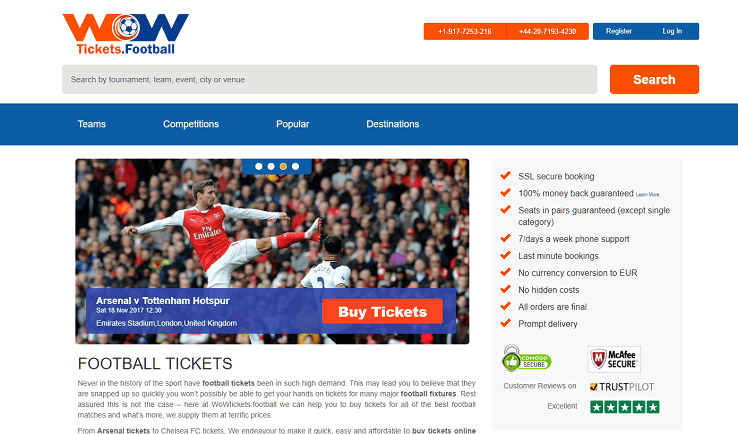 When it comes to buying or selling tickets for European football matches, Wowtickets are a great option to try out. With fair prices, excellent customer service and a solid reputation, there isn't much to complain about.
How easy is Wowtickets to use?
Based on our first-hand experience, we found that using Wowtickets is pretty straightforward, although it lacks a lot of the bells and whistles that some of the competition has, like currency converters. Instead, Wowtickets provides a rather bare-bones website that does the basics. You can search for and buy football tickets, but that's about it. Our findings show that they do provide live chat support, which is a really handy addition to their site. If you're just wanting to browse tickets, they provide a handy list of their most hotly anticipated matches on the home page. They also break down their ticket options by teams, competitions and destinations, so you can have a more precise look at their tickets.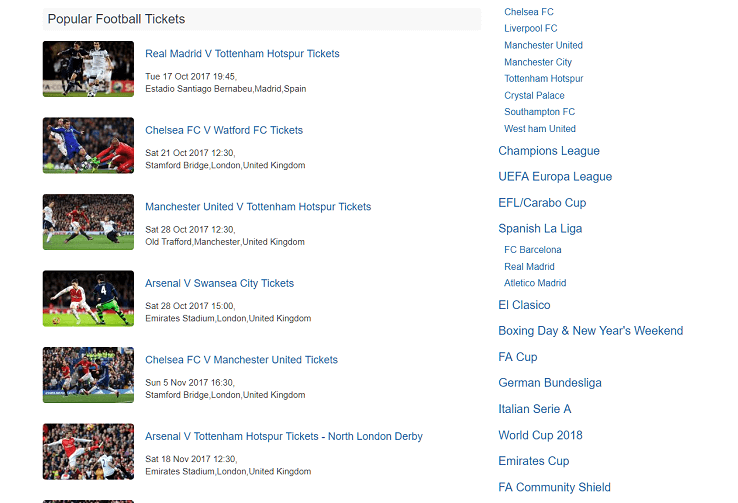 It might not look the best, and it might lack cool widgets; but based on our observations, Wowtickets has created a really simple website that does the basics really well. For overall ease of use, they do a great job of providing you with what you need to buy your tickets. It might not be pretty, but it works well. For a small company, focusing on these parts is vital to providing a good service, so it makes it easy to overlook the shortcomings of the website's overall design.
Can I get the tickets that I want from Wowtickets?
The true measure of a good ticket vendor is how easily you can get football tickets that you want. Generally, if the vendor's marketplace has lots of active users, you can expect to find a healthy variety of tickets. Wowtickets, although quite new on the scene, have managed to grow a dedicated fan base in no time at all, which has worked wonders for their ticket availability. After trying out the site, we found that the most popular games across Europe, including Champions League matches, are readily stocked on Wowtickets.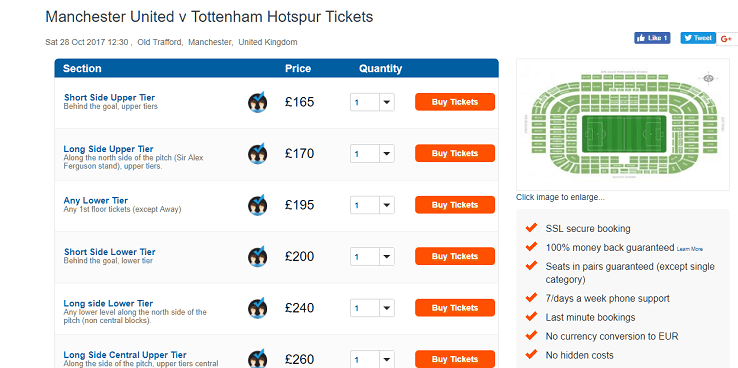 One thing to consider is that because they are quite new, they are a relatively untested platform for surge tickets. So, if it is a last-minute deal or highly popular match, Wowtickets might struggle to cope. If you're trying to get a hotly anticipated football ticket, it might be better to try out one of the more experienced vendor sites.
Is Wowtickets a reliable site?
A reliable website is really important when you're buying through a ticket vendor, because tickets can and will sell out quickly. If you're looking for a specific, popular match, then it is crucial that the website that you go to is well-maintained and reliable. Otherwise, you might miss out on the opportunity to buy the tickets that you want.
To their credit, Wowtickets appear to have a solid website that is kept in good working order. There might not be much to their website, but our research indicates that all of the basic functionality that we need to buy tickets is there. Wowtickets use McAfee Secure and Comodo Secure, both reputable online security tools, to ensure that your safety is assured when using their site and buying their tickets.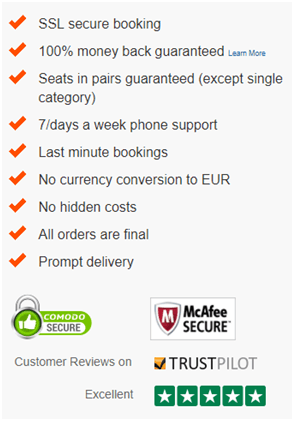 One thing to consider, though, is that they are still quite a new ticket vendor. So, although they have gleaming reviews at the moment, it is still early days and things can change. For the moment, though, Wowtickets are doing a great job of keeping their website as reliable and safe as possible for their users.
Do Wowtickets provide customer support?
We found from using the website that one of the strongest aspects of Wowtickets service is their fantastic customer support. Wowtickets try to make themselves available seven days a week, which is quite the feat for a smaller company. You can contact them through email, their live chat client on their website or you can call them directly during UK business hours. In the event that something does go wrong, they even offer a 100 % money back guarantee. When compared to some of the bigger names, Wowtickets stack up really well in terms of overall customer service and support.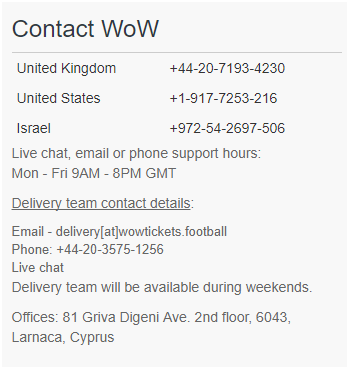 One slight hang-up is Wowtickets lack of Paypal functionality, which is a real nuisance these days. At the moment, this vendor only accept bank transfers, Visa and Mastercard, which is a shame.
How fairly priced are tickets on Wowtickets?
Ticket vendors exist in a secondary market, which means that the actual prices can vary wildly depending on the supply and demand of football tickets. Generally, the more popular a vendor is, the cheaper tickets will be. This is because the larger pool of people selling tickets allows for more competition, which drives prices down.
At the moment, Wowtickets have not managed to cultivate a big enough group of sellers to keep their prices down, so you will probably find cheaper tickets elsewhere. With that said, it is definitely worth comparing them with some of the other vendors around, because prices are highly variable.