Should you buy tickets from StubHub! UK & Europe Regions
StubHub is an online ticket marketplace where sellers can offer tickets to potential buyers for a range of events. These events are sports, music and theatre. In the words of StubHub themselves, 'StubHub is the world's top destination for ticket buyers and resellers'.
StubHub have different domain extensions and websites depending on where you reside. The stubhub.com has prices in US Dollars, whereas the stubhub.ie version of the website has prices listed in Euros. The StubHub.co.uk website has prices in British Pounds (and doesn't show all the inventory stubhub.ie has), while the .com extension will bring up prices based on your location.
The service provider of the StubHub website is eBay and the address of eBay Marketplaces and company number is listed on the website. You will also find information and images of the people behind StubHub, including the President, international Managers and Senior Directors.
StubHub started as a website selling baseball tickets in the United States but soon moved on to offer tickets in other sports and events. In May 2013, eBay started to redirect the users who were looking for tickets to StubHub and have since acquired the Ticketbis business as a way to expand into the European markets.
The $165 million purchase of Ticketbis has also extended StubHub's reach into Asia and Latin America, making it a worldwide ticket marketplace.
Looking at reviews on Trustpilot, there have been some mixed experiences when using StubHub. However, it pays to remember that StubHub cannot be held responsible for the actions of their sellers although they do try and solve any issues where possible.
Below you will find some recent reviews of StubHub on Trustpilot, two of which are positive and one is negative to help provide some balance.
#TBT to when I saw @Timeflies in concert! Thanks, @StubHub! 🙌🏼🙌🏼😭😭😭 pic.twitter.com/elny2W46wW

— Richard Niño (@_Richard_Nino) January 19, 2017
#Louisville VS #BC #NCAA #Goodtimes #great seats thanks @StubHub & @Enterprise ! @GoCards strong 💗 on the #EastCoast !! #GoCardinals 🏀🏀 pic.twitter.com/ZoVOMfr0X3

— Mr. Baystate (@MBaystate) February 5, 2017
Yippee! My first ever spring training tickets are here!!! So excited!! Thanks @stubhub! #redsox pic.twitter.com/fvZLQGUXAy

— Sarah Keech (@stumptownlunch) February 14, 2017
How Easy is the StubHub Website to Use?
Based on our experience, the StubHub website is very straight forward to use and easy on the eye. The homepage features a main search box on the banner of a crowd enjoying a concert. You can type anything you are looking for in the search box and this will present drop down list of options.
We typed 'Manchester' and the options included Manchester City FC, Manchester United FC, Manchester Monarchs, Manchester Pride and Melissa Manchester. From this example you can see the range of sports, events and artists on offer through StubHub. After putting it to the test, we found that using the search box is the easiest way to find the tickets you want if you know the team you would like to see or the event you would like to attend.
The other way to find tickets on StubHub is to use the drop down menu in the top left corner of the website and this brings up a range of options in sports, music and theatre. However, if you are searching for tickets to a specific football match for example, using this option is not the best way to find them quickly. You are better off using the search box for the fastest results.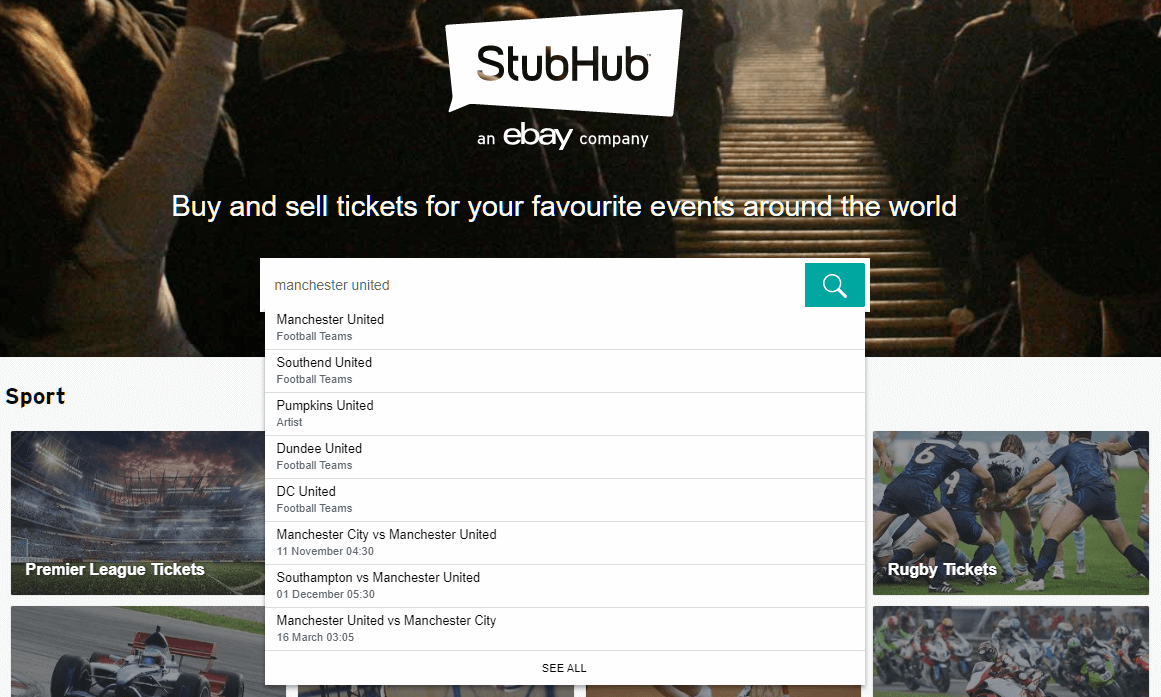 When clicking on an event, such as a football match, you will be shown a map of the stadium and the ticket options. The stadium is colour coded and you choose tickets based on price, quantity and where you would like to sit. Some sellers will also add comments about the tickets, such as special information about the view or the time you can enter the stadium.
With that in mind, how easy is it to find the tickets that you want on StubHub?
Can I Find the Tickets I Want?
@danifagan Our FanProtect Guarantee covers fraudulant tickets. If there's any issue, we'll find replacement tix or offer a full refund!

— StubHubUK (@StubHubUK) February 21, 2017
StubHub is a huge online ticket marketplace and our findings show that you have a very good chance of finding the tickets you want using this website.
As highlighted above, the StubHub website is split into three main categories which are sport, music and theatre. Within each you will find a sub-menu offering various competitions and types of event. You can also select a more generic option, such as 'more sports', 'other concert tickets' and 'musical theatre'.
By choosing 'more sports' as an example, you are presented with a huge list of sports from which to select. These range from American Football to eSports. The overall choice is incredible and while StubHub cater for the most popular sports, they also have a range of tickets for other sports such as polo, swimming, lacrosse and karate.
Many of the tops sports, such as Champions League football matches, were sold out at their original source, such as the clubs themselves or the organizing association. We determined through our tests that StubHub is a great website to search for tickets you have struggled to find elsewhere.
The same applies for concert tickets and a quick search on Ticketmaster shows there are no tickets available for Lady Gaga. However, StubHub has a choice of tickets for her residency in Las Vegas and while they do not come cheap, you can pay what you feel is right for the tickets.
If you would like to attend a theatre production, StubHub has a wide range of tickets available for all the major productions. So, if you would like to see Jersey Boys for example, you can search for that show and a list of venues appears where the show is currently available.
Jersey Boys is just one of over a hundred different shows available at StubHub and you are highly likely to find the tickets you want on this website.
How Easy Is It to Buy the Tickets I Want?
Our team discovered through using the website that buying tickets on StubHub is very simple. Even if you are using StubHub or a ticket exchange for the first time, you will have little trouble placing your order.
To begin, you will need to register an account with StubHub. It is straight forward and all you need is your name, email address and to create a password. Once you have done that you can login to the website and begin buying your tickets.
In this example, we have chosen the Manchester derby between Manchester City and Manchester United. This is one of the biggest games in the Premier League season and tickets are rare, so StubHub is a great place to find them.
Having found the ticket page for the match using the search box you are presented with the overview of the stadium and the tickets which are available.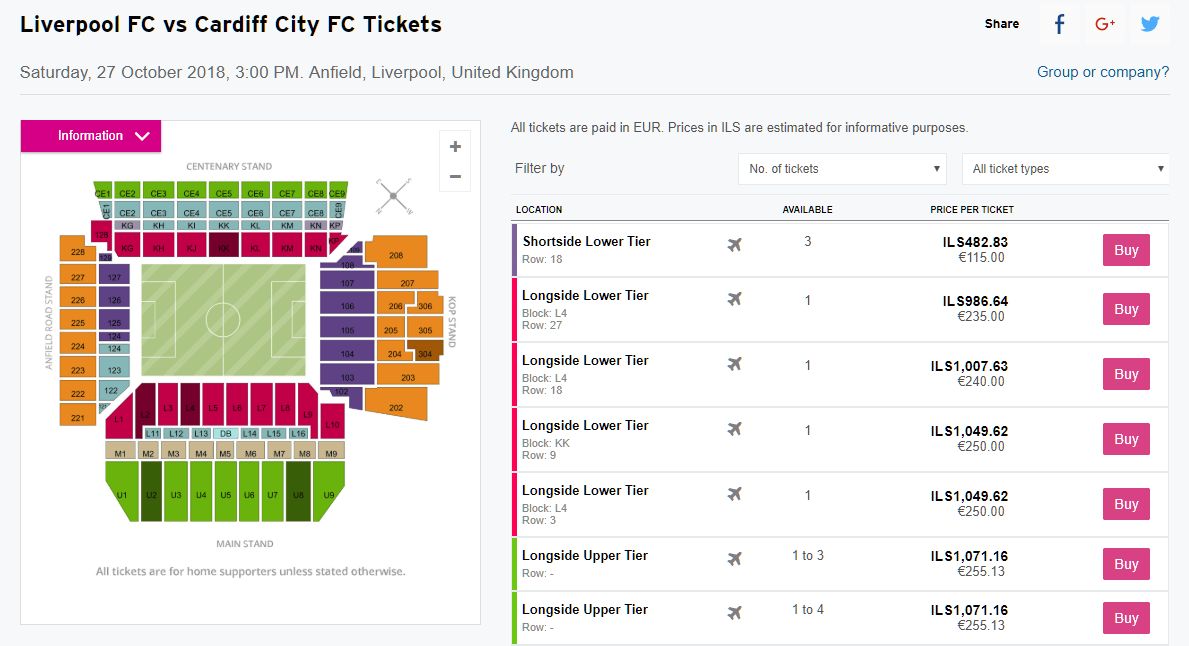 You can use the filter on the top right of the screen to select the number of tickets you would like and the area of the stadium you would like to sit. This narrows down the number of tickets for you and when choosing tickets for other events, such as theatre and concerts you can select other options, such as aisle seats which is good if you need quick access.
Having made your choice, you are presented with the main ordering page which provides full details of the tickets and the breakdown of the cost. If you are happy, click the pay button and you are taken to the final stage of the purchasing process.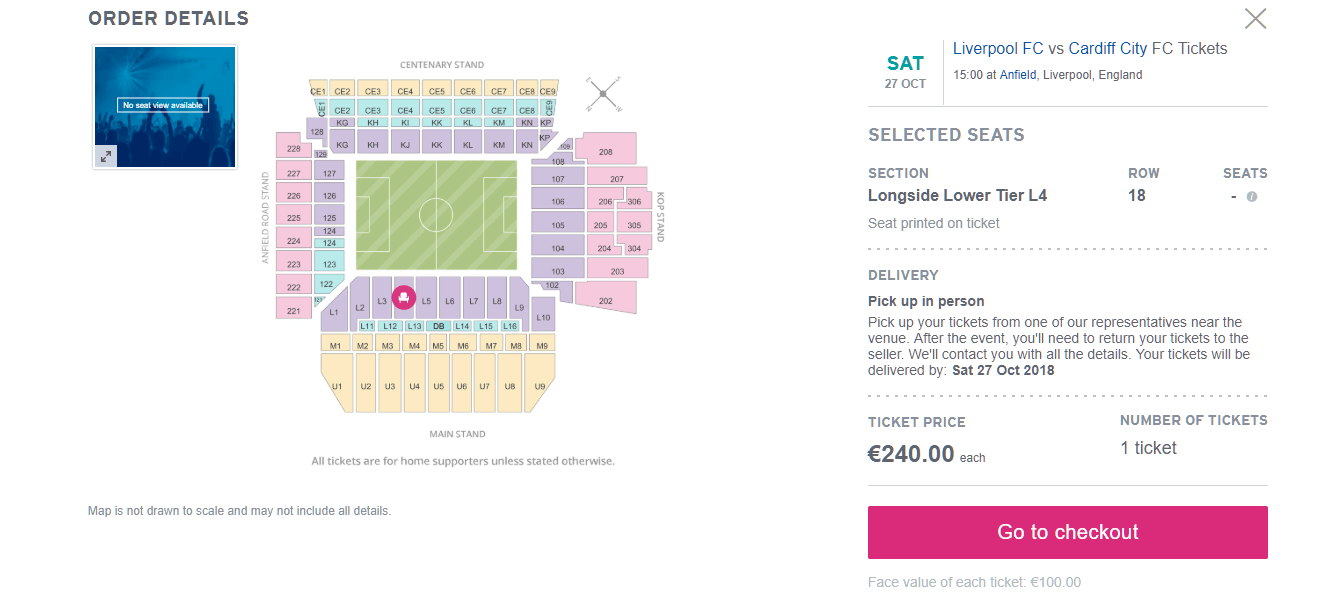 When making a payment on StubHub you can use all major credit/debit cards, a StubHub gift card, PayPal account, Visa Checkout, Apple Pay, and Android Pay.
Overall, the buying experience on StubHub is very easy and with just a few clicks you can order tickets to the event of your choice.
Do They Provide Good Customer Support?
If you need help when using the StubHub website, you can get it by clicking on the 'help' link. This can be found at the bottom of the website. A messenger box will open on the screen and you will be asked to provide information about your status, such as if you are a buyer or seller.
Initially, the chat is automated and will pick up words you have used in your question to generate a response. Our research indicates that for general queries this may be fine but for something more urgent you will need to click on the 'start a chat' link at the bottom left of the message box. Doing this will connect you to a live agent you can discuss everything with them.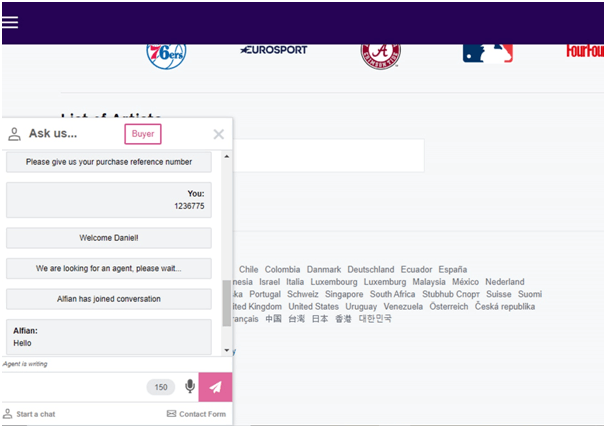 When we trialled it, we found that the only other way to contact StubHub when using the stubhub.com or stubhub.ie website is to use the contact form. This is accessed using the 'contact form' link located at the bottom right of the chat box window.
Live chat is open 24/7, so there is no need to use the contact form because you will get an instant reply using the chat box.
StubHub also have social media accounts, including Twitter, Facebook and Instagram but again, if you have an urgent query you are advised to use the live chat feature. We used it and within seconds we were connected with a member of the StubHub support team.
Are Their Tickets Fairly Priced?
As with any ticket exchange, the tickets for sale at StubHub are published by the individual selling the tickets, not the website. As a result, the ticket prices are set by the vendor and not StubHub, it is important to keep that in mind when searching for tickets.
Therefore, what is deemed as a fair price for a ticket is determined by how much you would like to see the event and the rarity of the ticket. If you would like to watch the Champions League final for example, tickets for this event will be sold out and you will pay a premium price to get a seat. However, tickets for Cardiff City vs Burnley in the Premier League are likely to be much cheaper and closer to face value.
Our analysis of the site revealed that you will struggle to find tickets at face value on StubHub but many of the tickets are for events where tickets are no longer on general sale.
In terms of fees, this depends on the event and type of tickets. StubHub will determine the shipping cost and fees at the time of purchase and you will see a breakdown of the ticket cost at checkout before placing your order. At this point, you can decide if you would like to go through with the purchase or if you believe the fees to be unacceptable, you cancel.
It is up to you to decide if you would like to pay the asking price for tickets on StubHub and this will be determined by how keen you are to see the event.
Can I Trust I Will Get My Tickets?
StubHub have a system in place called FanProtect. In their own words, this allows customers to buy and sell with confidence, with customer service all the way to your seat. The FanProtect system means every order is 100% guaranteed.
StubHub state, 'You'll get the tickets you ordered in time for the event and they'll be valid for entry. If that doesn't happen, we'll locate comparable replacement tickets or send you a refund. You'll get a refund if your event is cancelled and not rescheduled. We handle all customer support issues, so sellers will never contact you directly'.
There are reviews on Trustpilot, see the example below, of people who did not receive tickets. In this example, the buyer had a problem receiving the tickets they purchased from the seller and left a negative review. However, the buyer went on to say they received an email from StubHub with electronic tickets, plus a refund and a promise the seller will not be allowed to sell on the website again.
So, despite the buyer not receiving their original tickets, StubHub managed to get electronic tickets to the buyer, plus a refund and banned the seller from the marketplace. This shows you can trust StubHub to get your tickets to you, even if there is a problem as seen in the example above.