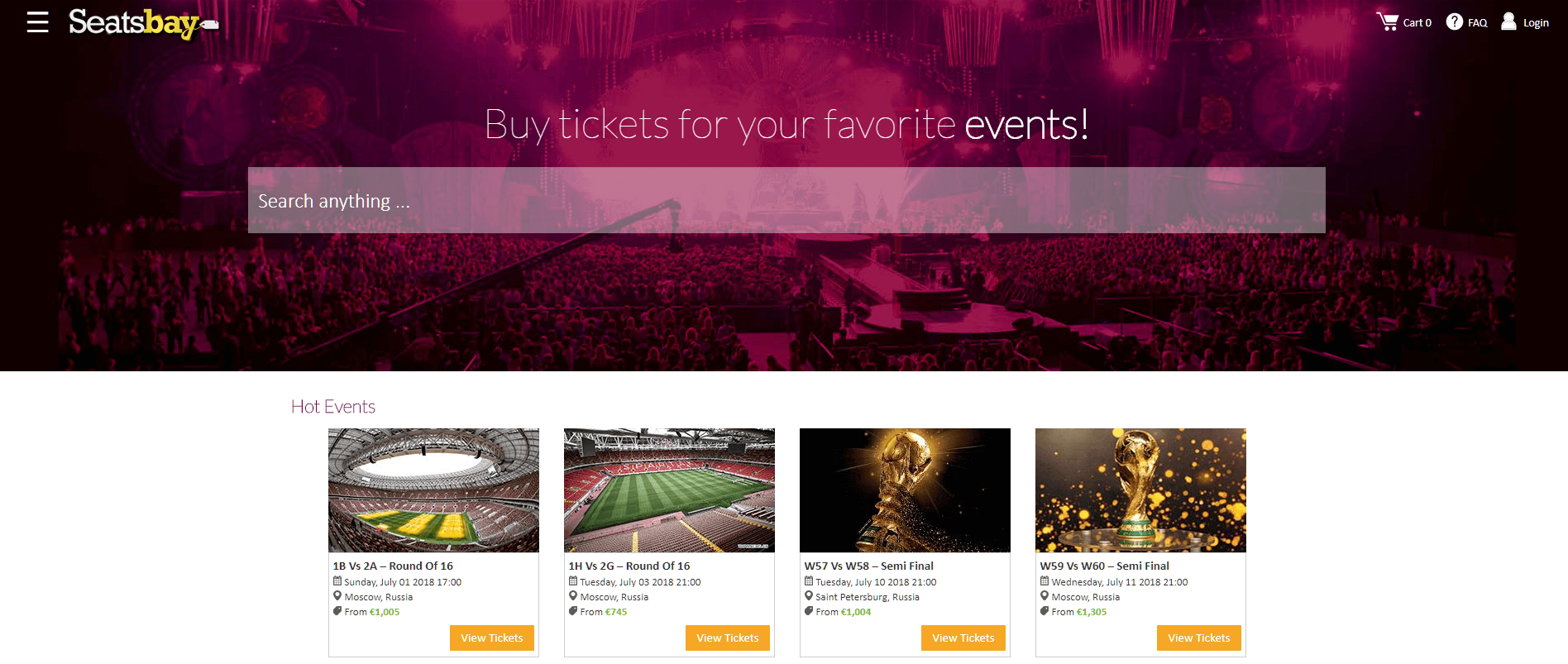 Seatsbay is a fresh face in ticket reselling, but they have managed to establish a great name for themselves in an impressively short amount of time. With a neat website, bustling sales platform and some great review scores online, Seatsbay is definitely starting out in the world of reselling in the best possible way.
Based out of Gibraltar, Seatsbay is focused on European live events – although at the moment they appear to only be stocking football tickets, expect that to grow into other events and music in the coming months. Customers appear to enjoy the platform provided through Seatsbay, but to give a fair review of this new reseller, we need to look a little closer at their service. This review will take a look at how they operate, and pick out any flaws or particularly good bits that might help you decide to try them out for yourself.
How easy is Seatsbay to use?

There are very few bells and whistles to be found on the Seatsbay website, which is actually a good thing. Although their website is missing live social media feeds or currency converters, it does have all of the basic things required to search, buy and sell tickets – which is all you need. Better yet, but spending their time focusing on the basic stuff, like categories for tickets, there's no clutter and everything is easy to find and use. Whether you're looking for a specific event or you're just browsing a specific city, Seatsbay have done a great job of making it a piece of cake to use.
With that said, there are some features that Seatsbay could really benefit from. For starters, implementing Paypal as a payment method would be really useful for people that don't want to use a credit card or a bank transfer. The website does also feel a little bare bones, but honestly that feels like a part of Seatsbay's charm – simple yet effective.
Can I get the tickets that I want from Seatsbay?
When it comes to finding the best ticket reseller around, one of the biggest determining points is how healthy their marketplace is. A thriving marketplace means more users and tickets being bought and sold, as well as a healthy amount of competition. This not only makes more tickets to popular events, like the 2018 World Cup Finals available, but it drives prices down through competition too.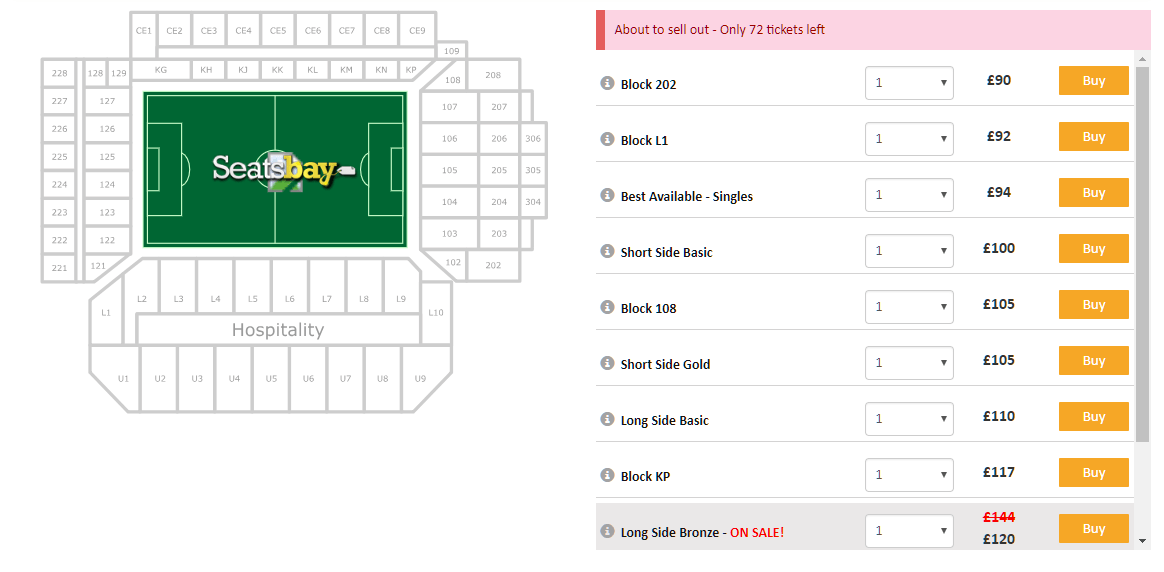 Unfortunately, it's early days for Seatsbay, so they don't have the biggest ticket reselling marketplace online. Their current selection is quite limited, with a range of European and International football tickets up for grabs, but no live music as of yet. However, with 4 million tickets available across 50 countries, they are definitely on the right track.
Is Seatsbay reliable?
Seatsbay is still quite new to online ticket reselling, but they have cultivated a very robust website and platform for users to buy and sell tickets. One of the unique parts about Seatsbay as a brand is their focus on sourcing tickets that are unavailable or sold out. If they manage to crack that, and provide a reliable service in the process, they will be on to a winner. Unfortunately, because they are still quite new it is hard to gauge how reliable that aspect of their business will be.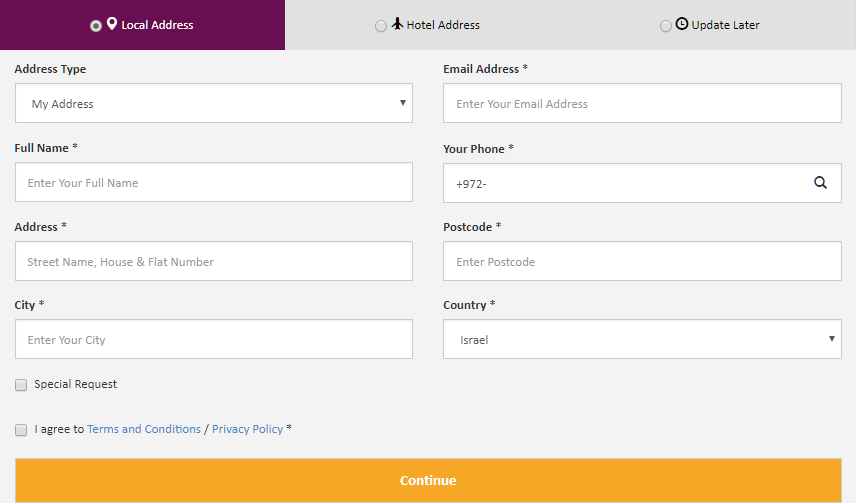 The website of Seatsbay appears to be very reliable, and it's simplicity will really help with this. There are no widgets or live feeds to be found on their website, which is one less thing to take up resources and go wrong. Their payment system is secure and very reliable, too, and features the latest SSL encryption to keep transactions as safe as possible.
Do Seatsbay offer customer support?
Good customer support in the world of ticket reselling is a really important aspect of the service provided. By its nature, ticket reselling has inherent risks associated with it, and a good customer support team will minimize those risks. So if a ticket doesn't get delivered, you can rely on a well-equipped customer support agent to fix the problem. Not all vendors do a good job of this, though, leaving many customers in the dark, without a ticket and quids out. Seatsbay, however, have a dedicated team of staff that have an excellent reputation for being there for customers when they are needed.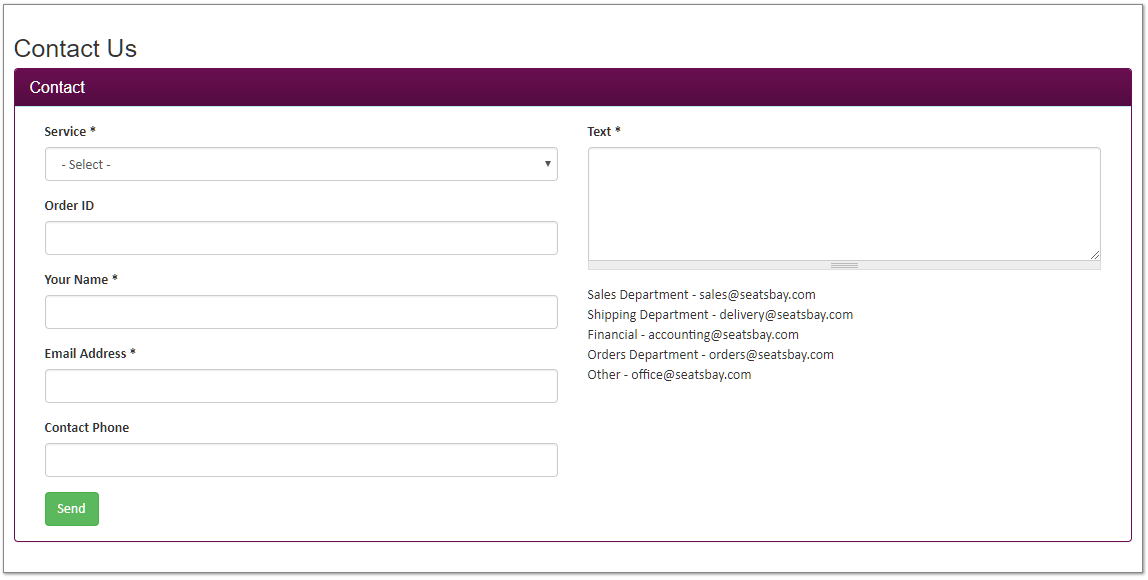 Seatsbay have made it very simple to get in touch with their customer support crew, in the event of an issue arising. You can either speak with one of their agents through the websites live feature, or send an email to a specific department via their 'Contact Us' page. The only thing that could make life easier here is a telephone number, but in this day and age it seems that this method is being phased out. With fast response times through email and live chat, Seatsbay seem to be doing a good enough job of handling customer issues without a dedicated phone line.
How fairly priced are tickets on Seatsbay?
Working as an online ticket vendor grants you very little control over the overall pricing of tickets on your marketplace. You can get more users buying and selling tickets to increase competition, but prices are all determined by the market. The one area vendors do control is the fees attached to the overall price. Some resellers add as much as 40 % of the tickets face value to the overall price in fees alone, so it can really depend on the business.
Seatsbay have the same problems as all of the other online vendors, but they appear to have an incredibly low fee attached to their tickets. Although they claim that the fee varies, our research shows that it usually lands at around 10 % of the tickets face value. This is actually a very reasonable rate, and can help keep the prices down on their platform. They also offer up some great promotions for first time users, such as £10 off your first purchase. Which is substantial enough to potentially sway a lot of people into trying out Seatsbay.
Should I use Seatsbay?
It's no secret that ticket reselling is a growing industry, with lots of new businesses opening up online trying to get in on the action. This has created a lot of option for customers looking to snap up popular tickets to live events like Premier League football matches and Ed Sheeran live at Wembley. Seatsbay fit into this bracket perfectly, with a focus on the most sought after tickets to Europe's hottest events.