Should you buy tickets from Football Ticket Pad?
Footballticketpad . com is a relatively new, sleek ticket resale platform that focuses most of its business across Europe. Although they have only been around since 2014, the company has managed to establish themselves as one of the best in the business. There are few, if any, reseller websites out there that are as finely polished as Footballticketpad . com . This level of quality and care bleeds into their excellent customer service and satisfaction, cementing the notion that they are a trusted ticket reseller in what is a relatively untrustworthy environment .
Our findings show that as a reselling platform, Footballticketpad . com seems to offer up the whole package – a well – connected and designed website that is reliable and trusted . The cherry on top, though, is their excellent selection of tickets they have available for European football matches . If you are considering dipping your toe in European football ticket reselling, you will be hard pressed to find a better platform than Footballticketpad . com .
How easy is their website to use?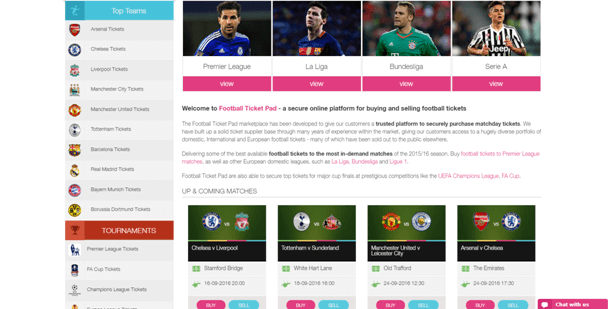 As far as looks go, Footballticketpad . com is the bell of the ball. Based on our observations, we found their web page to be excellently designed and very well-polished. It feels like they have taken a great deal of thought and care into their design process . This is no more apparent than their very clever logo, styled fonts and sleek look . From a design perspective, Footballticketpad . com really push for ease of use . This is great news, because a great deal of the reselling sites tend to be clunky, confusing and hard to navigate . Footballticketpad . com, on the other hand, make sure that you can find the tickets that you want in no time at all . A prominent search bar dominates the main page, emphasising how easy it is to find what you need . If you are just browsing, the website makes it a dream to have a look at what tickets are most popular in a handy sidebar grid . At the match tickets page for any particular game, you are greeted with a very well designed graphic of the stadium . The graphic also very neatly outlines the different sections of the stadium and where any given ticket will be seated . We determined through our tests that all of these design features work well together to provide a simple, elegant experience that makes everything easy to understand .
Can I find the tickets that I want?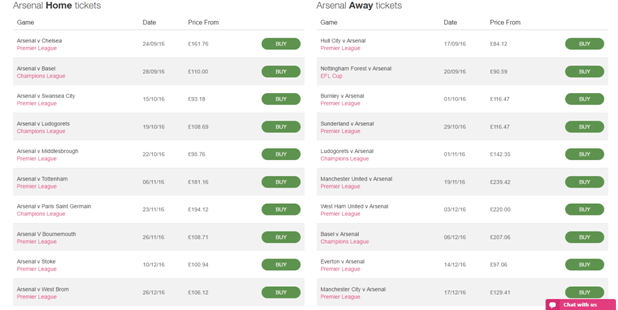 Spoiled for choice – Footballticketpad.com has a thriving reselling platform for tickets.
The reselling platform that Footballticketpad.com provides is thriving, with masses of sellers offering up a huge selection of tickets for most European football matches. Finding a particular ticket is as simple as finding the match in question and selecting the seat. Even better, some tickets have additional notes added to them if they feature particularly good – or bad – views of the pitch. Based on our first-hand experience, Footballticketpad.com have really streamlined the searching process for the user, from the prominent search bar to the easy to understand navigation. The most important part, of course, is the abundance of tickets that are available. For the most part, Footballticketpad.com excels here. In some of the smaller team games, though, they seemed to be lacking. They also guarantee that if you are buying more than two tickets, then you will be seated together.
How easy is it to buy the tickets that I want?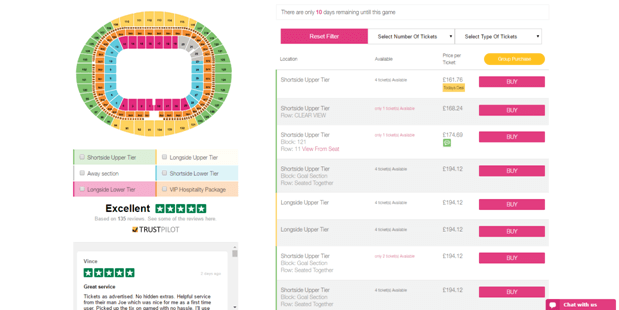 Buying tickets from Footballticketpad . com is just as easy as using the website. You have the option to register, but it is not needed, which speeds things up a great deal from the users perspective. Once you have selected the ticket that you would like, you are a few clicks away from purchasing the ticket. After putting it to the test, we found that every aspect of buying – or even selling – tickets here is straightforward and hassle free . One bugbear – that they are working on – is the lack of Paypal functionality. Other than that, though, buying tickets here is as easy as can be.
Do they provide good customer support?
It is really nice to know that the reseller that you are using can help you out if things get a little hairy. Unfortunately, many of the resellers online seem to lack any sort of tangible customer support outwith standard ticketing systems. Footballticketpad.com buck the trend here, though, with a fantastic customer support team dedicated to helping. We discovered through using the website that their live support functionality is excellent, and alongside an extensive FAQ there are few questions left unanswered. As a business, Footballticketpad.com prides themselves on a five star buying experience and after sales care for all of their customers. A massive plus for Footballticketpad.com is their location – being based in the Scotland means stellar customer service. Due to the more stringent laws in place for resellers in the UK, Footballticketpad.com are held to a higher degree of accountability if anything goes wrong with your order. Better yet, their operating hours are the standard GMT hours, which can make it a lot easier to get in contact with someone should you ever need to.
Are their tickets fairly priced?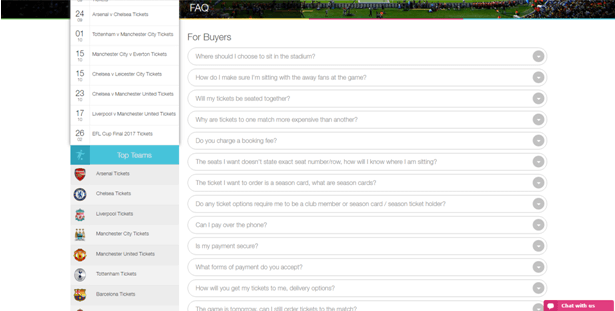 One of the biggest factors when deciding on a ticket reseller are price . However, in the world of ticket resales, prices can fluctuate tremendously . There are a lot of shady resellers online that will hike the price of popular tickets or sell fake tickets at a bargain price . Thankfully, Footballticketpad . com has a 100 % guarantee that you will pay a fair price for a genuine ticket to the match of your choice . So you can feel safe in the knowledge that they will not scalp or overcharge you . With that said, if you have a particular ticket that you are looking for -VIP seating, for example – you can expect to pay a lot more than usual .
Can I trust that I will get my tickets?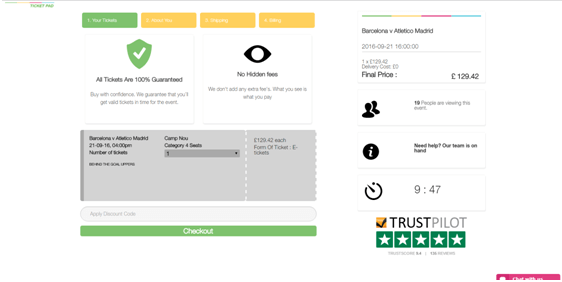 Keeping yourself safe online is becoming more important by the day, thanks to the ever – advancing ways that people can steal your information through online transactions . That is why it is important to be able to trust your ticket resellers security . Footballticketpad . com ensure a safe transaction for you by employing a high level of data encryption on their site . Every transaction is SSL secured, which is the gold standard of online transaction security . As indicated by our tests, they also guarantee not to share any of your data with any third parties, so you can feel extra safe in sharing information with them . As a last measure, should anything go wrong they have a 100 % guarantee that they will give you a full refund if a replacement ticket cannot be found .
Should I use Footballticketpad.com?