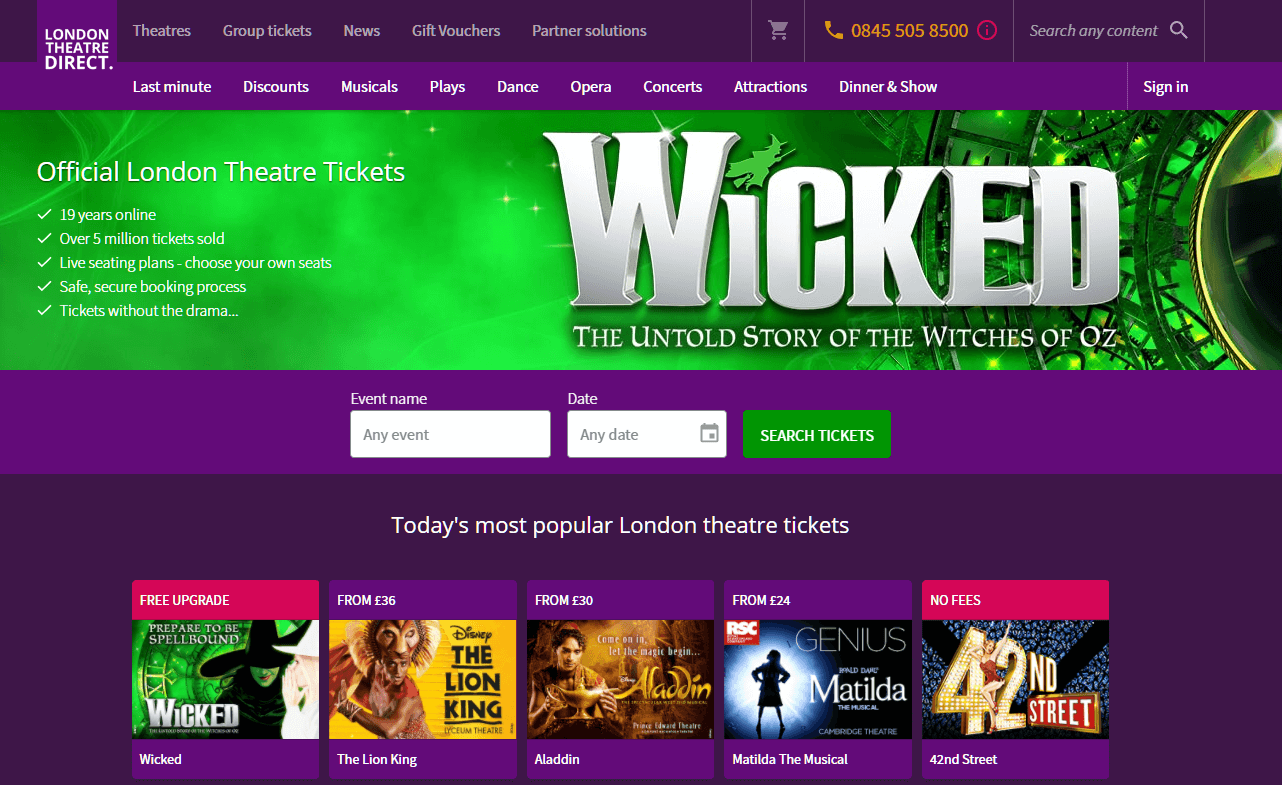 For almost two decades, LondonTheatreDirect has been the go-to for online theatre tickets for the big shows in London. With such a firm grip on the UK theatre ticket market, they have managed to get close with the biggest names in live theatre, including Andrew Lloyd Webber and Nimax theatres. This high-profile networking has opened up a lot of doors for LondonTheatreDirect, which has helped them get a huge variety of popular tickets for shows like the Book of Mormon and the Lion King at great prices.
However, good connections in the theatre business doesn't always mean that you're going to get the best deals from LondonTheatreDirect. So, this review is going to take a look at a few important aspects of LondonTheatreDirect to figure out whether they offer the best service in the business or not. From ease of use to pricing, there are lots of factors to consider that can make or break a company in the online world of ticket sales.
What a night. @MotownUK is an amazing show. Thanks to @theatre_direct for sorting the tickets out. They were the best seats in the house.

— Tim Wild (@wildy79) October 6, 2017
How easy is LondonTheatreDirect to use?
LondonTheatreDirect have spent a lot of time and money making their website very pretty, modern and intuitive for users. It's probably one of the best online ticket vendor websites around, which makes the overall user experience an absolute dream. There are a handful of really useful categories for you to browse through, including last minute bookings and discounted tickets. They also highlight tickets that are eligible for free upgrades, which is a rare treat.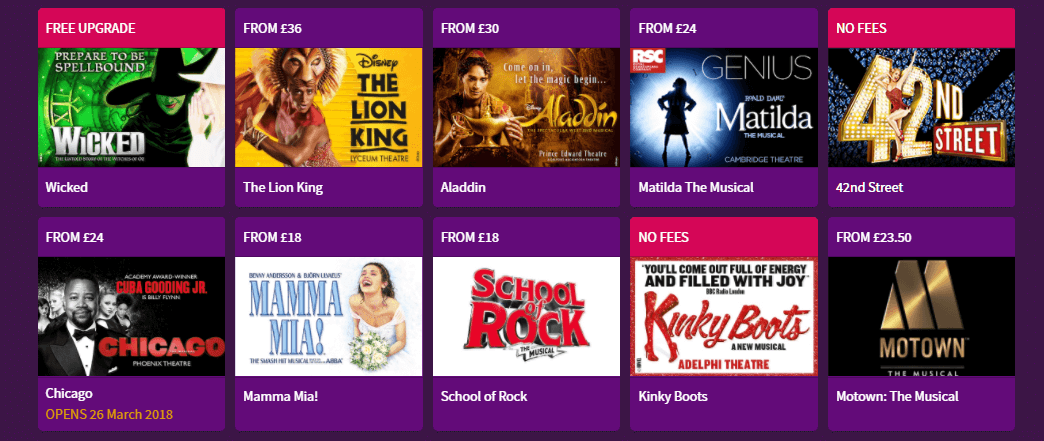 If you're looking for something specific you can forego these categories for their search bar, which is neatly located at the top of their page. If you know the specific date and event that you're after, LondonTheatreDirect have added a handy search bar for you to search dates and events at the same time. Every part of their website has been made to help you find the tickets that you want easily, which is a huge benefit.
When it comes to purchasing your tickets, LondonTheatreDirect continue their trend of keeping things simple. Easy to understand calendars and graphics will ensure you are buying the right tickets for the right time, and you can even compare prices for different seating arrangements so that you can grab the best deal. From here, all you have to do is type in your details and you've got your ticket; there are no additional queues to book your tickets like with Ticketmaster.
Can I get the tickets that I want from LondonTheatreDirect?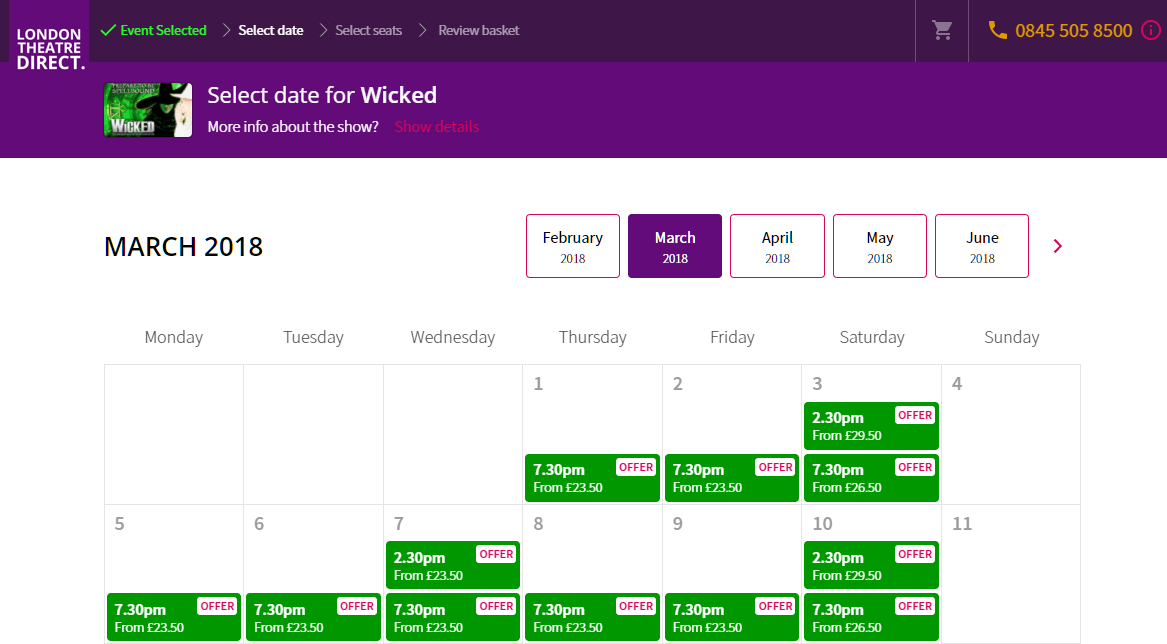 Being able to purchase the tickets that you want from a ticket vendor is probably the biggest factor in choosing to use them. LondonTheatreDirect have a very tailored market, which allows them to focus their efforts on securing a great variety of popular live London theatre shows. All of their networking with bigwigs in London has paid off here, because LondonTheatreDirect usually have a fantastic spread of tickets for the biggest shows, including Les Miserables and the Phantom of the Opera. Unlike Ticketmaster, LondonTheatreDirect are focused on live theatre in London, which has really allowed them to provide the best tickets for these events at a great price.
Is LondonTheatreDirect a reliable site?
A consistently good ticket sales website needs to be reliable, so it can't be down when new tickets are being released. Similarly, it should be able to handle spikes in traffic when things get busy on release day. LondonTheatreDirect provides a reasonably reliable service here, but their flashy website might be holding them back slightly. Although they have put loads of effort into the look and feel of the website, it does take a while to load up. When things get busy, it is prone to crashes which stops you from buying the tickets that you want. This is a real shame, because you could potentially miss out on your favourite live theatre event as a result of their janky website. In their defence, they appear to have a competent hotline that you can call to order with, should the website crash.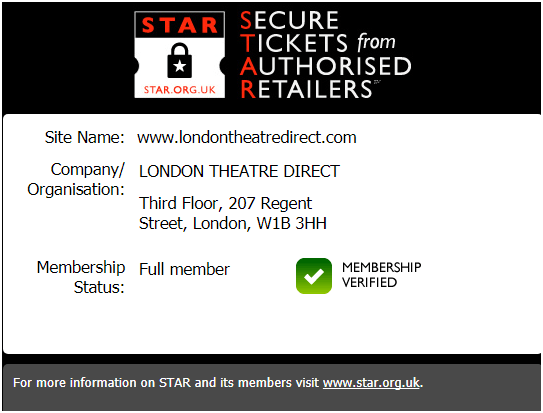 When it comes to reliably using their website to buy tickets, LondonTheatreDirect make sure to keep your details safe an secure for every transaction. As well as all of the standard SSL security at payment, LondonTheatreDirect are also affiliated with Secured Tickets from Authorised Retailers (STAR). Although they accept all major credit and debit cards, they lack Paypal support, which is a shame.
Do LondonTheatreDirect provide customer support?
Theatreticketsdirect.co.uk have managed to consistently provide some of the most popular theatre tickets through their ticket hotline and website. Over the past decade and then some, they have networked and worked closely with producers of the biggest West End shows to secure hot tickets as they become available. Buying the theatre tickets that you want through Theatreticketsdirect.co.uk is really simple, which works to its credit. A no-frills website and telephone hotline means they can handle a large volume of ticket sales without crashing. This means that they are a really reliable service, so you won't be left in the dark when the tickets that you want are released.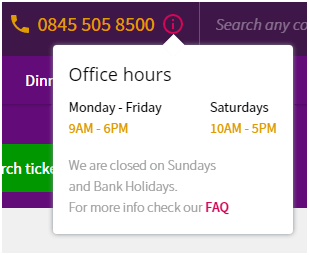 In the world of ticket sales, things can and do go wrong. Tickets can be misdelivered, events can be cancelled and unforeseen circumstances can get in the way of you making the show. So, when something does go wrong, it is great to have a professional, capable customer support team that can help. LondonTheatreDirect, to their credit, have a dedicated helpline that is open from Monday to Friday throughout the standard UK working week. So if you have any issues, you can drop them an email or give them a call and they will be more than happy to help. For some additional insurance, you can pay an additional £2.50 for Ticket Protection, which will grant you a full refund if you cannot attend your event. With all of that said, LondonTheatreDirect could provide some extra support features, like Live Chat on their website.
How fairly priced are tickets on LondonTheatreDirect?
One of, if not the biggest, factors in deciding what ticket sales provider to use is the overall price of the ticket. Unfortunately, their booking fees vary depending on the popularity of the event, so it can be hard to gauge how good of a deal you might be getting. To see how LondonTheatreDirect stacks up against their competition, we tried to purchase tickets for the same show, in the same seat. For this comparison, we used TheatreTicketsDirect.co.uk because they also focus on theatre tickets in London. Our results are below: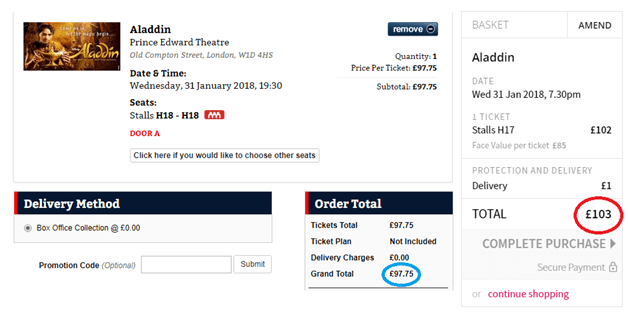 As you can see, LondonTheatreDirect (red) have manifested an additional £5 into their total price when compared to TheatreTicketsDirect (blue). So although their website might be better, and they have a more established brand, tickets cost more. What's more, LondonTheatreDirect tack on additional fees on top of their booking fee, such as a £1 charge for delivery to the venue that you will pick the ticket up from. So, from our results, LondonTheatreDirect will cost you more than the competition.
Should I use LondonTheatreDirect?
Loved @thegoatplay, the acting was impeccable from everyone! Thanks @theatre_direct for the tickets! 🎭 pic.twitter.com/pbC0Czg4ua

— Grace Hussey-Burd (@ghusseyburd) June 15, 2017
A change from the usual #westend shows 2nite. Thanks @theatre_direct for tickets 2 #TheUglyOne @ #theparktheatre. A satirically dark comedy pic.twitter.com/pNQDWwaH2r

— Louise Burrows 👑 (@wabs79) June 6, 2017