Who is TicketNetwork?
TicketNetwork has spent a lot of time in the ticket resale industry, and they have gained a solid reputation since their foundation in 2007. In recent years, they have expanded to also operate TicketLiquidator.com, a website dedicated to selling tickets for high profile events. With a focus on providing tickets for popular, sold out and hard to source events, TicketNetwork has created a thriving marketplace for buyers and sellers. Their marketplace is popular enough to keep prices reasonably low, so you can always catch a bargain for all sorts of upcoming events.
Although their current website is a little daunting at first glance, TicketNetwork has a very comprehensive service that makes it easy to find the tickets that you want. Whether it is live music, sports tournaments or theater performances, TicketNetwork and its huge marketplace manages to cater to all tastes.
@TicketNetwork #CopaAmerica #ticketnetwork my tickets arrived on time! Thanks a lot!!!! ⚽😀 pic.twitter.com/Tt52MnHGuH

— Nanzuit Acosta | 🐧 (@Nanzuit) June 6, 2016
How easy is TicketNetwork to use?
TicketNetwork has made sure that their website is as functional as possible, so that you can find the events and tickets that you're after. There are a lot of categories – arguably too many at first glance – that you can run through, including Sports, Concerts and Theater. TicketNetwork also lets you select different pages through some pretty useful tabs. One feature in particular, Cities, allows you to browse events by U.S state or international city. This lets you see what's going on around in your local area, or somewhere you might be going to while on a trip.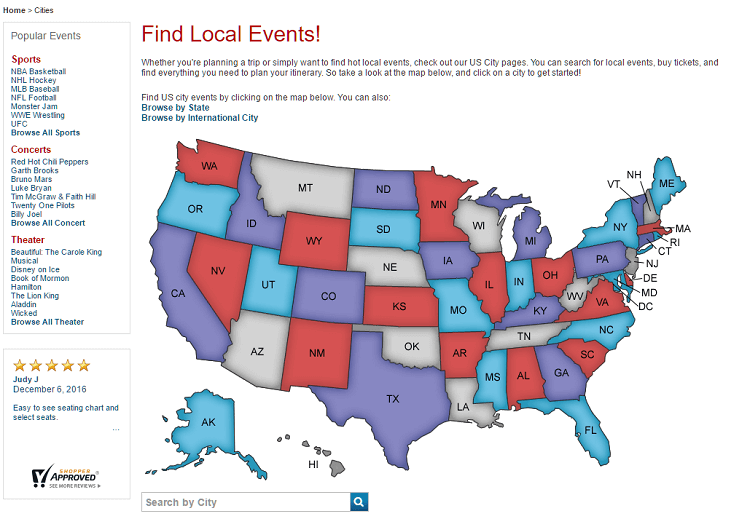 When it comes to searching for the tickets that you want, TicketNetwork features a pretty straightforward search bar. You can search by performer, venue or team to narrow down your search to find the exact event you're interested in. Once there, TicketNetwork have laid out their ticket selection neatly by location. One more click and you have full view of the tickets available, their prices, as well as an interactive map of the venue and where the seats are situated.
Can I get the tickets that I want?
One of the biggest benefits of TicketNetwork is their bustling marketplace for vendors. This has allowed them to consistently stock tickets that are unavailable elsewhere, making them a reliable choice for many looking to see a live event.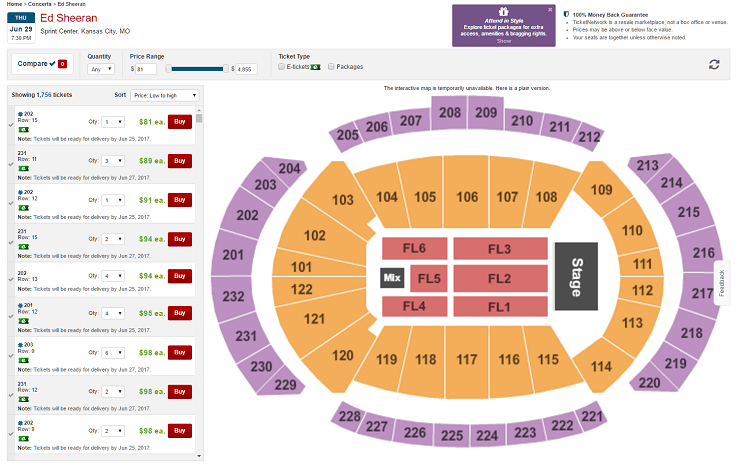 When it comes to actually getting your tickets, TicketNetwork make the payment process incredibly simple. They accept all major payment methods, including Paypal, so there is little chance of you being unable to buy your tickets. One really nice feature that TicketNetwork has is their Instant Download feature, which costs $7.95. Rather than waiting for a physical copy of your ticket, you can get an e-ticket sent to your email address in a matter of minutes.
Is TicketNetwork reliable?
Ticket reselling can be notoriously unreliable when it comes to getting the tickets that you want. TicketNetwork bucks the trend in this regard, thanks to their massive, diverse marketplace. With a blend of individual ticket sellers, box office promoters and ticket firms, TicketNetwork is almost always well-stocked. From a buyer's perspective, this creates a very reliable platform to obtain tickets for some of the most highly sought-after events across the globe.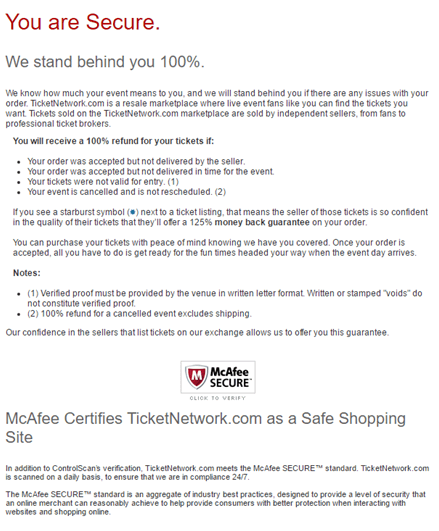 Actually getting your tickets used to be a bit of a problem in ticket resales. Many vendors would be forced to use a courier to meet with the buyer on the day of the event to ensure their tickets were received. As technology advances, though, companies such as TicketNetwork have made things much easier. The use of e-tickets that can be sent directly to your email guarantees that you have your tickets on time and in good condition.
Do they provide customer support?
I'd like to thank @TicketNetwork for the effort in solving my problem. U surprised me with the solution. Thanks to every employee involved.

— Thiago Belisário (@thibelisario) September 20, 2017
@TicketNetwork thanks for your help got a refund for the cancelled yankees game 😁

— Joyce Latimer (@JoyceInYork) September 5, 2017
Good customer service is really important in ticket reselling, and TicketNetwork have provided a great platform for support should anything go wrong. With a dedicated call centre that is open 7 days a week, as well as speedy email support, TicketNetwork goes to great lengths to resolve any issues. There is definitely room for improvement – live online support would be great – but by and large TicketNetwork have created a fantastic framework for customer support. They are also well-connected on social media, with active Facebook, Twitter and Google+ profiles.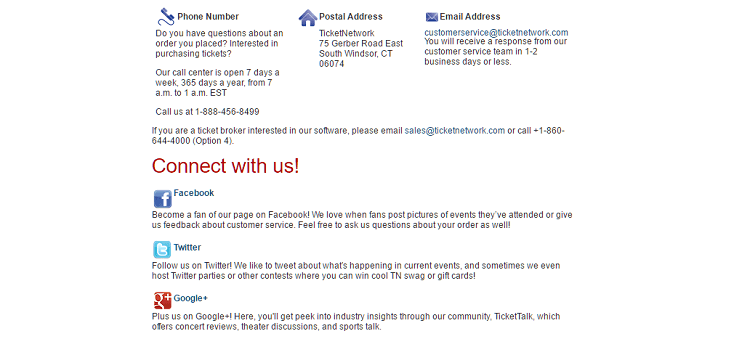 Transactions are completely safe on TicketNetwork thanks to McAfee secure and a range of features to guarantee PCI compliance. Better yet, they guarantee that you will make it to your event or you will receive a 100 % money back guarantee. TicketNetwork have done all of this to create peace of mind for their customers, so that you can feel safe using their fantastic resale platform.
How fairly priced are the tickets?
Generally speaking, prices on the TicketNetwork marketplace are very fair and often reflective of face value. With that said, buying through a ticket reseller will almost always cost more than at the box office. Sellers will be looking to make a profit, and so will the reselling company. The thriving marketplace found at TicketNetwork helps a lot to keep prices low, though, making prices competitive when compared to other resellers.
TicketNetwork does have a fee for their part in the process of reselling. At the moment, they charge a standard service fee that is 20 % of the value of the ticket being purchased, which is quite steep. If you are looking to use their digital ticket delivery service, TicketNetwork will also add another $7.95 to your final price. There are other vendors out there with lower fees, but few have such a reliable and thriving platform as TicketNetwork.
Should I use TicketNetwork?