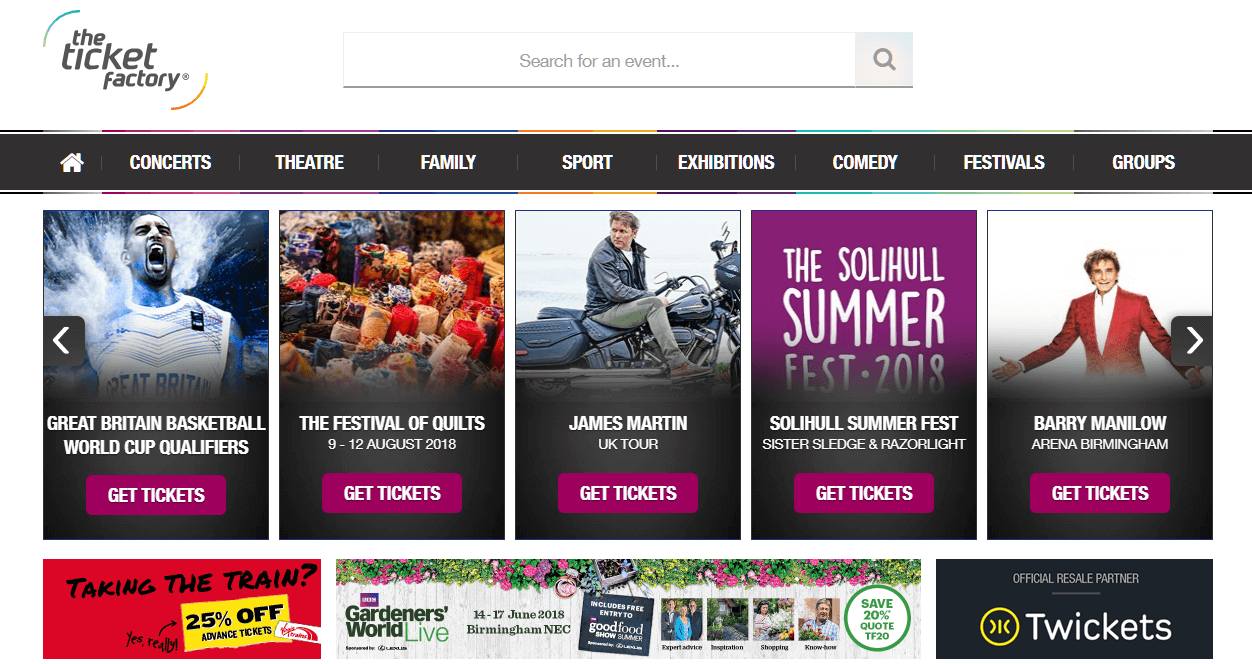 Theticketfactory.com was originally launched in 2007 as an online ticket vendor that featured a wide range of live events – including theatre, concerts, festivals and a spattering of sporting events. This primary ticket vendor, once known as NEC Box Office, is the box office for multiple venues across the UK, including the NEC, Genting Arena and Arena Birmingham. Alongside this, Theticketfactory.com are tied to some of London's biggest names in live events, including River Street Events and Haymarket.
Acting as the primary box office for so many venues should have a great deal of benefits for Theticketfactory.com, including greater control over ticket pricing as well as ticket availability. This might not necessarily be the case, though, and with so much competition in this industry it is always wise to make sure you're dealing with the best possible ticket vendor. This review is going to take a look at Theticketfactory.com to see how they stack up against some of their competitors.
How easy is Theticketfactory.com to use?
An easy to use website is a prerequisite these days, with the vast majority of customers going online to source their event tickets. So, any whiff of a poorly designed website from a ticket vendor is usually a bit of a red flag. Thankfully, Theticketfactory.com appear to have crafted a fantastic website. Their homepage is very nicely designed, and everything is in its right place. For example, they have a prominent search bar at the top section of their page so that you can find specific tickets, as well as a simple list of categories underneath for you to browse at your leisure.

Navigating through the entire process with Theticketfactory.com, from finding to buying your tickets, is very straightforward and doesn't complicate things. They have a really simple calendar to find the right dates, as well as a very well-designed graphic to show where you'll be seated. There is nothing groundbreaking here, but all of it is done incredibly well. Which, honestly, is a breath of fresh air when it comes to buying tickets online.
Can I get the tickets that I want from Theticketfactory.com?
Theticketfactory.com is in a unique position when it comes to their ticket inventory, as they work as exclusive box office for venues across the UK. This means that they have the lions share for all of the events there, including the more obscure events like darts and equestrian sports. Unfortunately, many of the more popular sporting events across the UK, such as Premier League football, is completely absent from Theticketfactory.com, so getting the tickets that you want is all relative.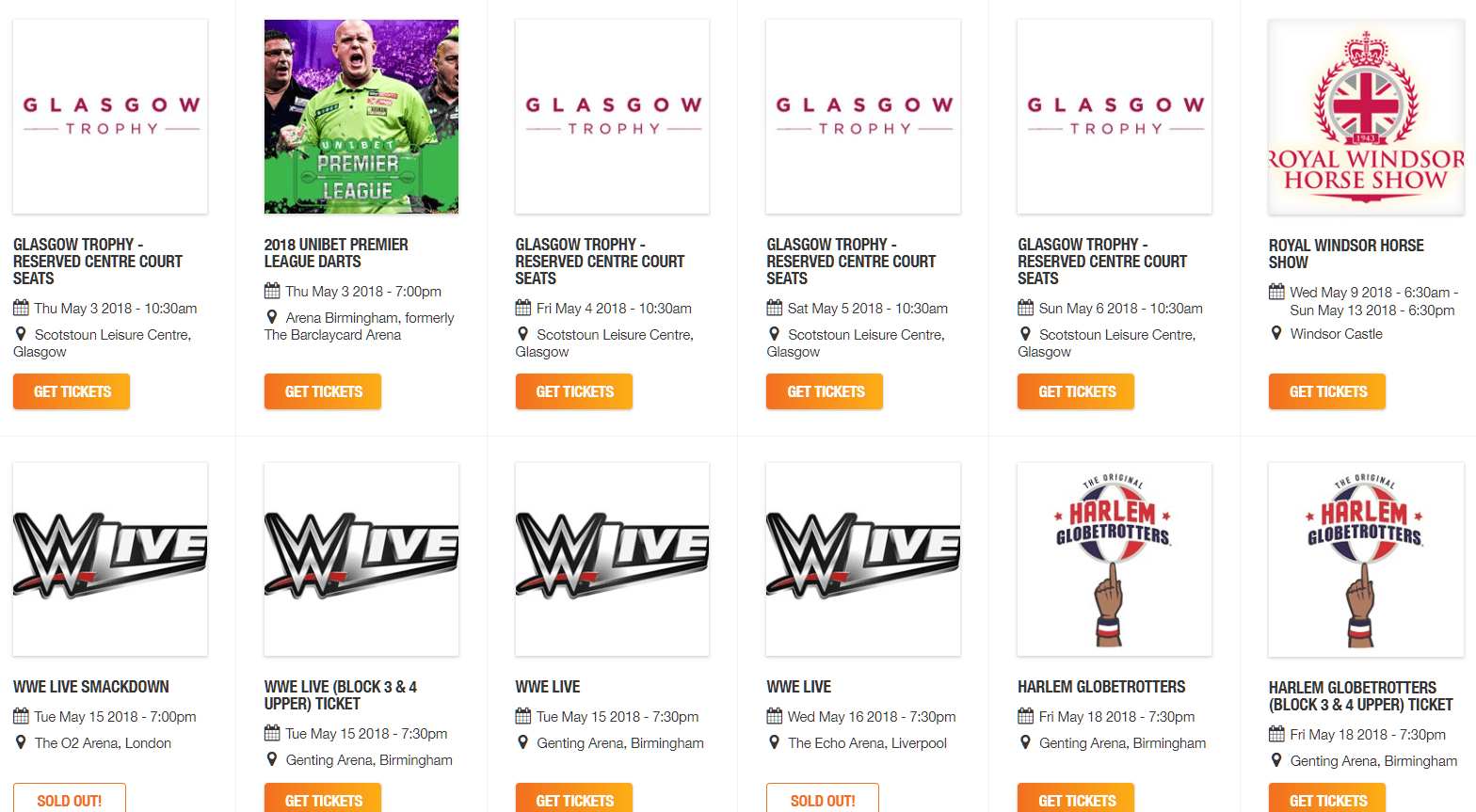 The tickets that they do have in their inventory are almost always well stocked and available in a wide range of seating options. Working as a primary ticket vendor, Theticketfactory.com will always have a healthy supply of tickets available for their events, which is great news if they stock the shows you're after.
Is Theticketfactory.com a reliable website?
A reliable website is just as important as a well designed one, because a site that is prone to crashes or one that runs out of inventory quickly won't have many returning customers. A good ticket vendor needs to have a dependable service, and if they can't provide that then they won't last long in this industry.
Considering how long Theticketfactory.com has thrived in this industry, it would be safe to say that they know how to provide their service. As a vendor they provide a stellar platform to buy tickets, with a well-built website that can handle large spikes in user traffic. Better yet, with the lions share of tickets for many events across the UK, they are very well stocked and should never sell out instantly. So when a hotly anticipated event goes live, like V Festival, you can trust that you can safely buy your ticket without being let down by a crashed website or sold out tickets.
Does Theticketfactory.com provide customer support?
A good customer service team can be the lifeline you need if something goes wrong after buying your ticket. If a show is cancelled, or you can't make it for unforeseen reasons, having certain guarantees that you won't lose out can be a huge bonus when choosing a ticket vendor. Theticketfactory.com have a pretty solid customer support team, although there are certain improvements that could be made. For example, there is no live chat functionality on their website, which is a really useful tool that can instantly solve customer issues. They could also improve their response times for their emailing system, which leaves customers waiting up to 48 hours before talking to someone.

It's not all doom and gloom for Theticketfactory.com, though. They are based in the UK, which makes contacting them via telephone nice and easy. Being in the UK also means they are held to a much higher regulatory standard than other countries, so customer service standards are high. They also include an optional ticket protection service, so if you cannot attend for any reason whatsoever, you'll get a refund. Unfortunately, Theticketfactory.com charges a few quid for this protection.
How fairly priced are tickets on Theticketfactory.com?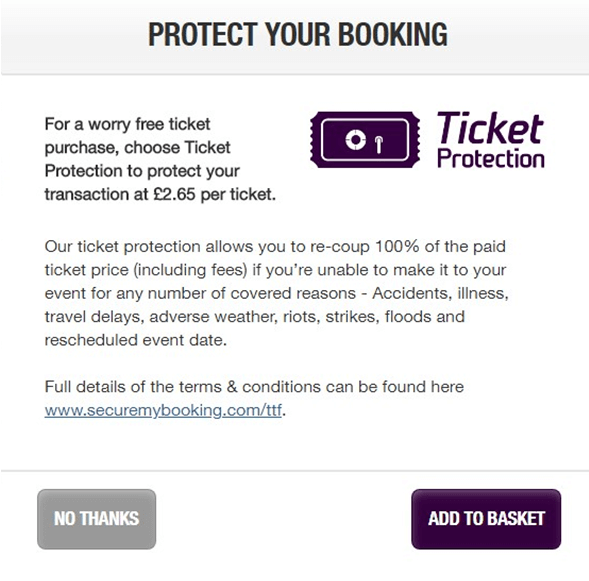 Getting a fair price for popular tickets is becoming an increasingly difficult feat to achieve these days, as resellers regularly stack additional fees and inflated prices on to tickets. With Theticketfactory.com working so closely with venues across the UK, you would hope that they could offer customers some fantastic prices for tickets. Unfortunately, it appears as though they are going along with the same tricks as every other vendor in the market these days. To their credit, they are at least transparent about their additional fees (which are variable at around 10-20 % of the tickets total value), with a clear breakdown at the checkout stage. They also charge for ticket protection and, in some cases, ticket delivery. Overall, they could definitely achieve lower prices, but currently tickets are priced at about the same as their competition.
Should I use Theticketfactory.com?