The Premier League is back with a bang and with only a handful of games into this campaign the England collective under Big Sam is already undergoing change with key figures Joe Hart now playing abroad, Jack Wilshere accepting a loan spell and captain Wayne Rooney locking in a potential retirement date of 2018. The saga continues.
With competition for a place in the England team becoming tougher with every Premier League season that passes, the pressure has never been higher for today's current home-grown stars. Will the current crop become legends in their own right? Only time will tell.
The Ticket-Compare team set about conducting a study to ascertain whether the same types of players are continuously picked because of who they are, and how they've been introduced through the system. In order to address these issues, Ticket-Compare analysed data from all senior internationals with over 50 caps in the modern era. There are 57 players who have reached that benchmark.
The study included the following areas:
Personal background – birthplace; star sign; first name
Physical appearance –height; hairstyle; hair colour; ethnicity
Domestic team bio – career span; number of domestic clubs
International bio – age of first appearance; debutant opponent by country
As an overview, we know the characteristics that England players that reach the 50-cap mark have are:
Physical appearance: most likely to be white / caucasian; 180-184 cm in height; and a  short, dark hairstyle; first name David.
Background: Born in Greater London; a parent to an average of two children; to be a Virgo, Scorpio or Sagittarius.
Domestic career: To play for anywhere between 2-5 domestic clubs in their career; to play for anywhere between 16-20 years at club level.
International career: Most common age to debut for England is 20-24; more than four times likely to have features at England youth level than not; 6 times more likely to debut against a country in Europe than anywhere else in the world.
Here are the results in full:
Physical appearance
47 players picked for England were caucasian (82.46%); 10 players were not (17.54%)
Most common height range of the 57 players is 180-184 cm (31.58%), which includes David Beckham, Bryan Robson and Martin Peters; only 3% were in the shortest height range, they are Alan Ball and Paul Scholes.
46 of the elite group (80%) sported short hair when playing for England; David beckham was in the minority with multiple styles during his career.

Personal background
17 of the most capped England stars were born in London; 10 were born in the North West of England.
Only two players within the 50-cap group were born outside of the British Isles, they are John Barnes (Jamaica) and Terry Butcher (Singapore).
The most common number of children for an England legend is two (45%); John Barnes is the only player to have fathered six children.
Virgo, Scorpio and Sagittarius are the three most common star signs – seven England players belong to each.

Domestic Career
The most likely number of domestic teams an England legend will play for throughout his career is between 2-5; heroes such as Michael Owen and Alan Shearer are two examples who fall into this category.
Paul Scholes, Tony Adams, Tom Finney, Gary Neville and Billy Wright have dedicated their career to only one team.
16-20 years is the most common domestic career length, 30 players have achieved this amount of playing time.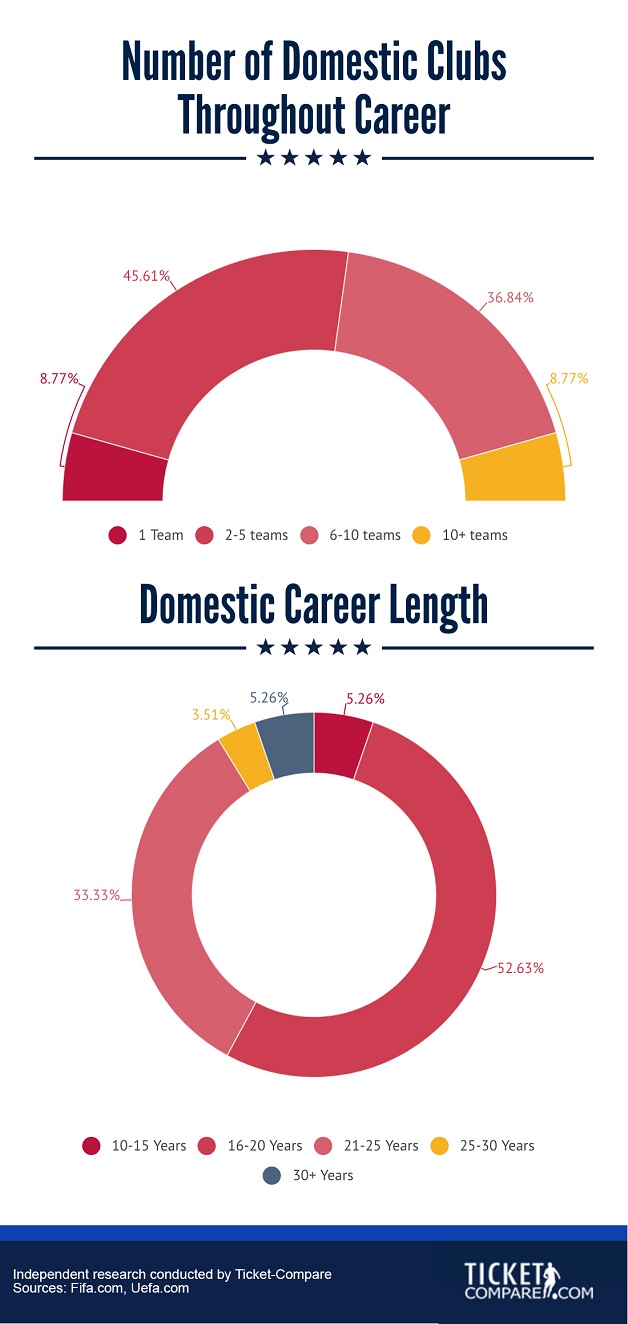 International Career
The most common age for an England player to make his debut is 20-24 years; players include the likes of Ray Wilkins and David Seaman.
46 players appeared at England youth level, the 11 that didn't includes Gary Lineker.
42 out of the 57 players made their debut against a European country, the most common of all opposing nations.