The Premier League is one of the most expensive leagues to watch in the world. Through inflation, paying for new stadiums and hiked prices, you can expect to pay anywhere up to two grand for a season ticket for your club. What's more, due to the high demand for these season tickets, availability is always limited and you can wait years to get one, especially with the bigger names such as Chelsea FC. So, the question that is being asked more often these days, is a season ticket worth the effort and price?
As technology brings people closer together, multiple solutions for the same problem are becoming accessible to everyone. This includes other methods of guaranteeing yourself a seat to your match of choice, thanks to ticket reselling. These days, you are not forced into a season ticket if you want to see a specific home game. This post intends to look at the worth of a Premier League season ticket, as well as offer up some potential options, should you choose to avoid investing in a season-long membership.
Season Ticket Availability
Obtaining a season ticket guarantees you entry to your club's home games, some of their European matches if applicable, as well as trinkets, memorabilia and other promotions. If you are a die-hard fan then a season ticket seems like the only way to go, but there are two major considerations: cost and availability. These are two big hurdles to overcome, especially if it is for the bigger clubs like Arsenal FC or Liverpool FC.
Availability is a huge problem if you are trying to get your hands on a season ticket for a premier league team. It is understandable, as the tickets themselves are a hot commodity. Being able to pay a one-off price for all of the games that you want to watch is a real time saver. However, the problem arises when you actually try to get one of these tickets.
One of the most difficult season tickets to get a hold of are Arsenal FC's. With a huge following, international fan base and home grounds based in London, their tickets are highly sought after. At the moment, the waiting list for a season ticket at Arsenal is sitting at 45,000. On average, there are about 7,000 eager fans that are taken off the waiting list and offered a ticket. That means that, on average, you will be waiting five years before you get a sniff of a season ticket. Over those five years of waiting, you have missed out on hundreds of matches. Oh, and you have to pay a monthly fee for the privilege of being on the waiting list.
Season Ticket Prices
The next point of contention is the prices that you pay for your tickets. The 16/17 Premier League season tickets are the most expensive yet, with fans being forced to fork over more than ever before to catch their favourite team. It is almost as though the clubs are punishing the dedicated fans by charging them crazy prices for match tickets.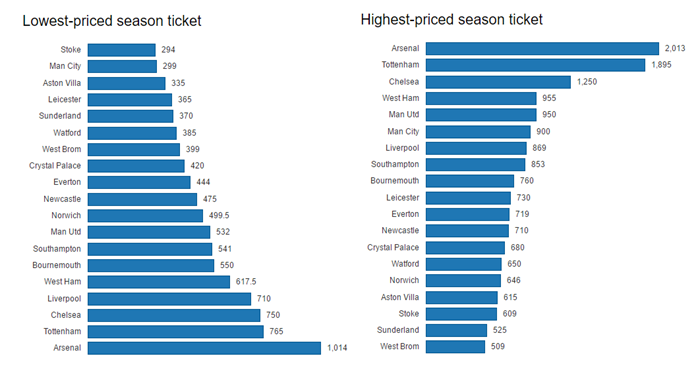 London giants Arsenal are the worst offenders when it comes to extortionate season ticket prices. The cheapest available season ticket for Arsenal is £1,014, and their most expensive costs £2,013. This trend is not isolated to Arsenal, though, with Chelsea charging at least £750 for a season ticket.
The one big exception to this rule is Leicester FC. Their fairytale story of rising through the ranks to the top flight has attracted a lot of spectators. However, they have stipulated that their season ticket prices will be the same as before – a modest £365. However, as mentioned above getting your hands on a season ticket for a big team is difficult. Leicester are definitely a popular team to follow at the moment, so your chances of getting a season ticket for them are slim-to-none.
What You Get For Your Money
Premier League clubs target a specific type of fan with their season tickets these days. Given the seven day working weeks that are typical in offices across the UK, it can be difficult to make it to every game without being a truly dedicated fan. So season tickets tend to be accompanied with a range of benefits that are geared towards die-hard fans. Although these may include nice pieces of memorabilia, you are often paying for something that you do not really want. So, below we have looked at what benefits the most expensive season tickets – Arsenal's – provides for their fans.
One of the biggest draws of a season ticket is getting to see all of your club's home games in that season. Arsenal's 'Red Membership' provides season ticket holders with priority ticket access to all of their home league games. You are also granted access to 'Arsenal Play', and online streaming service that has exclusive content about Arsenal. There are also several annual events, parties and conferences that Arsenal hold that you can attend, and potentially meet your favourite player.
All of these addons are great, but they are not all that useful if you just want to watch some live football. Moreover, signing up for these memberships still does not automatically grant you access to all the games, it just puts you on the season ticket waiting list and grants you access to a certain number of finite tickets.
Alternatives To A Season Ticket
As mentioned above, a season ticket is not designed for everyone. It isn't even really designed for someone that wants to go to all of the football matches for that club. Instead, a season ticket is like an insider pass into the team, offering up exclusive deals and events that actually take away from the stuff happening on the pitch.
If you are looking to attend matches for your favourite team, buying the individual tickets are a smart move. Obtaining them can be difficult as they sell out quickly – especially with the top flight teams. Although some season ticket holders will sell their tickets if they cannot attend, they must go through the official channels within the Premier League club. This closes off re-sales to the general public, and only to people that have club memberships, such as Arsenal's 'Red Membership'.
Today, the best solution is ticket reselling sites. They offer a level of flexibility that puts you back in control of what games you are going to see and where you will be seated. It does not come with a lot of merchandise and exclusive offers designed with only the die-hard fan in mind. There are a select few great online ticket resellers out there today that will not scalp you. Sites such as Kixfootballtickets.com and Ticketbis.com have great reputations online, and you will ultimately save a lot of money by not buying into a big package deal.