Kevin De Bruyne is one of the best midfielders in the world right now. His evolution has been steady ever since he left his hometown of Drongen to move to the other side of Belgium and join up with professional outfit K.R.C Genk. Passing through Chelsea, Werder Bremen and Wolfsburg on his way to glory at Manchester City, De Bruyne recently turned 27, and seems to be at the heart of his prime. When Manuel Pellegrini signed KDB for Man. City in 2015, he praised him, saying that he "has all of the mental, physical, tactical and technical attributes required" to succeed in the premier league. Three seasons later, City smashed records on their way to winning the championship and the league cup. Their manager Pep Guardiola said that "there was no player better than him" that year, and many EPL fans agree.
Mentality – Like Dry-Ice
His seriousness about football is clear. He left his home (and his family and friends) when he was just 14-years-old to play in a professional setting at Genk. Later, after being at Chelsea and playing less than he felt he deserved, he forced a move away to continue evolving at a rate he was happy with. His desire to always be playing is evident, but he just isn't the player who leads his teammates through his motivational ability.
Despite De Bruyne's disinterest in leadership, an important mental aspect that directly translates to success on the pitch is his mindstate that tells him to take a shot, hit a pass, or make a run at first instinct. He rarely tries to do too much, like hold the ball to look for a perfect pass or cut to his stronger foot to shoot. He might be the best in the world right now at making decisions quickly. It's very rare to see De Bruyne have the opportunity to pass, shoot, or move into space and then lose it because of delay.
Against Shakhtar in the video below, he takes one touch to start the counter attack, and then one quick touch before he shoots (< two seconds). Against Bosnia and Herzegovina, he takes one touch to turn, and then shoots (< two seconds). And well, his goal against Lille doesn't need any explanation (< one second). [sc name="YouTubeResponsive" youtubeid="Qob9g8n2law"]
Physicality – Nothing Special
Considering how deadly he is, De Bruyne has surprisingly unremarkable physical traits. "They always said…I was too skinny to handle the physicality," he recently said in an interview. Weighing 68 kg and 1.81m tall (150 lbs, 5' 11'') he can essentially be classified as average; he's not short but he's not towering, he's not skinny but he's not big, and his Body Mass Index falls smack in the middle of the "normal" range. He isn't lightning quick, but, then again, he isn't slow either. One aspect that's steadily improved since his youth is his durability. Every year since '09/'10 he's played more minutes than the year before (besides the '13/'14 and '15/'16 seasons). His body can handle more minutes, while still being able to perform.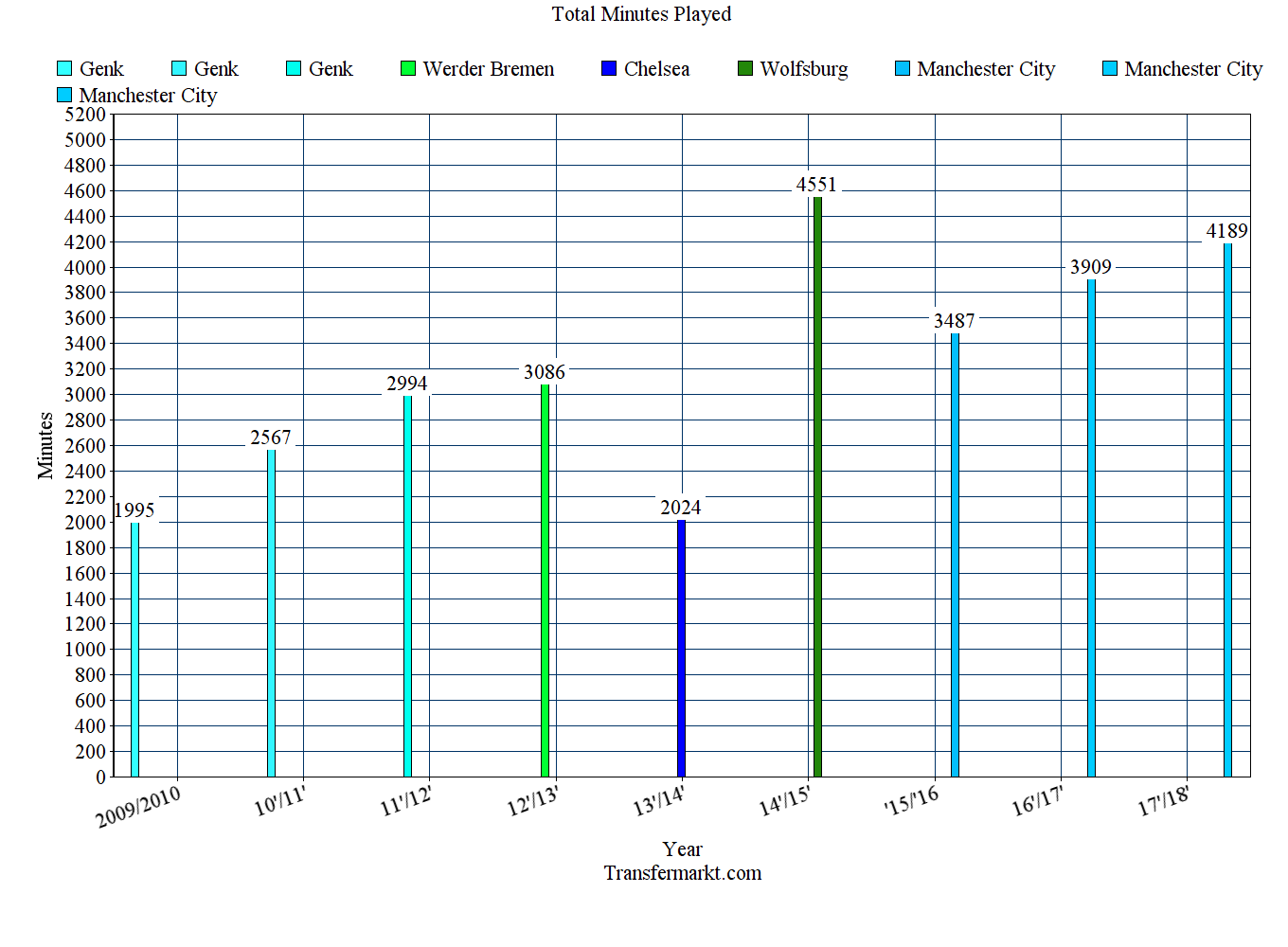 He's physically average, and not a natural leader, so what gives? What about Kevin De Bruyne makes him so dangerous as a player? Let's be clear – KDB is an outstanding professional, and consequently he has a professional mentality and he professionally maintains his physique. But what sets him apart from the rest of the group is his ability to read the game, see what needs to be done, and, most importantly, execute.
Technical Ability – Genius Personified
De Bruyne has always had natural playing ability. The story goes that when Kevin was around 11-years-old, his team Gent made it to a final against Genk. He scored six goals in the game, despite starting on the bench because he was "injured." Genk eventually signed him. A few years later he was asked to play his first game for their professional reserves. He scored five goals in one half.
Once he left Belgium, he steadily improved and impressed. After a small delay at Chelsea, where he was underutilized, he was voted Bündesliga player-of-the-season after astonishing fans while playing for Wolfsburg. And look, Kevin De Bruyne's stats speak for themselves. Since that 2014/2015 season in Germany, he has tallied more assists than any player across Europe's top five leagues. And, while playing for City, he became the quickest player in the history of the premier league to reach 50 goal involvements (16 goals and 34 assists in just 76 games).
He scores goals with both feet, from inside or outside the box. This shooting adeptness isn't dependent upon his leg strength, but rather down to the swing of his foot: the most powerful point of the curve often falls exactly where the foot meets the ball, so it's hit with the full momentum of his swing. He exemplifies how you don't need massive strength to smash a ball – you just need to connect with it just right. Check out this De Bruyne goal against Spurs with his "weaker" foot.
My favourite technical trait of De Bruyne is his one-touch play. He is confident enough to use just one touch in all sorts of different situations, which keeps the play moving. When a ball is approaching him, or vice-versa, it's state doesn't matter (the direction it's moving in, the amount of spin, it's velocity, etc.). He reacts appropriately by adapting his body position in an instant, and then stroking the ball using the proper point of his foot, while applying just the right amount of force. He makes one-touch play look agonizingly simple.
Both of De Bruyne's boots do his bidding, but his right foot especially is a joy to watch. As a center midfielder playing in Pep Guardiola's system, he's allowed freedom to wander from center-right to center-left, which is where he finds himself during the lionshare of most games. When KDB has a half-yard of space and a second of time, his bread-and-butter is putting the ball exactly where it needs to go with that right foot of his. Whether his teammates are moving towards the box, darting to the front post, or lining up for a free kick, he matches the trajectory of the ball with the players run. Whenever he's involved, a Kevin De Bruyne assist is never far away. You could set his passes to classical music, which is exactly what they've done in this video. Take a look – there's over a dozen beautiful passes that lead to goals, and at least five one-touch beauties.
Tactical Prowess – Making it Look Easy
Hand-in-hand with his technical capacity is his ability to read the game as it is unfolding. He can play those wonderful passes because he sees the shifting image on the field before defenders do. And if the picture isn't moving the way he likes, he changes it himself. Using his intelligent movement in midfield, he can create space that wouldn't have been there otherwise. In the video below, he checks away from the ball, dragging a defender with him, before cutting back into the now open space to receive the pass back. As a result, he has room to turn and switch the field.
His comfortability in midfield from both a high role or a deep one is a big asset to City and Belgium. If he needs to play deeper to accommodate his team, no problem. He can play long field passes all day, starting the transition from defense to offense. When he plays in his preferred higher position, he is extremely adept at making that last or second to last pass. He masterfully penetrates defensive lines with a through ball, as we've seen already, or he takes matters into his own hands and shoots on goal.
If he's not creating space for himself, he is moving into space that is about to open up, or that has just opened up. What makes this movement dangerous is that quick decision making mentioned previously. He sees an open space, or a space about to open up, and before a second thought he moves to occupy it, providing a high percentage pass option to one of his teammates. Movement is crucial in football, and KDB makes it look like an art. Check out his movement and positioning from 0:50 – 3:40 in the video below.
The Sky's the Limit
When he was younger, KDB was a Liverpool fanatic, and an admirer of Michael Owen. Might he make the switch to Liverpool someday? At the rate he's playing, any team in the world would take him in their midfield. Considering that his success doesn't depend on his physicality, we could be seeing him outperform our expectations for years to come, despite De Bruyne's age. Maybe surprisingly, there isn't a lot of gossip surrounding the player or "De Bruyne news" that's been floating around lately. For now at least, Manchester City fans can sit back and enjoy as he lights up their midfield week in and week out.
De Bruyne has won eight trophies with his various club teams, and plenty of individual awards. But, something tells me he's not satisfied. After finishing 3rd at the 2018 World Cup with Belgium, he'll be thinking of success at the international stage. And there's the Champions League to chase with City. Unfortunately, he started this season out injured. But he'll be back soon; to his fans delight and his opponents dismay.
Grab a ticket to watch Manchester City defend the Premier League title for great prices.

https://ticket-compare.com/teams/manchester-city/