Boxing Day is a public holiday celebrated on the 26th December, the day following Christmas Day. It originated in the United Kingdom and is celebrated in many other countries around the world. Ireland, Hong Kong, Australia, Canada and New Zealand are examples of other countries which celebrate Boxing Day.
One of the great things about Boxing Day is that despite it being a public holiday in the UK, attractions and events always take place. These range from sports to theatre and Boxing Day is a great time to go out and watch a football match or attend a show.
In 2018, Boxing Day falls on a Wednesday in the UK and there are some great Boxing Day events to look forward to for all the family.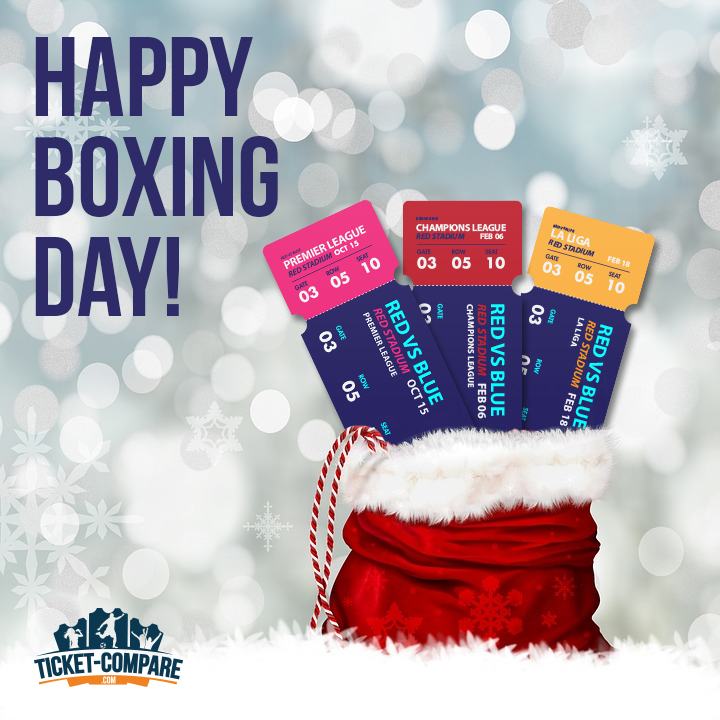 At Ticket-Compare you will find a great range of Boxing Day tickets available and there are some great football matches to attend.  The Premier League often holds games on Boxing Day and this year there are a total of nine matches being played.
Liverpool Boxing Day Football Tickets
All the top clubs are in action and Liverpool, one of the most entertaining teams to watch in European football have a home match against Newcastle United.  This is a game Liverpool will be expected to win and score plenty of goals in the process.  What better gift for a Liverpool fan than tickets to watch the Reds play at Anfield on Boxing Day?
You will find a choice of vendors on the website offering tickets to Liverpool vs Newcastle United on Boxing Day at very competitive prices.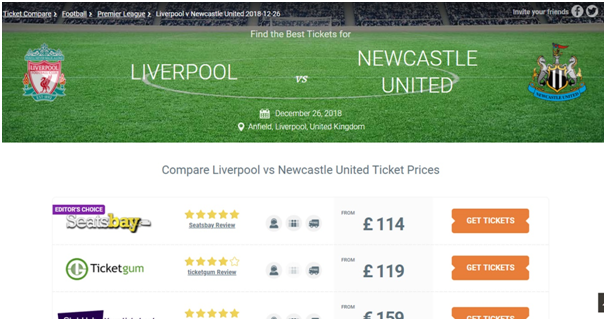 Manchester United Boxing Day Tickets
Other Premier League teams in action on Boxing Day include Manchester United, who host Huddersfield Town at Old Trafford.  There are millions of Manchester United fans around the world and what better way to spread festive cheer than to give them the gift of tickets to watch the Red Devils at the Theatre of Dreams?
Tickets for Manchester United vs Huddersfield Town on Boxing Day start at just £80 and you will struggle to find a better price for a game at Old Trafford this season.
London Football Tickets on Boxing Day
Other Premier League fixtures on Boxing Day include Tottenham Hotspur at home to Bournemouth and Watford at home to Chelsea.  Spurs will remain at Wembley Boxing Day and tickets to the Bournemouth game provide a great opportunity to see the home of English football in all its glory.
Fulham are another London based Premier League club who are playing at home on Boxing Day.  They take on fellow promoted team Wolverhampton Wanderers in a match which could have huge ramifications in the relegation battle.  Crystal Palace also play at home on Boxing Day and will meet Cardiff City.  This has the makings of a must-win game for both teams and tension will be high at Selhurst Park.
Additional Premier League fixtures on Boxing Day include Brighton and Hove Albion vs Arsenal, Burnley vs Everton, Watford vs Chelsea and the champions, Manchester City, travel to the King Power Stadium to play Leicester City.  You can find tickets to all these top Boxing Day Premier League games using Ticket-Compare.
English football is not just about the Premier League and the Championship is arguably the most competitive league in Europe.  On Boxing Day, Queens Park Rangers play host to Ipswich Town at Loftus Road.  Queens Park Rangers have their eyes set on a playoff place this season while Ipswich are battling the drop.  Picking up points at this time of year is key and an exciting game is in prospect.
Other Championship fixtures on Boxing Day include Middlesbrough vs Sheffield Wednesday, Leeds United vs Blackburn Rovers, Millwall vs Reading and Birmingham City vs Stoke City.  You can find tickets to all these great Championship matches at Ticket-Compare.
Boxing Day Football Tickets in Milan
While many of the top football leagues around Europe take a break during the Christmas period, the Premier League keeps going.  Spain, Germany and France take a break but Serie A joins the Premier League in offering fans some great Boxing Day games to attend and the pick of the action is the clash between Inter Milan and Napoli.
The San Siro is an iconic stadium and to attend any game inside this ground is special but the visit of Napoli on Boxing Day is a real treat.  Both teams will be hoping to challenge Juventus for the Serie A title and taking maximum points from this match is vital.  With tickets to the Boxing Day encounter between Inter Milan and Napoli available from just €53, there has not been a better time to see two of the top Italian teams in action.
Rome Boxing Day Football Tickets
If a trip to Rome peaks your interest on Boxing Day you could catch Roma's home match against Sassuolo.  Roma reached the Champions League semi-final last season and aim to keep pace with Juventus at the top of Serie A.
Melbourne Boxing Day Test Tickets
Moving from football to cricket and there is a big tradition in Australia which is the Boxing Day Test Match.  This year, Australia will face the might of India at the Melbourne Cricket Ground.  This is one of the biggest events in the Australian sporting calendar and you can be there with tickets currently available from just €66 for the day.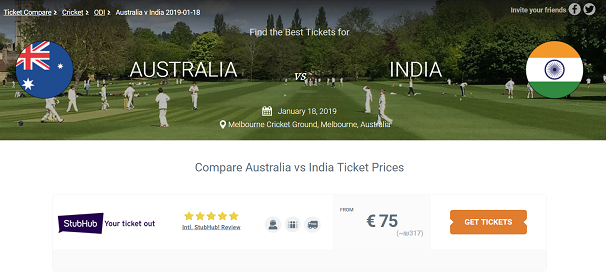 If the shorter format of the game is more your thing, Boxing Day is perfect for Twenty20 cricket and you can attend the game between Perth Scorchers and Adelaide Strikers.  T20 cricket is the most exciting form of cricket on the planet, with big shots and plenty of runs being scored at a fast rate.
New York Boxing Day Musical Tickets
It's not just sport which is on offer on Boxing Day and heading over to New York there are some great musicals to enjoy, including Anastasia.  New York is magical around Christmas time and what better way to add to a festive visit of the Big Apple than tickets to the hit Broadway musical?  You can purchase Boxing Day Anastasia tickets from only $87, which is brilliant value for a musical on Broadway at that time of year.
London Show Tickets on Boxing Day
From one great city to another and if you are in London on Boxing Day you could treat yourself to tickets to watch Matilda the Musical.  This is being performed at the Cambridge Theatre and has won several Olivier Awards including Best New Musical.  With tickets on offer from as low as $24, there is no better time to catch this incredible musical.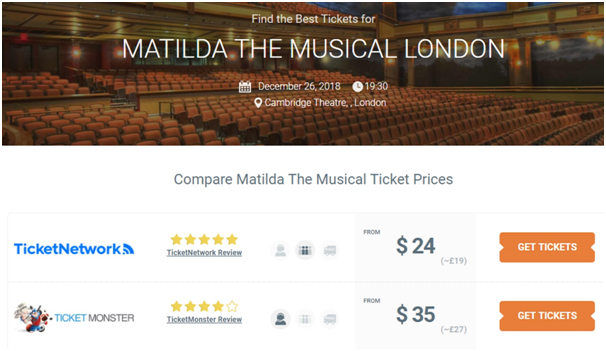 Other top Boxing Day events you can attend include a performance at the Auditorium Parco della Musica, Rome by composer and artist Giovanni Allevi and a concert by American singer-songwriter Brett Michaels at the Motorcity Casino Hotel, Detroit.
Boxing Day may be a public holiday in some countries such as Great Britain and Australia but there are plenty of top events taking place.  Football is the biggest draw in England with games in the Premier League and Championship.  The best teams are also in action in Italy plus there is cricket to enjoy in Australia.
If musical events are your thing you are also in luck on Boxing Day as there are performances taking place across the globe, including London and New York.
Do not delay and get your tickets to Boxing Day events today for fantastic entertainment over the festive period.