Official tickets to the Euro 2020 final where Italy face England at Wembley stadium start from just £81 up to £808 for the most expensive seats. However, even the top prices from the official sales seem minuscule compared with the astronomical prices that tickets are selling for on the secondary marketplace. We've analysed over 600 ticket prices from 7 secondary marketplace vendors. Our data shows you the theoretical average price of a finals ticket.
*Please bear in mind that prices will also be subject to booking and handling fees which could add up to an additional 30% on prices at checkout.
Why are Euro's final ticket prices so high?
The Euros this year has been extra special because it's the first major sporting event after more than a year of lockdown restrictions across Europe that kept stadiums empty and fans watching from home. However, with many countries now out of lockdown and restrictions easing across others, fans poured into stadiums, pubs, bars, and outdoor screening events across Europe. Being in a crowd or even simply seeing one on the telly has created such a great atmosphere that anyone watching the Euro's this year has caught football fever!
Football fever paired with the fact England have reached the Euros final for the first time and have the chance to play that final on home turf has sent ticket prices sky-high. When analysing the top secondary marketplace prices, we found a pair of tickets in a prime position being sold for £182,267.12 EACH on StubHub.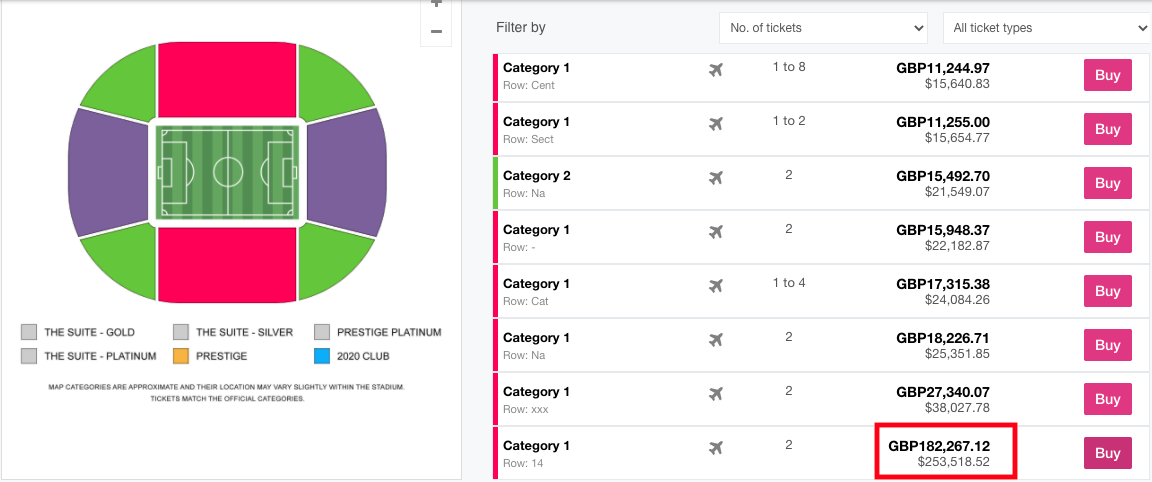 But what about the cheap Euro's final tickets?
But before you re-mortgage your house to get a ticket to see England bring it home, you should know that luckily not all tickets are that expensive. Don't expect the word cheap to be anywhere close to the ticket prices though. You have to remember that history is taking place on Sunday whether England win or lose. We've made it to the first final since 1966 (we all know what happened there) and there's a chance that England will win their first-ever Euro's championship. That's a story for the grandkids, and to tell them you were there live at the final, you need to pay the premium.
Here's what our research found out about ticket prices:
The average price for a ticket to the Euros 2020 final was £5664
The average price for a CAT 1 seat was £5314
The average price for a CAT 2 seat was £5746
The average price for a CAT 3 seat was £5326
So yeah, if you're looking to buy a ticket this late, the chances are that it's going to set you back around 5 grand, plus the additional booking fees. We also had a look at the most expensive and the cheapest tickets available. On the expensive side of the market, there were lots listed between £12,500-£15,000 with one outrageous outlier that listed a pair of tickets for more than £182,000 each. On the bargain end of the market, it was rare but possible to find a cheap euro final ticket for less than £3000 on some sites. The cheapest ticket to the euros 2020 final was £2721 which was listed on Stubhub.
Average price from secondary marketplace sellers
We sourced pricing data from 7 leading secondary market sellers during this research. Prices were accurate at 10 pm on the 8th of July 2021. Here's the list of vendors and the average ticket price on each site:
Average ticket price at Tic Combo – £9907
Average ticket price at Seats Net – £8030
Average ticket price at Live Football Tickets – £5802
Average ticket price at Ticket Smarter – £4418
Average ticket price at 1 Box Office – £4258
Average ticket price at StubHub – £3999
Average ticket price at Ticket Pad – £3388
As you can see, if you've got money to burn head over to Tic Combo and if you're looking for a bargain price the best place is Ticket Pad. Our advice to anyone looking to buy a secondary marketplace ticket for the final is to do your research on the vendor to save yourself the heartache of receiving a dodgy ticket. Any seller listed on the Ticket-Compare Euros finals match page is safe to buy from and has been verified by our team. We choose not to work with sellers with bad reviews because we know how painful it is to miss the match of your dreams because of a fraudulent ticket.
Euro 2020 final ticket price infographic
We've put together our Euros final ticket price data into an infographic. Feel free to share it on social media or with your friends to show them how much a ticket to see it coming home is going for…

If you're looking to grab yourself a ticket to one of the most notorious European Championship finals in history, the best place to find cheap euros final tickets is the Ticket-Compare comparison page. We only work with the best, fairest, and safest vendors that have a good reputation. So, nothing will stop you from enjoying the fantastic display of football that's sure to happen we buying through us. Go to the price comparison page now to find Euros final tickets at the best prices.