*Important Update:
Guarantee Tickets are presumably gone bankrupt.
The company has cancelled a large amount of orders they lacked to fulfill, their support staff has stopped responding to clients via mail or phone.
As they state on their terms & conditions the parent company is Akima Ventures LTD.
This is their site:
http://www.akirmaventures.com/
We have been actively trying to reach them with no success.
Guarantee Tickets are no longer recommended by us, please ignore the rest of the review.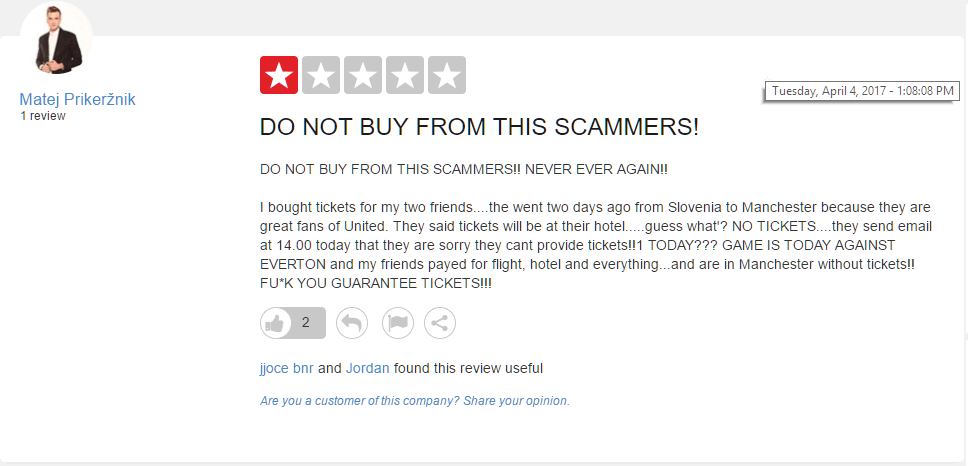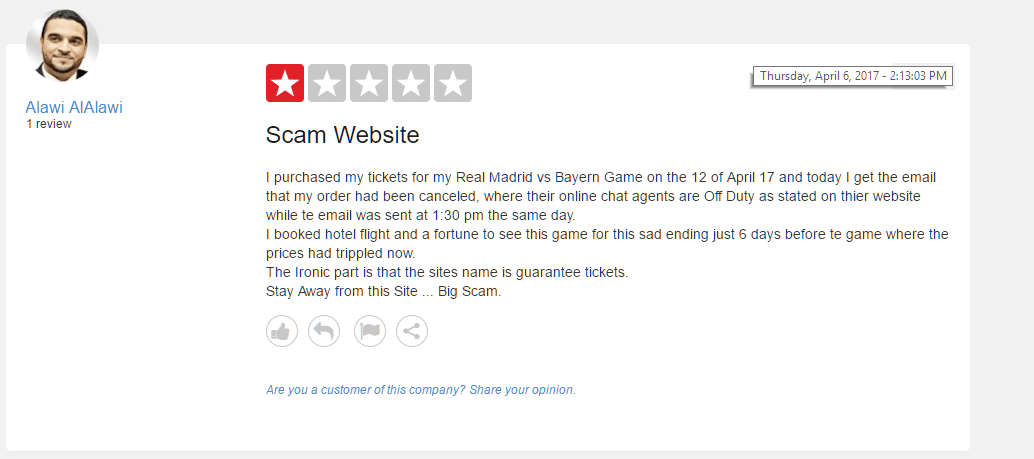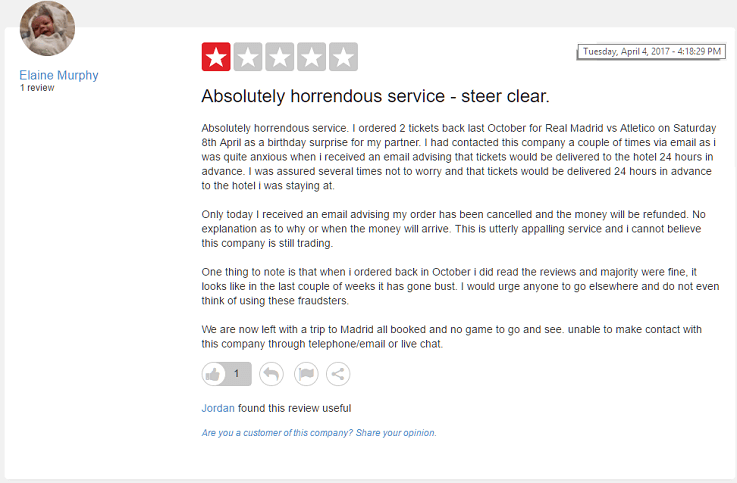 The print screens were embedded from TrustPilot:
https://www.trustpilot.com/review/guaranteetickets.com
Guaranteetickets.com is a secondary market ticket supplier to different entertainment events such as Football, concerts, tennis and rugby. But, Guaranteetickets.com true expertise is European football. They have established their business over a decade ago and since then they have made a name for themselves as reliable tickets reseller. As always buying tickets in the secondary market literally comes with a price and Guaranteetickets.com does not differ from the other websites. However, when purchasing a ticket from Guaranteetickets.com you receive a guarantee for the authenticity of the ticket and a secure payment method. In addition to their guarantees they are very proud of their customer service and declaring it a top priority. When taking all of this into consideration one can understand why some of the ticket prices are higher than their competitors.
Layout and Design
The design of Guaranteetickets.com is clean and without any unnecessary information. The layout of the main page presents an easy to use search bar which offers search by match, team, league, performer and many other options. At the top of the main page you can switch between 13 different languages and different currencies. To make life easier there is a direct access to top teams, leagues and performers. For customers who are not too sure of the match/concert they what to watch there is at the bottom of the main page all of the current popular matches from different leagues and popular concerts of different performers. Although there is a variety of concerts to choose from by viewing the layout of the main page you can see that Guaranteetickets is oriented towards selling football tickets.
As said before Guaranteetickets keeps the design simple and without any fancy graphics. The simplicity reaches the point where it looks a little bit too simple. This might cause some customers to view the website as a cheap one but once you continue browsing and navigating through the website you can feel the simplicity working into your own advantage in the process of purchasing a ticket. Once you have found your desired event the rest of the purchasing process is friendly and simple.
The ease of use on Guaranteetickets.com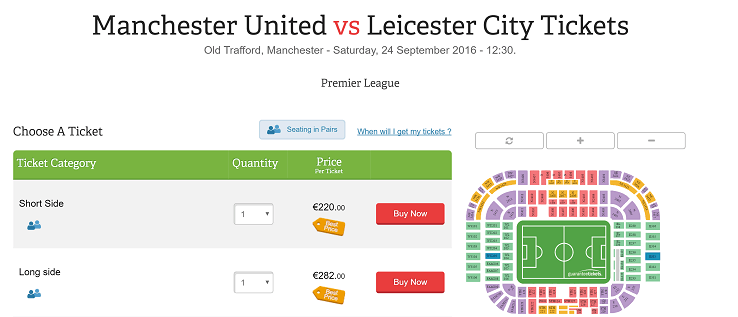 As opposed to other secondary market sources Guaranteetickets requires no online registration in order to buy tickets, this shortens the purchasing process. After choosing and clicking on the desired match you get redirected to the match's page where you can view the different categories using an interactive map which makes the process of choosing a ticket a very friendly one. Once you choose a category the entire process of purchasing a ticket is about 2-3 minutes. In addition to the different ticket categories you can find some extra features such as more of the teams matches, a google map with direction of how to get to the stadium and a button to share the match on social networks with your friends.
Guaranteetickets are pretty straight forward when it comes to what they are offering. The categories of the tickets are simple and their names are self-explanatory. Also, every guarantee is explained multiple times. It might be redundant and tiring but it can calm the customers that they are in good hands. For example, some of the categories have the "Best Price" tag. A quick check reveals that in most cases this is actually true.
Customer support of Guaranteetickets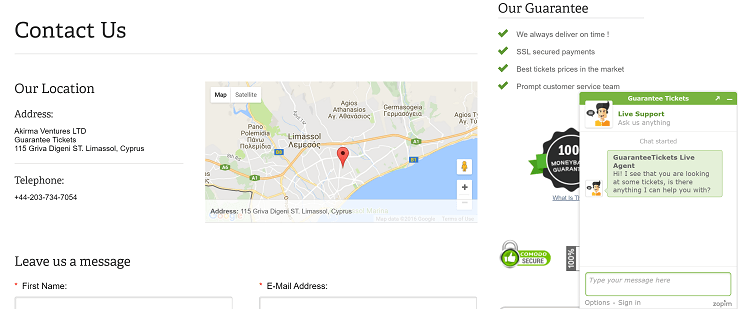 Guaranteetickets are very proud of their prompt customer service. The support provided by Guaranteetickets is aimed for customers worldwide. Hence, they are providing several options to contact them. You can call the customer support via a local number in many countries. Live chat is available for customers who wish to speak to a representative directly. Their Facebook page is active and customers can leave a message any time and of course you can leave a message over the website.
The process of purchasing a second hand ticket can be stressful. The many ways to contact the customer support can minimize the stress levels and assure that every problem will be addressed. If you are not sure of the customer service you can read the many reviews on their Facebook account, most of them looks promising.
Ticket Prices at Guaranteetickets.com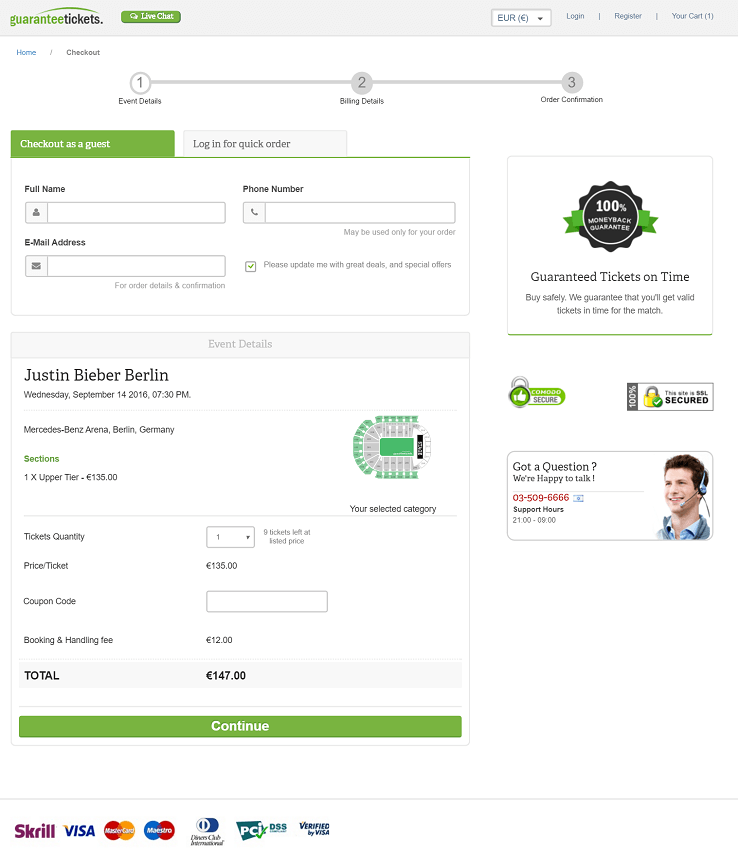 The effort that Guaranteetickets put into assuring their customers the best service comes with a price. The prices of tickets are a bit higher than the average market prices and some of tickets have more competitive prices. In addition to the prices there are hidden fees in the form of Booking & Handling fee and delivery fee. Luckily the booking fee is per order and not per ticket and the delivery fee is similar to most of the other vendors.
Like most of the vendors operating in the secondary market Guaranteetickets lacks the option of using Paypal. But, you can pay with Skrill, an online digital payment service similar to Paypal and of course you can use multiple credit cards. The payment process itself is a really simple one and has no drawbacks or advantages comparing to other vendors. Overall, the process of purchasing a ticket is a friendly and a short one.
Security
One of the key goals for a website is to create a secure and safe environment for customers. Guaranteetickets takes this goal very seriously by using an SSL (Secure Sockets Layer) assuring that all of the customer's personal information is protected when purchasing a ticket. Any purchase that a customer makes is directly with Guaranteetickets and for that they guarantee a 100% money back if for some reason there is a problem with the tickets.