* 7.2.2017 update: KIX Football Tickets started out as a great site, recently they have closed their site and service. We suggest you check other ticket sites which are much more reliable like ticketbis (eBay subsidiary) or Football Ticket Pad
Kixfootballtickets.com is a relatively new ticket reseller, with a focus on football, rugby and tennis. With a slick website and promises of high demand, hard to obtain tickets at competitive prices, they are definitely worth looking at. However, as is the case with all of the ticket resellers online, it is wise to be wary. They have a substantial marketplace for tickets to some of the most coveted matches, such as the Wimbledon tennis final or the Champions League final, as well as a wide range of other tickets. Being based outside of the UK does provide a little less accountability, but overall they provide a safe and secure experience for the user. With that in mind, some of their prices are far from competitive, dependent on how popular the tickets are.
The real question to ask about Kixfootballtickets is whether or not the higher prices are justified in any way. Be it strong customer support or a fantastic platform for buyers and sellers to use, they need to bring a little more to the table to justify their higher prices.
How Well Designed is their Website?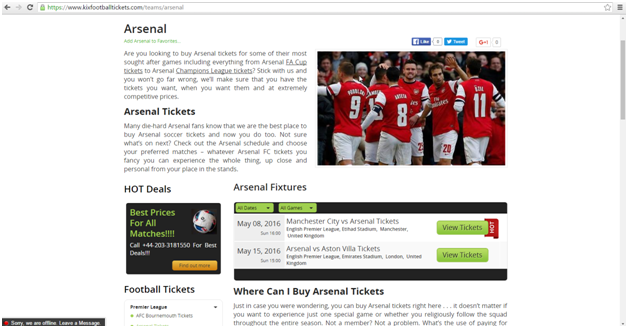 Looks play a huge part in creating a site that you can trust, and Kixfootballtickets.com have crafted a very modern design to woo users. Their branding and style is reminiscent of a tech company, with a sleek black and green color scheme and intuitive categories. A neatly placed search bar allows you to filter and index exactly what you are looking for.
Once you do find what you are after – a ticket to the Swansea vs Manchester City match, for example – you are given key stats and profile pages for the football teams in question. Although not essential, it is a nice touch and ties in nicely with their websites design. After cluing yourself up on the teams you will watch, you can easily click through and navigate to the payment processing page.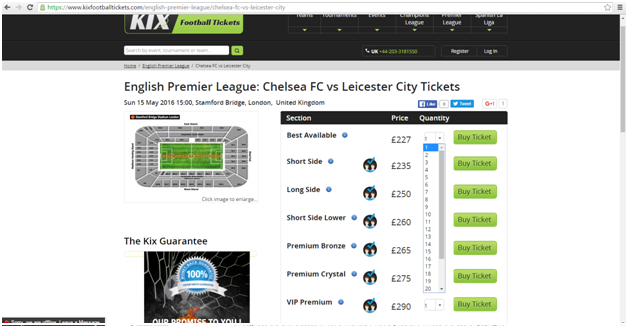 One of the downfalls of Kixfootballtickets.com is their outdated graphics and buttons. Out with their nice theme around their website, the graphics and buttons are quite cheaply made and pixelated. For example, when you try to view a diagram of the stadium that you will be attending, the graphic is a horrifically low resolution. Also, the buttons that you use to make your order – which can total thousands of pounds in value – look as though they were designed by an amateur. It may be a niggle, but the smaller problems may indicate larger issues lurking beneath.
How Easy is it to Find the Tickets That I Want?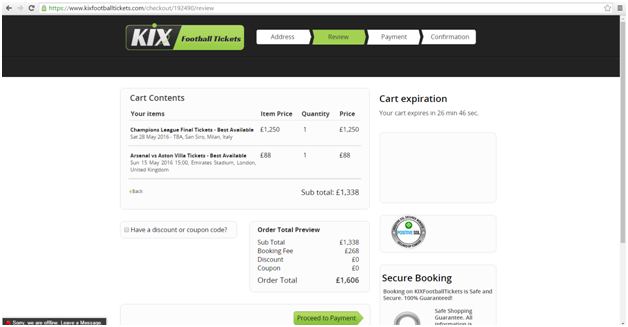 Finding what you want can often be a struggle with online ticket vendors, particularly with popular events such as the Champions League Final. Kixfootballtickets.com has a relatively large marketplace for tickets, which should help with this issue. Using their built-in search engine, getting to the ticket page is simple enough. With a large marketplace available, they have a fantastic variety of tickets available. This includes VIP tickets to some of the most illustrious events, such as the Champions League Final.
How Reliable is Their Ticket Sale Process?
The ability to get what you want from an online vendor is crucial, and thankfully Kixfootballtickets.com have not added any restrictive barriers to slow down that process. All of the registration is optional, should you want to save your details on their system for example. Once you have sourced your ticket, you are literally three clicks away from getting your ticket. From selection, to confirmation, to payment, as a user there are no hang ups when using their site.
Do they Provide Good Customer Support?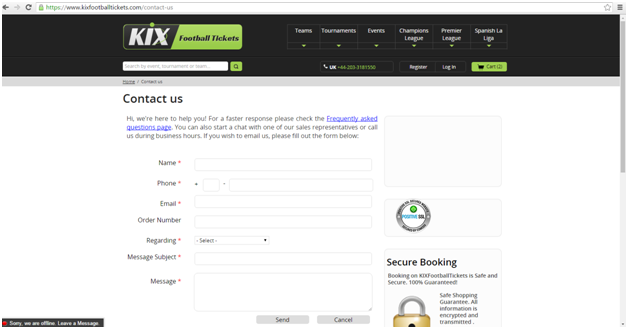 Providing channels for customer support are an important aspect of ticket reselling. Being in a high-risk environment can breed anxiety around ticket confirmation and should anything go awry, it helps enormously when you can trust the company you are dealing with. Kixfootballtickets.com seem to have provided all of the expected channels of support. This includes a dedicated hotline, open seven days a week, a Twitter account, live online support and other social media platforms such as Facebook.
Something to consider regarding the support available from Kixfootballtickets.com is that they are not based in the UK, nor is their company. This means that they are held less accountable if you are in the UK, and that they are less culpable of their actions when compared to a UK-based company. Moreover, it is more difficult to communicate with a business that works on a different time zone as you. This is all food for thought, but far from a definitive reason not to use Kixfootballtickets.com to buy your tickets.
Are their Tickets Fairly Priced?
As is the case with all ticket resellers, the prices of the tickets are always more than the face value of the ticket. With this in mind, the booking fees are the main variable between the different vendors. At Kixfootballtickets.com, there is a flat 20 % booking fee on all tickets. When compared to other vendors, this is a little above the average. More competitive rates may be available on some of the larger sites, such as Ticketbis.
Another point of contention with Kixfootballtickets.com is their lack of Paypal functionality. Considering their attempts at looking modern, lacking this feature seems to cast further doubt into the influence and trust you can have with their company. That said, they do accept card payments and bank transfers.
Can I Trust KIX that I Will Get my Tickets?
Providing a safe and trusted environment for ticket sales is what makes you want to use one ticket vendor over another. Due to the high risks involved with resells, trust is a rare trait here that can create some dedicated users. Kixfootballtickets.com offer a 100 % money back guarantee on all tickets, as is the standard, if they cannot fulfil your ticket purchase. They also provide a guarantee that the tickets are genuine, and that all transactions are SSL secured. As far as security goes, they have covered all the bases quite well.
Should I Use Kix Football Tickets?