Should you buy tickets from Ticket Bureau?
Ticket Bureau is a seasoned online ticket reseller in Europe, specializing in the resale of tickets for popular sporting and cultural events since 2001. Although their focus is primarily sports, they also offer a wide selection of tickets to some of the hottest music and entertainment spectacles across the continent.
Based in the heart of one of Europe's best cities for live events – Barcelona – Ticket Bureau are well connected with some of the best ticket suppliers in Europe. This has created an incredibly safe and vibrant ticket marketplace for people looking to buy and sell tickets for European events from across the globe. Better still, their huge marketplace keeps prices competitive, so you will rarely pay too much for a ticket.
Important update 18.2.2018: The company has gone bankrupt, there is no way to purchase tickets from Ticket Bureau anymore.
Please Check our review page for other recommendations: https://ticket-compare.com/reviews/
How easy is Ticket Bureau to use?
You will be glad to know that Ticket Bureau is a fantastically simple service, which makes it a piece of cake to use. Their website displays the most popular sporting events – such as upcoming Champions League clashes between football giants Barcelona FC and Juventus FC – in a handy slideshow, so you can quickly look into getting a hot ticket. If you're looking for something else, there is a simple search bar for you to find a team, concert or show.

If you're just wanting to browse their ticket selection, Ticket Bureau have broken down their stock into categories such as football, formula one racing, concerts and festivals. You can filter your ticket searches by price, city, teams, dates and even competition types. The best part is that it is all so easy to use, that you can refine your searches with a few clicks and get exactly what you want.
Can I get the tickets that I want?
Due to the high demand for tickets to some popular events, such as footballs el clasico between Barcelona and Real Madrid, official channels always sell out. If you are looking to get a ticket for some of the more popular events, you will almost certainly need to look at ticket resellers. Thankfully, Ticket Bureau have a fantastic ticket marketplace for hotly anticipated events so you should be able to find the tickets you want with little issues.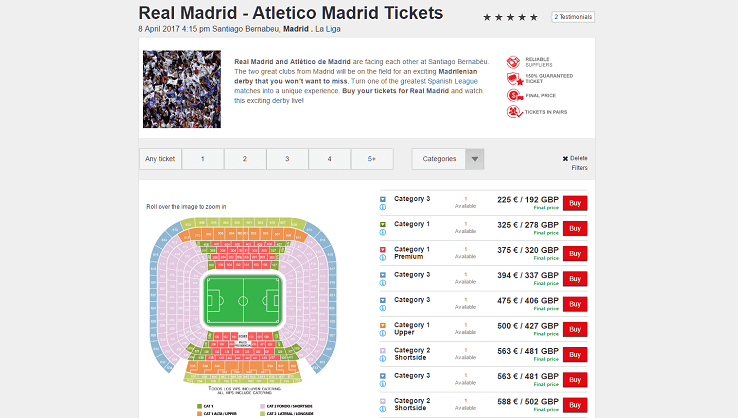 Another great part of Ticket Bureau's service is their secure, universal payment methods. They accept all major credit cards including Mastercard and Visa, as well as Paypal, so you should be able to buy your tickets anywhere in the world with no concerns at all.
Receiving your tickets once you have purchased them is guaranteed as secure, and they are usually delivered via PDF download. The use of digital or e-tickets keeps prices down on your overall tickets, because delivery is free of charge. They are usually sent about a week prior to the event, so you should never need to worry about not receiving your tickets from Ticket Bureau.
Is Ticket Bureau reliable?
Ticket reselling has been given a bad rap over the years in terms of reliability and trust. Unfortunately, many ticket vendors took advantage of the young reselling market to scam naive customers out of their cash. Thankfully, as time has progressed the bad eggs have been brought to light and the bigger resellers have fantastic track records for reliability.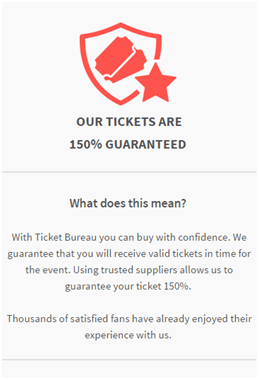 Ticket Bureau have spent a lot of time making sure their customers are given the best service possible, which has helped their reputation greatly. They have a thriving marketplace that creates a very reliable platform to buy some of the most illustrious tickets available in Europe. All told, Ticket Bureau have done a fantastic job of building a reliable, trustworthy business.
As mentioned earlier in our review of Ticket Bureau, they have adopted e-tickets into their ticket delivery method. Not only is this free of charge, but it is also an incredibly reliable way to get your tickets delivered. E-tickets are sent to you via email, so you are guaranteed that they will be received in perfect condition and on time.
Do Ticket Bureau offer customer support?
If something does go wrong with your transaction at Ticket Bureau, you will be glad to know that they have a dedicated customer support team based out of Switzerland. They provide a live chat option so that you can get help right away, which is a fantastic benefit. With that said, there is some room for improvement. They are not open during the weekend, unfortunately, but they have an email address should you wish to leave a ticket.

As far as website security goes, Ticket Bureau have made sure you are safe. They use Godaddy's verified and secured SSL certificates to keep your transactions safe. In the unfortunate event where something does go wrong though, you are granted a 150 % money back guarantee on the value of your transaction. So even if it all goes wrong, you won't be out of pocket.
How fairly priced are tickets on Ticket Bureau?
Ticket prices can often fluctuate a great deal with reselling, because there is a third party involved in the transaction. Ticket resellers have little say about prices though, as prices are based on the marketplace. Thankfully, the more thriving a marketplace, the more competitive the prices. In this regard, Ticket Bureau have managed to facilitate a busy enough platform to keep tickets low cost for most events – even the big ones.
One way that Ticket Bureau manages to keep their prices as low as possible is by removing booking fees. Many vendors will tack on an additional 10 or even 20 % for their part in the transaction. Oftentimes, though, Ticket Bureau will remove any booking fee to keep prices competitive relative to the market.
Should I use Ticket Bureau?
Ticket Bureau have carved out a fantastic space in ticket reselling for themselves, thanks to a great service and a bustling marketplace for tickets. With headquarters in the heart of Barcelona, they are well-connected with the European event circuit. Better still, they have made their service incredibly easy to use anywhere across the globe. They feature all of the modern payment methods, including Paypal, to guarantee that you can buy the tickets that you want.