Should you buy tickets from TicketMonster?
Ticketmonster has been in the ticket reselling industry since 2014, and in that time they have grown to be quite the fan favorite. They have successfully created a platform for ticket exchanging that is both cost effective and incredibly well-stocked. Ticketmonster have focused on impressing fans by providing a service that doesn't have any hidden fees or charges, so there are no surprises by the time you reach the checkout. Unlike other resellers that have a reputation of gauging customers with hefty booking fees, Ticketmonster makes everything simple, straightforward and transparent.
With all of that said, Ticketmonster has a lot of competition from some big names like Stubhub, so it takes a lot to get noticed in such a thriving industry. Whether it is low prices, great ticket availability or a stellar customer service, it takes something special to stand out from the crowd. This review is going to look at how Ticketmonster stacks up against the biggest names in the business.
How easy is Ticketmonster to use?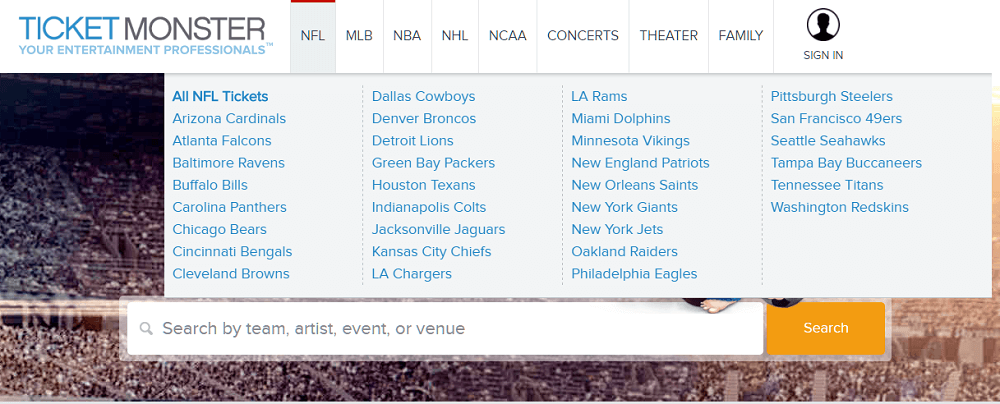 Ticketmonster's website is pretty standard, but it is packed with categories for different events. The website design is slightly dated, but it is still very easy to navigate through to find tickets. Their home page has a featured list of their most popular events, including top flight NFL and NBA games and live music such as Elton John tickets. The handy, tiled view of these popular events makes it a dream to browse through their wide selection of live events. If you know what you're after, though, you can just search for it in their main search bar which is smack in the middle of their home page.
I use @TicketMonster to purchase a lot of my tickets because you earn "Monster Bucks" to put towards future tickets! #cbj

— lily ann (@LilySchwarz) December 5, 2016
When you have found the event that you're looking for, Ticketmonster have made it easy to view the different tickets that are available. Thanks to an interactive map of the arena, you can browse through different sections so that you can find the best seats in the house. To the left of the map, you can see a list of the ticket prices, whether they are available as an e-ticket or as an email. The graphics do look a little dated, but all of the information is there and easy to get to.
Can I get the tickets that I want from Ticketmonster?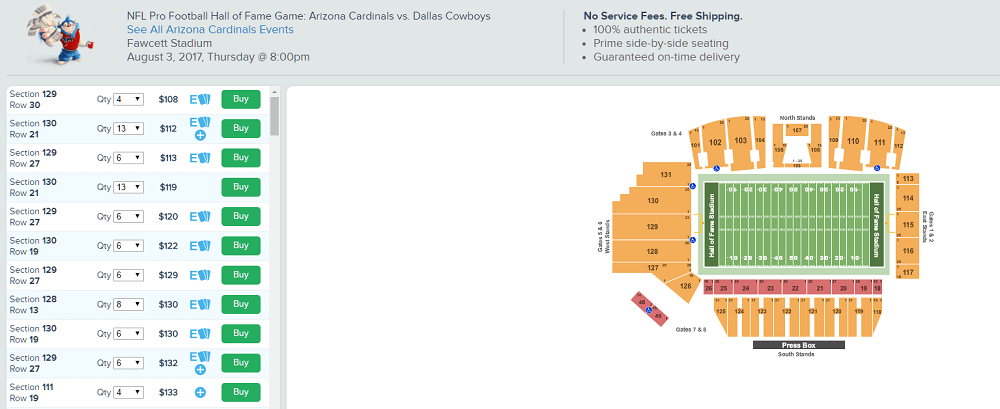 When scouting for a good ticket vendor, one thing to look for is a busy marketplace. If a ticket reselling platform has a vibrant market, then lots of tickets will be available and prices will be competitive. Ticketmonster excel in this regard, with a well-stocked ticket reselling platform that covers a huge variety of live events.
Another great selling point for Ticketmonster's marketplace is their corporate and box seats. You can purchase an all-star package that will grant you the finest personal service available for live events. This type of availability is another example of Ticketmonster's fantastically well-stocked platform. From bog standard tickets to VIP-access, you are all but guaranteed to find the tickets that you want. Better yet, Ticketmonster pride themselves on their trustworthy sellers. This isn't a guarantee, but it goes a long way to create some peace of mind for your shopping experience.
How Reliable is Their Ticket Resale Service?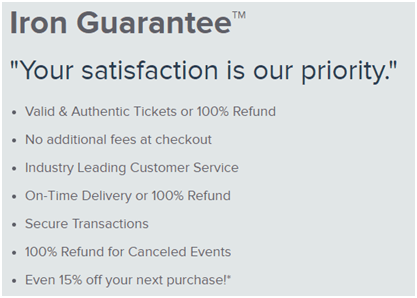 Reliability is another huge part of what makes a ticket vendor successful online. Without a reliable service, users will be quick to jump ship to another reselling site. So a great indicator of a good vendor is how reliable their service is. Ticketmonster has adopted a customer-minded approach to ticket reselling. They make sure that you are as safe as possible and getting the best deal possible, which ensures that you will want to continue using their service.
Ticketmonster believe in their service so much that they include an 'iron guarantee' with all of their transactions. This guarantee offers some serious peace of mind from the buyers end so that you can feel safe in using their platform. Some features of the guarantee include valid tickets delivered on time, secure transactions and even a 15 % discount on your next purchase.
Another great addition to Ticketmonster's site is their registration process. Although it is not necessary (which is a huge bonus if you are a one time buyer), you can accrue savings on your account through 'Monster Bucks'. If you are a regular when it comes to buying tickets, Ticketmonster have made it so that you can save a lot in the long term.
Do Ticketmonster offer customer support?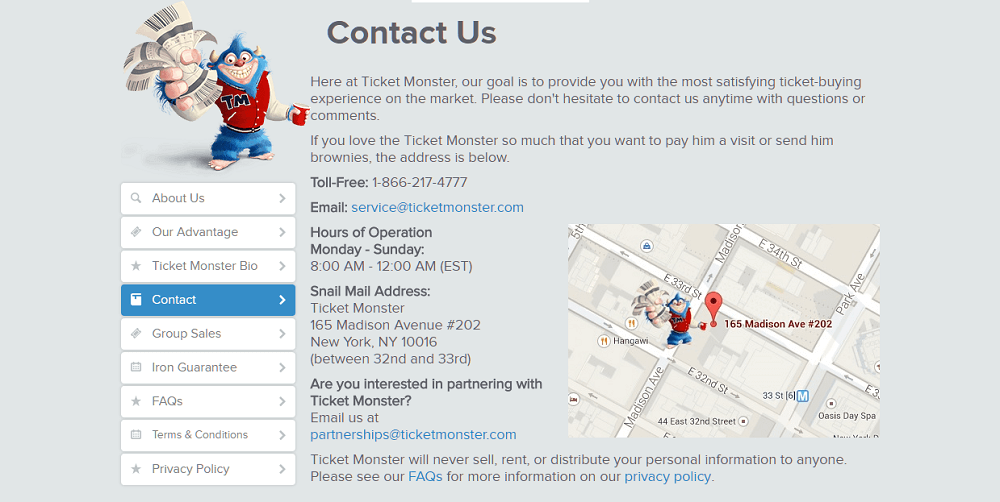 If something goes wrong during your transaction, it is important that the ticket vendor has solid customer support to help you out. It is often the case that many smaller vendors leave customers high and dry if something happens, like a ticket that doesn't reach the buyer in time. Thankfully, Ticketmonster's entire ethos is geared towards providing the ultimate fan experience. They pride themselves on their customer support team, who are a professional bunch that are available 7 days a week and can be contacted across multiple channels. Whether it is by phone, email or physical mail, Ticketmonster support make themselves easy to contact.
How fairly priced are tickets on Ticketmonster?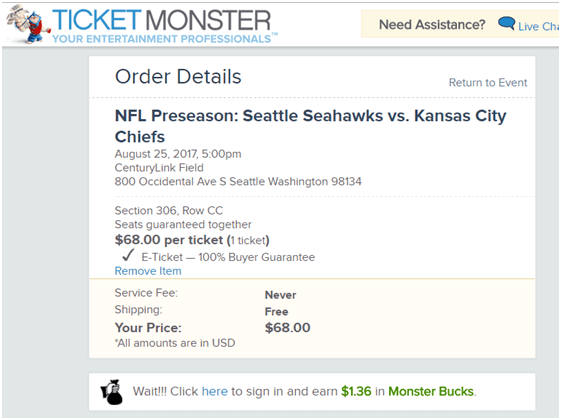 As is the case with all ticket vendors, prices are more inflated than at the box office. However, when the box office is sold out it is the third party resellers that can guarantee you a ticket to your next live event, especially when compared to alternatives like ticket touts. Ticketmonster have made it a point to keep costs as low as possible for their customers. From their end, they ensure that there are no hidden fees in the final price, as well as free shipping every time. When it comes to payment, all major credit and debit cards are accepted, as well as Paypal.
These benefits, coupled with the additional discounts granted to repeat customers, brings Ticketmonster's prices way down when you look at their competition. They can only do so much, though, as it is ultimately the marketplace that governs the ticket prices. A more popular event will cost more to go to than a less prestigious one.
Should I use Ticketmonster?
@krysti034 Nice! Thank you for using Ticket Monster 😉

— TicketMonster (@ticketmonster) May 11, 2017
Unfortunately, there is a large number of customer reviews online that negatively portray Ticketmonster and it's business. Whether it's a case of the squeaky wheel getting the oil, or a legitimate issue with the company's customer service, sites like Trustpilot seem to give Ticketmonster a bad rap. Many of the reviews seem justified, but they may be pointing the blame at the wrong company. With that said, there was one particular positive comment, which might speak to Ticketmonster more than a handful of negative reviews: