Should you buy tickets from Seatwave
Seatwave is a secondary ticket marketplace that was recently acquired by the ticket giants Ticketmaster. Since 2006, they have provided an excellent service in regards to competitive prices as well as keeping current. Their policies include full refunds if they cannot provide you a ticket, as well as insurance should the event get cancelled. This, along with their recent updates to integrating Paypal, have kept them at the front of the pack when it comes to online ticket vendors.
They also have a fantastic variety of tickets across different entertainments. Popular concerts such as Coldplay are available on Seatwave, as are sports events such as the World Snooker Championship and English Premier League football games. They even provide tickets for festivals and theatre performances, such as Reading Festival or The Book of Mormon show. All of this versatility and user friendliness is found on a neat and tidy, up to date website. Seatwave are a fantastic outfit with a history of reliability to back their quality. You can feel safe in purchasing with them.
@Seatwave_Help many thanks for Black Sabbath complimentary tickets, your team is awesome! 👍🏼 5 stars customer service pic.twitter.com/AhKq37lXNj

— Daniel Designer (@imdanieldesignr) 5 February 2017
Big shoutout to @Seatwave for their help getting me my @GreenDay tickets to me on time! pic.twitter.com/xAo1bKssEQ

— Sarah (@harasblair) 7 February 2017
Layout and Design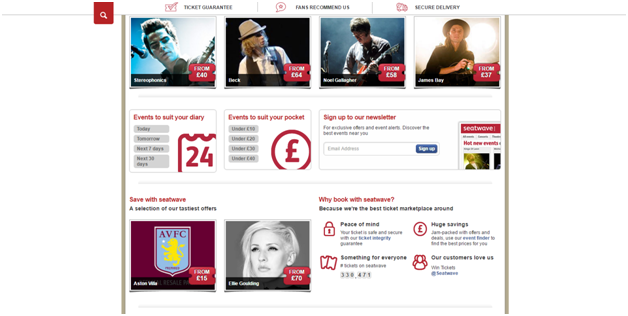 The Seatwave website is designed to not only help you find what you need, but to offer you up a bargain or two along the way. It has been styled in a very modern, clean way and their use of bubbles to capture content works really well. Seatwave have managed to make it easy to find your AC/DC tickets, as well as find some cheap night out with their 'tickets under £x' categories. It is actually a rather cheeky way to get us staying longer on their website and buy something. Considering some of their very competitive prices, it works a charm.
As a marketplace for both ticket buying and selling, Seatwave does a fantastic job in finding a balance between the two. The design of the website was made for both parties in mind, so this means that you generally do the same actions regardless of if you are buying or selling. When looking for the latest Bruce Springsteen gig or a Six Nations ticket, you click on the 'buy' or 'sell' button respectively. The channel to buy or sell is very easy, too. A few pages of fields to fill and you are done. All told, buying and selling on this marketplace is a painless procedure that is all thanks to an easily navigable website.
Ease of use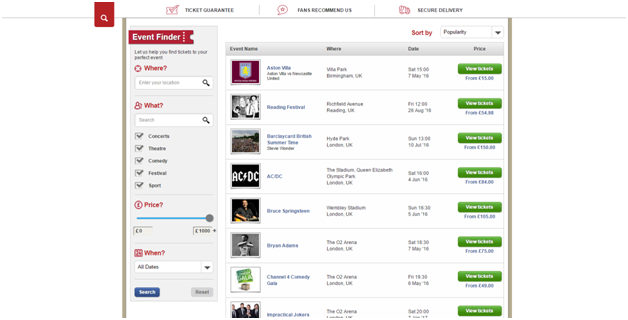 Seatwave have spent a great deal of time in ensuring everything a user could need is provided on their website. Whether it is finding the right ticket to finding the right prices, they have made it so easy to work with. The built-in Event Finder is a fully-fleshed search engine for their site. They provide a dizzying amount of filters to help you narrow your search down. For example, using price, area and category I can find three different stand-up comedies within a 3 mile radius with a budget of £4 per ticket. By making it easy to find the right tickets, the entire process takes less than a minute.
When you find your tickets, the ease of Seatwave continues all the way through to the checkout. Simplified fields to fill, with no need to register an account, means that you can buy or sell your tickets in no time at all. What's more, their payment process is fantastically simple and intuitive. Aside from accepting all of the usual payment methods, Seatwave accept Paypal too. All of these features are implemented to make it a simple, straightforward transaction for the buyers and sellers.
Support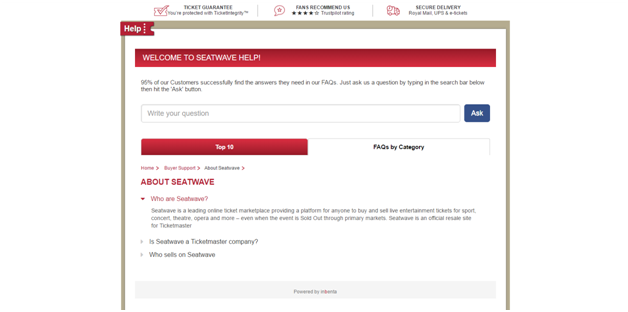 When it comes to providing customer service, Seatwave do a stand-up job. Their headquarters are also based out of the United Kingdom, which really helps them. From a UK perspective, being home-based is a massive advantage for anyone looking to use their service. Being in the UK as opposed to overseas ensures their business is up to standard by British standards. Seatwave are also much easier to be held accountable should anything go wrong, as they have their headquarters based out of the UK. Most importantly, though, if you are from the UK and use their customer service, being on the same time zone and culture helps enormously with getting help.
From an international perspective, Seatwave have made sure everyone gets a similar level of customer support. By tailoring specific websites to countries, such as Seatwave Italia, Canada and Deutschland, they have provided a bespoke site for everyone. Better still, they have a very active Twitter feed that they use as an instant help desk 24 hours a day. By focusing on these features, as well as their other key benefits such as their 'ticket integrity' insurance and guarantees, creates a safe and secure environment that everyone can work with.
The one sticking point is their lack of Live Chat or a direct telephone number to call. If Seatwave were to include these features, it would be a much more direct route of communication with such a large company.
Ticket Prices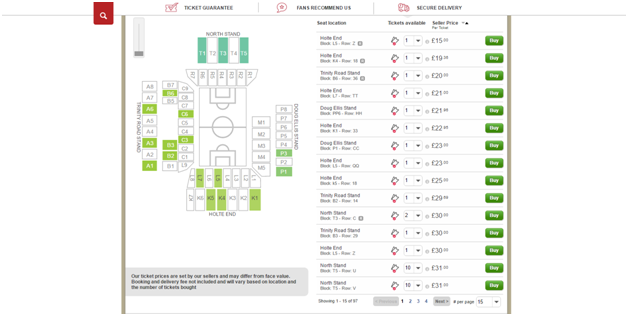 Due to the very nature of Seatwave, ticket prices are made to be competitive. This is mainly due to the sheer size of the marketplace. Being the largest ticket exchange in Europe has created a great deal of competition for highly sought after tickets. However, if there is not much demand for the tickets that you want, expect to be paying a lot more. In some cases, tickets can cost up to six times their face value. If it is the next big event though, such as V Festival, you are more than likely to get a great price for the market.
One of the other issues that is prevalent across ticket vendors is their own cut. This booking fee, which usually runs at around 10-15 % of the ticket, is quite steep. Seatwave do offer an olive branch for this fee, though, with their 'ticketintegrity' guarantee. In short, they justify the high booking fee to help provide a more reliable and trustworthy source for tickets. Another issue is their flat rate for shipping and handling. At £9.99 for every ticket delivered, this seems like another avenue for Seatwave to gouge customers slightly.
Overall, the pricing works both ways for Seatwave. The service that you are provided goes a long way to help justifying the additional fees, too. Although booking and service fees are standard practice, it hurts a little less when the company you are paying put that money into making a good service. In this case, they – or Ticketmaster – have done that.
Security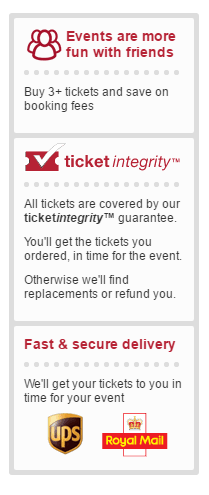 Security is a large part of what makes Seatwave such a trustworthy establishment. As a rule, the company employs a 'ticket integrity' policy that ensures you receive your tickets on time, or a 100 % refund. For sellers, this means that you are guaranteed a prompt payment for a transaction.
For convenience as well as peace of mind, Seatwave have also created 'Collectfrom' – a service that lets you collect your tickets in person. This not only allows for the safety of having a physical ticket in your hand, but it allows for last minute purchases and sales. Using this service can help drop the prices for events such as the latest Coldplay concert, and they can be collected in person at the venue. At the moment, the service is available in a handful of the larger cities across the UK, so it is not available for everyone.