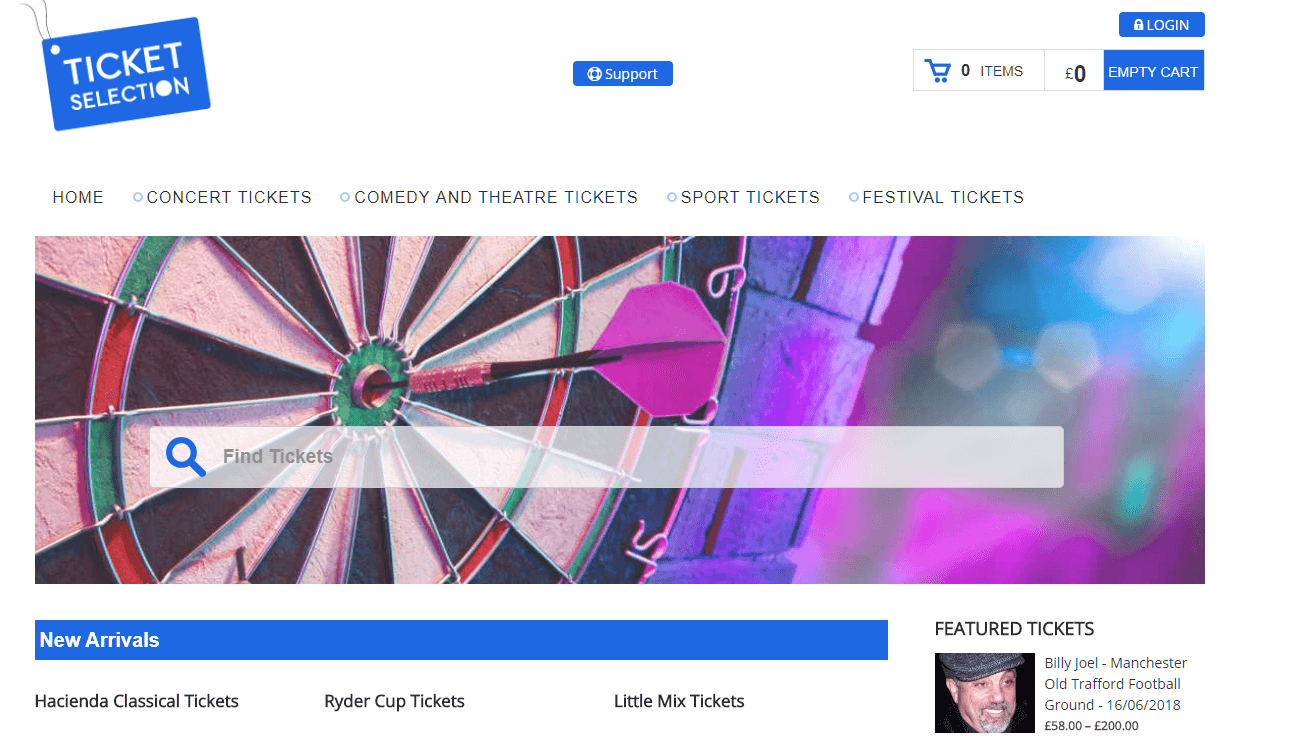 Ticket-Selection is a Spanish-based online ticket vendor that provides tickets to popular live events across Europe, especially in the UK. Although they have only been around for a little over a year, they have managed to cultivate a large following online quite quickly, thanks largely to their safe and cost-effective reseller platform. With a fantastic selection of live music events, live sports (but no football) and more, Ticket-Selection caters to a very diverse audience. With excellent ticket prices for some of Europe's hottest live events, they are providing great value for money in what can be a really pricey night out.
Update: Lately we have received feedback from users that didn't receive the tickets they purchased and were notified on the last minute.
Do not purchase from Ticket-Selection before reading this article:
https://www.mirror.co.uk/money/angry-customers-warn-dont-select-11126575

How easy is Ticket-Selection to use?
Having a well-stocked marketplace is a huge part of what makes a ticket vendor great – but it's not everything. Being able to use their service easily is equally, if not more, important. This has become a bit of a sticking point with Viagogo as of late, as we will discuss further in a moment. For now, though, the good stuff. Viagogo don't force you to register before using their service, which is a great timesaver if you don't intend to use Viagogo often. They also accept direct payments and Paypal to make it easy to pay for your tickets. They also offer e-tickets for an easy delivery method, all but guaranteeing that you will get your tickets on time.
When you're on the hunt for tickets to a live event online, you will quickly learn that some websites are better than others. Unfortunately, some online ticket vendors have some truly awful websites, which can make it hard to find the tickets that you're after. Thankfully, Ticket-Selection have made sure to keep everything nice and easy on their web page, so you can easily browse through their ticket selection.
To navigate through Ticket-Selection, you can either search for tickets using their enormous search bar, or browse their handy categories. They have also provided a new arrivals section, so that you can stay afloat of any newly announced tickets. Another neat category that Ticket-Selection have employed is the city tab, which lets you browse upcoming live events in cities like Glasgow, Cardiff and London.
Ticket-Selection have made everything simple on their site, which makes it incredibly easy to use. If there is any criticisms to be found here, it's that Ticket-Selection don't have all of the bells and whistles that larger sites, such as Ticketmaster, do. Their graphics of seating arrangements are very small and basic, their style is very bare-bones and everything feels a little dated. If you can live with those small problems, though, then you can probably snag a great deal on a ticket to some of Europe's hottest live events.
Can I find the tickets that I want on Ticket-Selection?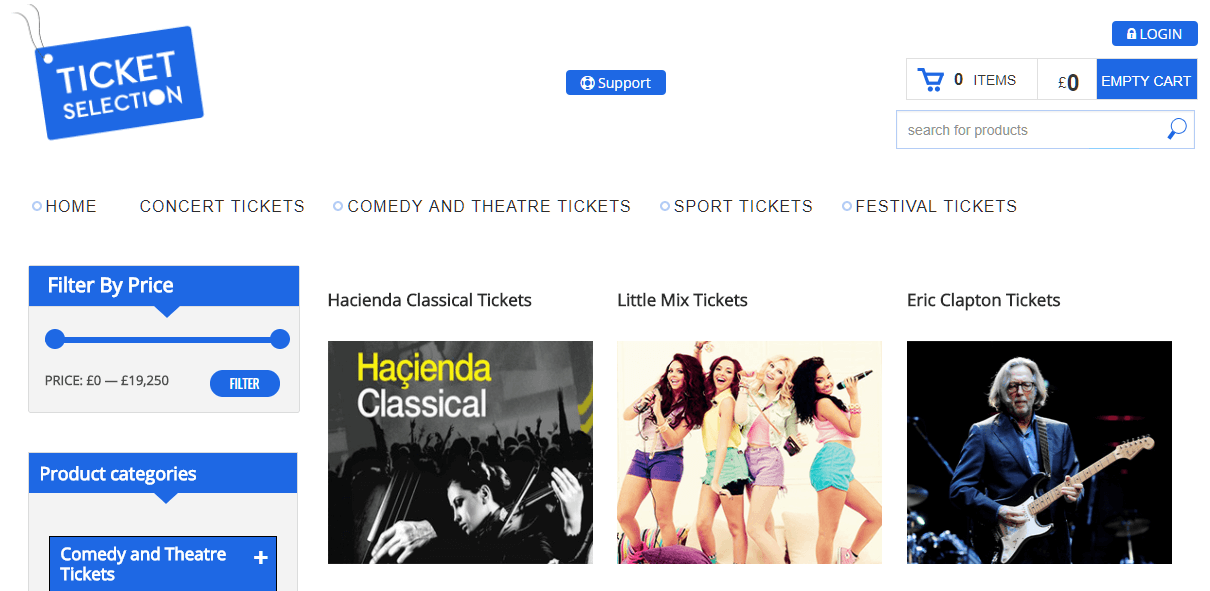 One of the best indicators of a healthy online ticket vendor is how well-stocked they are in tickets. If the vendor in question only has a handful of tickets for unpopular events, it is safe to say that they are not the best around. Ticket-Selection are a bit of an unknown quantity in this regard, but for now it appears that they have a solid stock of tickets for big events like Rugby Autumn Internationals and Ed Sheeran. They are not connected with any big ticket affiliates, such as Live Nation, which means that they use different channels to get their tickets. So when the big names inevitably run out of tickets, Ticket-Selection will probably have a stockpile of really popular tickets for you to purchase.
Unfortunately, it appears that Ticket-Selection have decided not to incorporate football tickets into their inventory. So although they have a great range of tickets for monster truck events, rugby matches and stand-up comedy, they have nothing in terms of football tickets. It's not a huge issue because of the huge variety of other resellers that do stock football tickets, but it is definitely something to consider before looking into Ticket-Selection.
Is Ticket-Selection reliable?
When it comes to reliability, Ticket-Selection have managed to keep you safe and secure when using their service. Although not quite as robust as other vendors, they guarantee that you will either get your tickets or receive a refund. Ticket-Selection strive to get your tickets to you as quickly as possible, but due to the nature of their business, it can be hard to do. The connections that Ticket-Selection use to get their tickets includes private brokers, individuals and even eBay, so they might not receive the tickets until the day of the event.
With that said, they appear to do a fantastic job of getting you the ticket that you bought, even if it is an arranged meeting with an individual at the venue on the day. Usually, they will physically deliver the tickets, or send them via email.
When looking at their website, it appears that Ticket-Selection have done the bare minimum in terms of web security. Although this should be enough to keep your information safe, they could definitely beef up their overall website security to include measures like MasterCard SecureCode. Another gripe is their lack of any Paypal functionality, which is really a necessity these days.
Does Ticket-Selection provide customer support?
Good customer support is really important in the world of ticket resales, because if something does go wrong you need to have faith that they can help. Ticket-Selection offer a few different channels of support, but they mainly use ticket systems to provide support. They also have a live chat feature on their website, which can help with general queries and is quite handy. Ultimately, it appears as though Ticket-Selection do everything they can to help you out if there is an issue during your transaction.
How fairly priced are tickets on Ticket-Selection?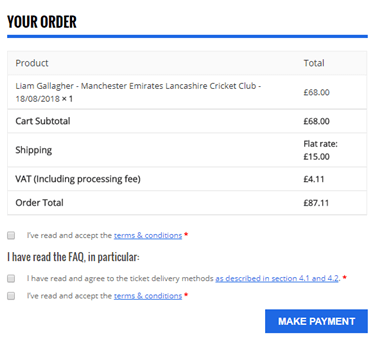 Every ticket vendor is essentially running a business, so there will always be service fees attached to the transactions made on whatever platform you use. At Ticket-Selection, they do a great job of keeping these fees as low as possible, which in turn makes the overall price of a ticket low. Although their fees vary, it appears as though they hover somewhere around 10 % of the tickets value. This is quite a reasonable rate in the industry, and goes a long way to keep everything well-priced. There are also fees associated with delivery, but Ticket-Selection seem to have flat rate shipping fees, so there are no extra charges. All in all, prices for tickets are very reasonable at Ticket-Selection.
Should I use Ticket-Selection?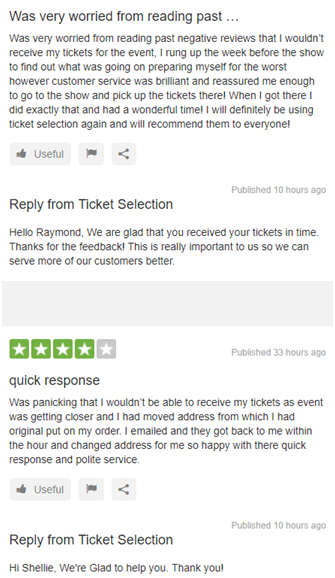 As the world of ticket reselling grows in popularity, more and more reputable platforms are emerging online. Ticket-Selection, although quite new, are definitely a company that you should feel safe to use. Although they could do with a few updates, such as Paypal functionality and an updated website, their core services are really solid. Better still, prices are not inflated and the selection of tickets they stock are great.